Chicago Bears: Why Jerry Angelo Is the Real Problem in Chicago
September 26, 2011
Jonathan Daniel/Getty Images
I've already read fifteen variations of the same article. Mike Martz needs to go. Mike Martz thinks he still has the great offense he had in St. Louis. Mike Martz falls in love with the pass too much. After the New Orleans game I felt the same after watching Martz completely abandon the run in the second half of a game that became a blowout loss.
Now I'm going to defend him.
There's a vast difference between these two games. In New Orleans, Matt Forte had 10 carries for 49 yards at halftime. Against the Packers, six carries for five yards. When your running back is averaging almost five yards a carry you should keep feeding him the rock (though I'd like to point out that Forte had one carry for 42 yards against the Saints and nine carries for seven yards so was it really working?) but when he is averaging less than one yard per carry maybe you should look elsewhere. This is the opening drive of the second half. Cutler sacked on first down because the DEFENSIVE LINEMAN went unblocked. How does a defensive lineman not get blocked? Defensive backs blitzing, linebackers getting free I understand, but the Packers rushed four on the play and a DEFENSIVE LINEMAN was unblocked. Next play, Forte rushed for a two yard loss. On the next drive Forte got another carry for a one yard loss. By the time the Bears got the ball back they were down three scores.
That sort of sums up the real problem in Chicago.
In a recent article on ESPN Chicago.com, (http://espn.go.com/chicago/nfl/story/_/id/7004353/chicago-bears-general-manager-jerry-angelo-defended-offensive-line) Jerry Angelo says that "no one did more in the offseason to address the offensive line than the Chicago Bears". Is that true? I mean, yes they drafted Gabe Carimi with their first round pick and I think it was a good pick, I loved it at the time. They also drafted another offensive lineman in the sixth round and signed Chris Spencer. They also let their starting center, and best lineman from a year ago, leave town because of money. I don't have a problem with the Bears letting Olin Kreutz go, the line was terrible last year. None of those guys should have kept their jobs. But apparently it's not about how bad the line was in Chicago, just that Kreutz wanted too much money. They passed on Bryant Mckinnie when the Vikings let him go, which makes sense because Mike Tice used to coach him and he knows the blocking schemes so he wouldn't have needed training camp and such to get adjusted...oh wait. They looked at the free agents but decided that they didn't like any of the Pro-Bowlers that were available and liked their own guys. I...must...be confused. How can you like your own guys when your own guys gave up 56 sacks? I guess it must have been Kreutz's fault cause he's the only guy that got "fired" for it.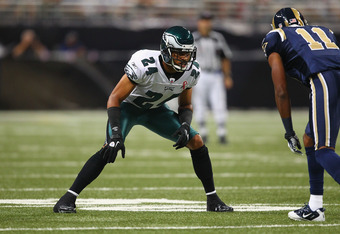 Dilip Vishwanat/Getty Images
What surprises me the most is that Angelo has seemingly gotten a pass from everyone on his inability to address the Bears biggest weakness, their inability to stop big game receivers and their lack of one. The NFC North is stacked with big, physical receivers that can get up and down the field. You saw it in the NFC Championship game when Greg Jennings had catch after catch in open spaces and holes in the zone. Jennings had another big day yesterday, including a huge catch on third down that extended a drive for the Packers which ended up being the touchdown drive that put the game out of reach. Big game receivers are hard to come by sure, but I can't help but feel like the Bears could have probably made a decent offer to the Chargers for Vincent Jackson (or the Cardinals for Anquan Boldin last year or the Broncos for Brandon Marshall and so on) and they could have gotten one. It's not like Angelo has ever drafted a first round pick that worked out, for the Bears anyway, why not just trade them every year for the guy you actually want instead of making a mockery of your ability to evaluate talent? In the nine years that Jerry Angelo has been with the Bears he has drafted eight players in the first round. They are Marc Colombo, Michael Haynes, Rex Grossman, Tommie Harris, Cedric Benson, Greg Olsen, Chris Williams, and Gabe Carimi. Only one has been a Pro-Bowler with the Bears and that is Tommie Harris (who's career was really de-railed by injury more than anything else). Now I've seen the statistics and I know that many teams don't have a lot of first round success, but Jerry Angelo has NONE!
Then ask this question, which is the only question I've been asking for the last few months. Why didn't the Bears try and throw money at Nnamdi Asomugha? Why didn't they address their lack of a big time corner? That's why they lost the NFC Championship game. They couldn't stop the Packers big receivers from doing whatever they wanted. They plug these undersized corners into the line-up and hope their pass rush creates enough pressure to cover for their inability to cover, except that the rest of the NFL has figured it out and have begun calling quick slants and 3 step drops all day. The Saints did it very effectively a week ago and the Packers had success with it yesterday as well. My guess is that the rest of the season is going to be very similar to watch. Throughout his tenure as Bear's GM, Angelo has done just enough winning to keep his job, only spending money when his back's against the wall. Maybe after this season someone should tell him it's championship or unemployment.
You can't blame Mike Martz for that. When Clay Matthews can take the hand-off from Cutler as he's pasting Forte four yards behind the line of scrimmage (which happened twice on Sunday...TWICE) why would you call runs? When Johnny Knox, Roy Williams, and Kellen Davis are dropping balls that hit them between the numbers how is that Martz's fault? It's not Cutler's either. It's the man in charge of acquiring talent. Blame Martz for running Greg Olsen out of town if you want, but he was right to want him to block. Jay Cutler got sacked 52 times last year. The Bears problems are all personnel, and that's on the GM.