MLB: The Most Amazing, Staggering, Bizzare & Fantastic Numbers of the First Half
July 11, 2011
Elsa/Getty Images
More than any other sport, baseball is a game of numbers. 61, .406, 765, 3000, 56. Baseball fans know and love their numbers.
This is a look at the most amazing, peculiar and fascinating numbers from the first half of baseball 2011.
685—Average career hit total of Phil Nevin, Jeffrey Hammonds and Chad Mottola. They are the three hitters selecte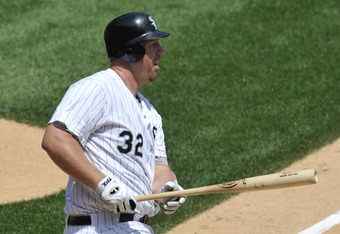 Jonathan Daniel/Getty Images
d before Derek Jeter in the 1992 amateur baseball draft. Pitchers Paul Shuey (476 relief appearances with a 3.87 ERA) and B.J. Wallace (never played above AA) were also selected ahead of Jeter.
674—Consecutive home sellouts for the Boston Red Sox
6.6—Jose Bautista's league-best Wins Above Replacement. Bautista should easily reach a WAR above 10. That would be the highest since 2004 when Barry Bonds was 12.4 wins above replacement. With a replacement-level player, instead of Bautista, the Blue Jays would be 38-54 and a half game out of last place in the AL East.
4.19—Average runs per game, per team. If the number holds, it will be lowest since 1992 when it was 4.12.
3—Number of players threatening Rob Deer's single-season mark for lowest batting average of .179 (this is amongst hitters who qualify for the batting title.) They are Dan Uggla (.184), Chone Figgins (.183) and Adam Dunn (.165).
11 and 112—The combined years and dollars, in millions, left on Uggla's, Figgins' and Dunn's contracts.
.622—The Seattle Mariners team OPS. Yikes.
1991—Year of Julio Teheran's birth. When the Braves called him up for a spot start in May, he became the first person born in the decade of the nineties to play in the major leagues.
27—Number of triples Jose Reyes is on pace for. That would be the most by a player since Chief Wilson set the MLB record with 36 in 1912. Reyes is hurt at the moment, but 24 triples would still give him the most since 1949 when Dale Mitchell had 23 for the Indians. Of the 18 men to have more than 25 or more triples in a season, only six of them played in the 20th century and none of them after 1914. With a healthy hamstring, Reyes can make it 25 three-baggers.
214—Drew Stubbs' projected strikeout total. Stubbs, who hits lead-off for Cincinnati, would finish with the second-highest single-season total. Mark Reynolds set the whiff standard in 2009, with 223.
212—The adjusted OPS of Bautista. If you don't know what adjusted OPS means, this stat shows he's more than twice as good as most everyone else. Only 12 players have posted OPS-plus seasons of above 210 (Babe Ruth did it nine times).
3.03—The Atlanta Braves league-best staff ERA, which, if it holds, would be the lowest posted by a team since 1989 when the Los Angeles Dodgers staff had a 2.95 (this is the year Orel Hershiser tossed his record 59 consecutive scoreless innings.)
16—Number of home runs more the entire San Diego Padres team has than Bautista (47-31).
9—League-leading number of sac flies by Jeff Francoeur. Royals fans will be happy to discover one thing he does not suck at.
-25—The fielding runs lost by Yuniesky Betancourt through his first 83 games this year. As best I can find, that mark would be a record for a shortstop's entire season.
106—Number of unintentional walks Betancourt has in more than 3,350 career plate appearances.
.680—Total decrease in the combined OPS of Joe Mauer and Justin Morneau from the first half of 2010, when compared to the first half of 2011.
291—Most outs made by one player in baseball: Juan Pierre.
9—Number of pitchers with sub-2.50 ERAs. From 2006-2008, not a single pitcher posted an earned-run average below 2.50.
4—Shutouts thrown by Cliff Lee. No pitcher has thrown more than five in a season since Tim Belcher had eight in 1989.
5—Total number of games separating the first- and second-place teams across the whole of baseball.
51—Number of saves Braves rookie Craig Kimbrel is on pace for. Kimbrel is almost certain to break Papelbon's rookie record of 35 saves. Of course, none of this should be an endorsement of the save as anything like a worthwhile statistic.
-130—The total run differential for all the teams in the AL Central. The NL West is the next lowest, with -58. The AL East teams have a total differential of +174.
109—Projected losses of baseball's worst team, the Houston Astros.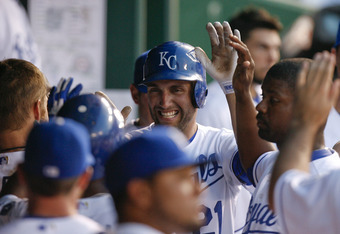 Ed Zurga/Getty Images
.684—Boston's winning percentage since they started 2-10.
.419—Colorado's winning percentage since they started 12-3.
10—Total home runs NL league-leader and All-Star starter, Lance Berkman has already exceeded his 2010 total by.
104.2%—Ball park attendance capacity at Chase Field for Phillie home games (I'm not sure how this is possible).
43.5%—Average capacity at Land Shark Stadium for Marlin home games, by far the worst in baseball.
5-23—The Marlins record in June, a month they unceremoniously started by losing 19 of 20 games. During the month, they went from two games back in the NL East to 15.5 back.
15.2—According to fangraphs.com, the MLB-leading number of runs saved by Brett Gardner's fielding. That total is nearly five runs more than the second-best, Howie Kendrick.
95.2—Justin Verlander's average fastball speed, in miles per hour.
17.6%—Daric Barton's league-low swing percentage at pitches outside of strike zone. Vlad Guerrero (shockingly) has the highest, at 45.8 percent.
1,457—Strikes thrown by Roy Halladay, the most in baseball during the first half.
184—Innings that Atlanta relief aces Jonny Venters and Craig Kimbrel are on pace for. No two relievers in all of baseball have combined to throw that many since 2006. No two teammates have thrown that many since 2003 (Kevin Gregg and Scott Shields.)
81 to 83—ESPN's projection of the number of wins it will take to win the AL Central.
.209—OPS points Albert Pujols is presently below his career average.
2—Number of games St. Louis gained in the standings while Pujols was on the disabled list.
23 million—Difference in salaries between Alex Rodriguez and Bautista.
.299—On-base percentage of the first two hitters for the Atlanta Braves this year, the worst in the National League. Despite this, Atlanta somehow owns its second-best record.
29—Number of starts between wins for Toronto's Jo-Jo Reyes. Before his May 30th victory he had not won a game he started since June 13th, 2008. The mark of 29 winless starts is now a baseball record. In the intervening three years, CC Sabathia and Halladay combined for 115 wins.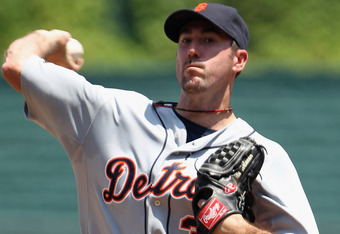 Jamie Squire/Getty Images
.230/.299/.368—The Colorado Rockies team slash line away from Coors Field (it is .274/.349/.443 at home.)
1—The number of games the Pittsburgh Pirates, owner of the American professional sports record of 18 consecutive losing seasons, are out of first place at the end of the first half of baseball's 2011 season.
11.2%—Percentage of major league players who are All-Stars in 2011. There are 750 active major league ball players (30 teams X 25 man rosters.) There are 84 All-Stars this year (so far.)
Please feel free to add some more strange and interesting numbers in the comments below.