Hope Solo Boyfriend: Superstar Solo Ditches Bum Boyfriend for Stardom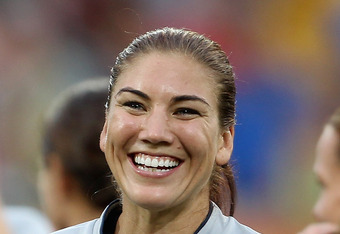 The term "better-half" when referring to one's significant other is often used in jest.
For Mr. Adrian Galaviz, it couldn't be truer as he was dating U.S. women's soccer goalie Hope Solo.
Now, instead of being a bum boyfriend, he is a solo bum as Solo ditched her anchor last year in order to obtain 2011 superstardom.
We all hoped, prayed and dreamed that Solo would finally shed her bothersome boyfriend to clear her head and reign victorious for the Americans in the World Cup.
Thus far, she is destroying the World Cup and has USA in prime position to take the event, which our men could not do last year.
The gorgeous goalie made headlines in 2007 when she ranted against her coach. As a nation of controversy, we love the fire and desire to play every minute of each and every contest. Her desire and passion provided me with a newfound appreciation for the would-be star.
Solo proved every believer right in USA's stunning victory over Brazil yesterday. With the pressure resting on her shoulders, she made the incredible stop to give our women the victory. Her teammates are calling her the best goalie in the world and she may very well be. This is her shining moment and we have to wonder if she leads the Americans to World Cup gold if she will surpass former superstar Mia Hamm in terms of popularity.
Given the adversity and controversy that surrounds Solo, I believe she will. She has the athletic ability, stunning looks and marketable name to become an icon in the soccer world in America.
Hamm captivated us with her ability to score goals, but hope is all lost if Solo does not stop the opposition from scoring.
Her name alone sets her apart from nearly any other athlete. The endless play on words makes her a marketing dream come true. Hope gives us hope as she stands solo between the posts. Come on, that alone puts her over the top!
We knew she had the talent and marketability for years. As she stands solo on the open market without her pathetic and loser boyfriend, Hope is finally focused on victory, which will propel her to new superstardom heights.
Most recent updates:
This article is
What is the duplicate article?
Why is this article offensive?
Where is this article plagiarized from?
Why is this article poorly edited?