NFL Trade Rumors: Is Tim Tebow Savior Dolphins Need in South Beach?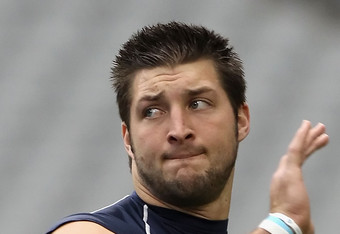 Miami Dolphins must do everything in their power to bring 'Superman' Tim Tebow to South Beach. Why they were trying to bring in Kyle Orton over Tebow is beyond me. The new regime in Denver, John Elway and John Fox, never seemed thrilled at the idea of Tebow starting and they finally put the kibosh to that this week.
Unfortunately, they may have also destroyed a piece of Superman Tebow in the process.
"The unremitting, unrelenting smile was, like his life the past week, turned upside down. Tim Tebow's face strained from the rare, uncharacteristic frown.

'My dream, since I was a young boy, of being a starting quarterback in the NFL seemed to be coming true,' Tebow told me as we stood outside the Broncos' locker room.

'Then, I felt like it was grabbed back away. . . .' He paused and didn't finish the thought. Instead, he finished his quart of milk," according to Denver Post's Woody Paige.
First off, let me applaud Tebow for the drinking his milk to get big and strong. He's the perfect role model.
Does anybody else desperately want Tim Terrific to pull a Kurt Angle and milk bath the entire Broncos organization for screwing with him this entire offseason?
Dolphins fans cried the past month for Orton to replace incumbent starter Chad Henne and be the savior of their organization. By no means is Orton the savior of any franchise, but Tebow certainly is.
"'I'll always use the negativity as more motivation to work even harder and become even stronger,' Tebow said. 'I'll practice as good as I can, but I know that I play even better, with the qualities I have — leadership, my ability to make something happen in games, winning. And I know there are a lot of people who believe in me as a player and a person, and I don't want to let them down,'" said Tebow per Paige.
Seriously, what more could you want out of your quarterback? This kid is simply a beast and is the perfect man to make the Dolphins respectable again. It doesn't seem Tebow will ever grow in Denver due to the lack of faith within the regime, but he will thrive elsewhere as he uses this as a learning experience and motivation for future success.
There is no denying the impact Tebow could have on this organization as he comes back to the state of Florida. He is a beloved hero at Florida and will have his fans, coaching staff and teammates eating from the palm of his hands with his charisma and natural leadership qualities. He is the lightning bolt this stagnant franchise needs to get jump started again in the dreaded AFC.
He displayed the abilities to lead any team to victory in the final three 2010 games. The Dolphins were looking at the wrong quarterback on the Broncos' roster. It was never Orton they should've been targeting, it's Tebow.
This Broncos regime clearly doesn't believe in him, but all Tebow needs in this league is somebody to give him a starting opportunity. This man is a clutch play-maker with solid arm strength and accuracy, but more than anything else the desire to win football games. He has the leadership, work ethic and supreme natural abilities to win a Super Bowl in this league.

Brandon Galvin is a Bleacher Report Featured Columnist and Syndicated Writer.
Most recent updates:
This article is
What is the duplicate article?
Why is this article offensive?
Where is this article plagiarized from?
Why is this article poorly edited?