Michael Rodgers: USADA Would Be Nuts to Rule Track Star Ineligible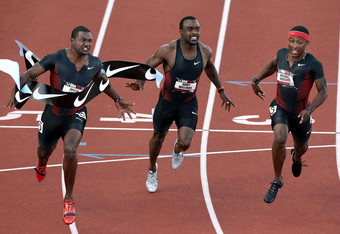 Red Bull fooled the people who run the World Championships in Athletics into thinking that their energy drink actually does give you wings. Athletes are all too often victims of unnecessary rules. Michael Rodgers could be the victim of the flawed system.
According to USA Today, Rodgers tested positive for methylhexamine. No, it isn't a human growth hormone or illegal drug. The substance is banned, but it's a simple stimulant found in an energy drink.
There isn't a chance in the world Rodgers even knew he was taking the substance. The fact that he could get disqualified for the World Championships is just absurd. The U.S. Anti-Doping Agency will rule Rodgers eligible or ineligible.
Well, according to the USADA's official website, the organization's mission statement reads: "We hold the public trust to: preserve the integrity of competition, inspire true sport and protect the rights of U.S. athletes."
I would love to know how drinking an energy drink ruins the integrity of competition and discourages true sport. And protecting Rodgers' rights over something so simple would seem like a priority. The fact that this is even an issue is a complete joke.
Rodgers is one of fastest men in the entire country. He has worked his entire life to get to this point with successes along the way placing first in the USA Outdoor World Championships in the 100m in 2009 and second in the World Indoor Championships in the 60m last year. To disqualify Rodgers for something so silly would be nuts.
Why does there have to be so many rules? Disqualification over an energy drink that was taken well over a week before the World Championships began doesn't make any sense. Rodgers gains no competitive edge over his opponents.
Again, he didn't take steroids, he didn't take HGH; he downed an herbal energy drink: arrest him.
Most recent updates:
This article is
What is the duplicate article?
Why is this article offensive?
Where is this article plagiarized from?
Why is this article poorly edited?