Plaxico Burress: Why Plax Will Excel in His Role for New York Jets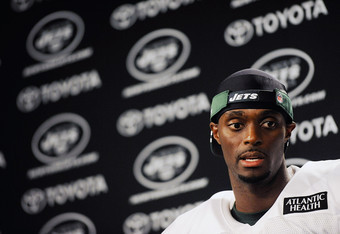 Plaxico Burress would have to shoot opposing cornerbacks in the leg to get any separation downfield this season. At 34 years old, he hasn't stepped on the field since 2008 and he was slow to begin with. That isn't a good combination for Burress to resort back to his dominating ways, but he doesn't have to dominate, just play within his role.
With Santonio Holmes and Derrick Mason set as the New York Jets' starting wide receivers, Mark Sanchez has two very capable targets on the outside. Neither is very big though and that's where Burress comes in. The 6'5", 232 pound Burress doesn't need separation because of his incredible size.
Burress won't catch 60 passes for 1,000 yards and 12 touchdowns like he did in his last full season in the NFL. If those numbers are just cut in half, the Jets should be happy. With Holmes, Mason and Dustin Keller, NY has plenty of firepower so they aren't necessarily leaning on Burress to do much.
Provide a safety valve, run block and be a red zone threat: that's all he has to do to consider 2011 a success. People keep wondering if he has the ability to make a Michael Vick-like return to football, but they forget that Vick was only used in special packages in his first year back. Burress will be used similarly.
He will not be able to single-handedly make up for the loss of Braylon Edwards, but he doesn't have to. Holmes is a legitimate No. 1 wide out and Mason is the definition of longevity. Those two can shoulder Edwards' production.
Again, don't expect Burress to break out, but in his limited role, he could prove to be very valuable to the Jets. There aren't too many 6'5", 232 pound receivers with ball skills like Burress.
Most recent updates:
This article is
What is the duplicate article?
Why is this article offensive?
Where is this article plagiarized from?
Why is this article poorly edited?