Arsenal Transfer Rumours: Why Arsene Wenger Should Not Sign Per Mertesacker
July 10, 2011
Joern Pollex/Getty Images
The People is reporting via Mirror Football that Arsenal have revived their interest in German centre back Per Mertesacker.
Arsenal haven't yet completed any significant signing in this summer window, but at one point it looked like either Chris Samba or Gary Cahill was the one chosen to solidify Arsenal's wobbly defence.
While Blackburn have played hardball over Samba's transfer fee, Bolton have demanded in excess of £17 million for Cahill.
Although the England centre back is high up on Arsenal's wish list, Wenger apparently doesn't want to pay over the odds for a player who only has one year left on his contract.

To be on the safer side, it now appears Wenger has set his eyes on the tall German defender, Mertesacker, who's valued around £10 million and has only a year left on his contract at Bundesliga outfit Werder Bremen.
Mertesacker is an experienced centre back, with 75 appearances for Germany at the age of 26.
Widely known as one of the most disciplined defenders in world football, Mertesacker didn't get a single yellow card in his first 31 Bundesliga games, a remarkable achievement for a centre back.
His 2010-11 season underlined his disciplined style, as he only received one yellow card in 30 League games during this season. For a player that's 6'6", it's amazing how he manages to commit so few fouls.

Mertesacker's biggest strength is his aerial ability, as his height allows him to leap above almost any player.

In short, Mertesacker is a good reader of the game, which enables him to intercept the ball frequently, win a majority of the aerial duels, be a tidy passer of the ball, play short passes well and be a threat in the opposite penalty box.

Naturally, the question at hand is this: Why shouldn't Wenger sign such a talented defender?
First and foremost, the Premier League is very different than the Bundesliga.
Lack of pace will be brutally exposed in rugged, fast-paced English football, and unfortunately, Mertesacker is on the slower side.
The one criticism levelled at Samba by a section of Arsenal fans is his (slight) lack of pace, which might get exposed in Arsenal's high line of defence.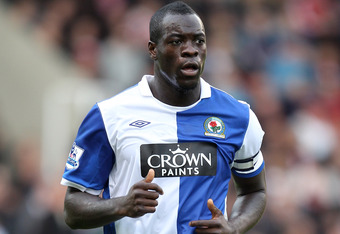 Mark Thompson/Getty Images
I wonder what those same fans might have to say about the prospect of Mertesacker playing for Arsenal, as the German is considerably slower than the Congolese defender.
While Samba would fit in better with Arsenal's defence, Mertesacker would struggle and his lack of pace would get exposed in a high line of defence.
Another one of the German's weaknesses is his average tackling skill.
Even if Arsenal firm up their interest with a formal bid, they should sign another centre back in addition to the German to be on the safer side.
There is no guarantee that Mertesacker would be an instant hit in the Premier League.
He's indeed an established defender and has appeared for Germany in the World Cup, but the Premier League is a different ballgame, and Arsenal's system is alien to the German.
Whether he would be a success or not is up for debate, but what's as clear as day is that Arsenal need surefire defenders with minimal risk factor.
If I were to choose between Samba and Mertesacker for the Premier League, I would select Samba over Mertesacker any day.
Samba's signature could be secured for £12m, which is the safer bet compared to investing £10m in Mertesacker.
Of course, Cahill is the type of signing Arsenal should be looking to make, and if he's beyond Arsenal's financial clutches, then Samba has to be the choice, not Mertesacker.
Height alone won't solve Arsenal's defensive woes. And I don't think anybody would want to see Mertesacker getting turned and outrun in an Arsenal shirt on a consistent basis.