2011 Major League Baseball XM All-Star Futures Game Live Blog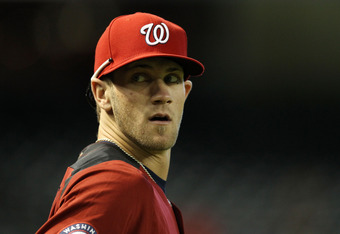 Christian Petersen/Getty Images
Welcome to the Bleacher Report-exclusive live blog of the XM All-Star Futures game!
For the true baseball fan, the Futures Game began in 1999 and represents a unique opportunity to see the top prospects in the majors compete on the same field for the first time as pros. Among the major league stars who have appeared in the game are Josh Hamilton, Joey Votto, Lance Berkman, CC Sabathia, Pablo Sandoval and Chase Utley.
The United States will look to defend their 9-1 victory from last year, which broke a three-year winning streak for the World team. The all-time series is tied at six wins apiece.
First pitch is scheduled for 6:00 p.m. EDT.
Drew Pomeranz (Cleveland Indians) is the latest pitcher to face down the World hitters. Pomeranz, again, has a plus fastball, but also features a strong knuckle-curveball that drives hitters crazy. He strikes out Yonder Alonso (Reds) on three pitches.
Dayan Viciedo (Chicago White Sox) only gets three pitches as well, but Grant Green (A's) throws a ball into the dirt and Viciedo is safe at first.
However, Green makes up for it with a running catch over his shoulder at second, nearly doubling up Viciedo at first.
However, Alfredo Silverio (Los Angeles Dodgers) drives the fastball out over the left field fence, and it's now 3-2! This is a surprising development, as Pomeranz has given up just two long balls in the first half this season.
Another big inning for the US team. Martín Perez (Texas Rangers) gives up a single followed by a wild pitch and a balk before Grant Green (Oakland Athletics), the first substitution for the US, doubles off the wall in left to score Gary Brown (San Francisco Giants).
Tim Beckham (Tampa Bay Rays) is another interesting story at this year's game. After being drafted No. 1 overall out of high school in 2007, Beckham as struggled, and he's only reached Double-A at this point in his career. After Green steals third, Beckham strikes out on three pitches, ending the threat.
The parade of outstanding American pitchers includes with Tyler Thornburg (Milwaukee Brewers), who has dominated A-Ball, going 9-1 with a sub-2.00 ERA.
Thornburg retires the first two batters before giving up a single to Starling Marte (Pirates), just the third hit for the World team. Jose Altuve (Astros) lifts the next pitch right at Bryce Harper, and the inning is over unceremoniously.
Carlos Martinez (St. Louis Cardinals) is the second Cardinals pitcher to take the mound tonight, joining Shelby Miller. As good as Miller is, Martinez challenges him with a fastball that can touch on triple digits, as well as a looping curve ball. However, he can be a little wild. After striking out Paul Goldschmidt (Arizona Diamondbacks), he hits the next batter on the thigh. Martinez will rely on his velocity when he reaches the big leagues. Because of his wildness, he projects as a closer or middle reliever rather than a starter, like Miller.
He sends down Will Middlebrooks (Boston Red Sox) on the first double play of the game, and the fourth inning is over. The US still leads 2-0.
Matt Moore (Tampa Bay Rays), is following in the impressive footsteps of Jeremy Hellickson, last year's winning pitcher who know pitches for Tampa at the big league level.
He leads off against Liddi, the first Italian position player to play professionally and blows him away on four quick pitches. He follows up by retiring the next two hitters, continuing the good pitching for the US team.
Harper comes up again but can't solve Paxton. After striking out on four pitches his first time up, he anxiously grounds out to first on the first pitch he sees.
The World brings in the left-handed British Columbian James Paxton (Seattle Mariners) to face the top of the US order. Paxton hits the mid 90s consistently, and he shows it off by snapping Jason Kipnis's bat on his first pitch.
Shelby Miller (St. Louis Cardinals) is perhaps the best right-handed prospect in baseball, with a fastball reaching the upper 90s, as well as a big league ready change-up. He learned his craft under the tutelage of former Expos ace Dennis Martinez, and he shows off his control by striking out Hak Ju-Lee (Tampa Bay Rays) after falling behind 3-1 and gets Starling Marte (Pittsburgh Pirates) on a bunt attempt.
However, he can't retire Jose Altuve (Houston Astros), who has been one of the best stories in baseball this year. Listed at 5'7" and 170 pounds, Altuve is one of the shortest professional baseball players. However, he's torn up minor league pitching, batting .387/.425/.585 with 204 total bases in just 85 games, and he singles up the middle.
After walking Yonder Alonso (Cincinnati Reds), he retires the next batter on a sharp groundball to Manny Machado (Baltimore Orioles) at shortstop.
The US picks up another run via the fielder's choice off the bat of Wil Myers (Kansas City Royals). However, they can't pick up any more as an outstanding defensive play by the Italian Alex Liddi (Seattle Mariners) saves a run. Liddi was actually a soccer player in his hometown of San Remo. His footwork pays off here on a sharp ground ball down the line.
Liam Hendricks (Minnesota Twins) takes the mound for the World to face Devin Mesoraco (Cincinnati Reds). Hendricks is just the latest Australian prospect to come up in the Minnesota system, joining Luke Hughes, currently playing in with the big league club in Minneapolis.
Brad Peacock (Washington Nationals) projects best as a reliever, but he's been very strong as a starter in Double-A, leading the Eastern League with 129 strikeouts to go with a 10-2 record and 2.01 ERA with Harrisburg. After striking out the first batter he faced, he blew away the World hitters in order. The US still leads 1-0 heading into the bottom of the second.
Bryce Harper (Washington Nationals) steps up to the plate with some fanfare from the Arizona crowd. As the No. 1 overall pick in the 2010 Draft, Harper's life in baseball has been heavily scrutinized. However, he can't compete with the major-league experience of Julio Teheran (Atlanta Braves) and strikes out on four pitches.
Jason Kipnis (Cleveland Indians) gets the US on the board with a leadoff homer! With 28 homers in 245 games, Kipnis is neither your prototypical leadoff hitter nor second baseman when it comes to power, and he muscles one on over the right field fence.
Tyler Skaggs (Arizona Dimaondbacks) takes the field for the first time in front of Arizona fans. They're certainly hoping it won't be his last. He was the major prospect involved in the trade that sent Dan Haren to Anaheim. He's struck out 125 batters in just over 100 innings with Visalia this season and shows off his outstanding curveball by sending down Dayan Viciedo (Chicago White Sox) swinging.
Game time!
Obviously, all eyes will be on Bryce Harper (Washington Nationals), last year's No. 1 overall pick. He's had a buzz everywhere he's gone in the minor leagues, and Phoenix will be no exception.
Here are some other intriguing story lines to watch:
Jurickson Profar (Texas Rangers), the youngest player on the field at the age of 18
Wil Myers and Kelvin Herrera (Kansas City Royals), the lone selections from the Royals' loaded farm system
Manny Machado (Baltimore Orioles), the No. 3 overall selection in 2010
Paul Goldschmidt (Arizona Diamondbacks) looks to continue his assault on minor league pitching
This article is
What is the duplicate article?
Why is this article offensive?
Where is this article plagiarized from?
Why is this article poorly edited?