MLB: Boston Red Sox Sweep Away Plunkings, Baltimore Whining to Close First Half
July 11, 2011
Jim Rogash/Getty Images
Over the weekend, Boston players, coaches and fans bore witness to some major league griping.  In their final series before the All-Star Break, the Baltimore Orioles spent an undue amount of time telling anyone who would listen that they weren't afraid of the big, expensive Red Sox.  
It was an emphatic answer to a question that no one asked, as they assured everyone that they wouldn't back down.
Things came to a head in Friday's game two, when David Ortiz paused to admire a three-run homer in the first inning.  That didn't sit well with Baltimore.  The game, which began with an eight-run Boston first, settled into a dull finish before Orioles reliever Kevin Gregg took the mound.
Facing Ortiz, Gregg began working the inside of the plate.  From Boston's point of view, his intent to drill Ortiz seemed pretty clear.  Ortiz himself would later characterize the at bat by saying, "[Gregg] is a guy that I always face and he never pitches in.  He throws a whole bunch of pitches inside, and I'm quite sure he was trying to hit me, no question about that."
Ortiz took umbrage at Gregg's actions and walked toward the mound after being brushed back.  He was restrained by umpire Mike Estabrook and Jason Varitek.  But after Papi popped out, Gregg couldn't let it go, yelling at Ortiz for failing to run to first.
That exchange led to Ortiz rushing the mound as the benches cleared.  Gregg was ejected immediately, but the umpiring crew couldn't stop the ensuing fight.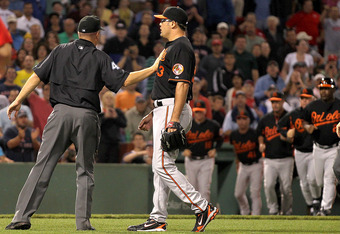 Jim Rogash/Getty Images
For his part, Gregg had this to say:
"I think you show them that we're not backing down. We're not scared of them – them and their $180 million payroll.  We don't care. We're here to play the game. We have just as much right to play the game here and we're going to do everything we can to win."
The big closer continued a war of words that began during the pre-season by O's manager Buck Showalter.
It was not a particularly compelling argument, then or this weekend.  In reality, the Orioles were stinging from being knocked around earlier in the game, and they clearly didn't care for Ortiz's first-inning pose.  While that's understandable, the reaction was out of measure.
Baltimore's attempt to cast David Ortiz as the bad guy was ill-fated to begin with, given Big Papi's reputation as one of baseball's nice guys.  And Ortiz's subsequent explanation and apology should have put the feud to rest.
It did not.
Instead of moving on, the two teams continued to squabble.  John Lackey hit a pair of Orioles on Saturday.  The first, Nick Markakis, was unintentional.  But when Lackey plunked Derrek Lee in the seventh, there did seem to be some payback behind it.
On Sunday, tempers flared again.  Kyle Weiland, making a spot start for Boston after being called up from AAA Pawtucket, was wild all day, and found himself ejected after hitting Mark Reynolds and Vlad Guerrero.  Both were a result of Weiland's lack of control, but after Baltimore Jeremy Guthrie came on in a relief role and plunked Kevin Youkilis in the fourth, the umpires had no choice but to issue a warning.
That warning was enough to justify booting Weiland.
Baltimore's Mike Gonzalez then foolishly threw behind Ortiz in the fifth, getting himself and his manager Buck Showalter tossed.  But cooler heads prevailed, and this time there was no brawling. 
Ultimately, Baltimore's chippy play did it no good.  When they weren't whining off the field, the O's were getting swept on it, as the Sox rolled Baltimore in four straight at Fenway to close the first half.
Here's a tip: talk is cheap.  If you want to prove that you're here to play the game, then get better.
This kind of inferiority complex is nothing new to Boston fans.  There have been plenty of seasons during which the Sox themselves adopted such an attitude while chasing the Yankees.  But the franchise abandoned the woe-is-me mentality when ownership decided to take steps to be more competitive. 
Darren McCollester/Getty Images
Many players and fans resent what baseball has become; a sport with a handful of teams willing to spend exorbitant sums in an effort to make the playoffs on a regular basis.  But there is no rule prohibiting the Orioles franchise from expanding its payroll.  
The organization is in a strong enough media market and has a large enough viewing area to justify spending more on the team.  The Baltimore-Washington metropolis is larger and more heavily populated than metro Boston, and Baltimore's regional network viewing area extends as far south as North Carolina.
If the Orioles want to spend their energy being mad about something, perhaps it ought to be directed toward their own management.  A quick look at Forbes.com's franchise valuations will show that Baltimore has had sufficient operating income in recent years to increase its payroll.
Alternatively, the Orioles could continue to support another relatively straightforward solution to this problem.  Instituting a salary cap and floor would ensure that all major league teams would be forced to compete on the same level.  At least financially.
A cap and floor would take away Baltimore's excuse and silence the complaints; we would see in short order how much success is due to the variance among payrolls.