NFL Quarterback Tom Brady Still Will Be Slighted Despite Recent Acclaim
July 10, 2011
Recently, The NFL Network has placed New England Patriots Quarterback as the top ranked player going into the 2011 season, ahead of the likes of Peyton Manning, Ed Reed, and Darrelle Revis. While he had an outstanding season in 2010, throwing for 36 touchdowns and only four picks (9:1 touchdown-to-interception ratio), there are many who still will give him a hard time. And I can be one of them.
The first four years that Brady was quarterback for the Patriots generated three Super Bowl titles in that span. After that the cornerstones who were instrumental on those championship runs sooner or later departed. The likes of Troy Brown, Rodney Harrison, Ty Law, Tedy Bruschi, Adam Vinateri, Mike Vrabel and Richard Seymour were all traded, retired, left via free agency or be derailed by injuries.
While the Patriots remained title contenders, they weren't the same. With the loss of veterans the strong defense, and even due to spy-gate, the Patriots soon relied on Tom Brady's arm to carry them, adding the help of Randy Moss and the emerging Wes Welker as a premier receiver in the slot.
This was a good and bad thing.
The good was that Brady went from game manager to prime time quarterback. The bad was that since that transition they haven't won a Super Bowl.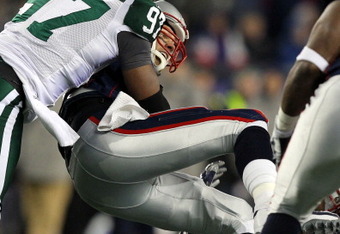 Al Bello/Getty Images
A lot of people still point out that Tom Brady isn't anything but an above-average quarterback who has benefited from coach Bill Bellichick's system, and can't win in the postseason without all the defensive talent built around him during their dynasty runs. And with that being said, Peyton Manning, regardless if Brady has two more rings, is still the superior quarterback in many eyes including mine.
The thing is, Tom Brady is at the same place in his career that Los Angeles Lakers star Kobe Bryant was a few years ago in his 2008-2009 NBA season
Bryant got the "can't win without Shaq" and "cant win by himself" notions for years until he won back-to-back championships. Brady is by himself and not with the same players he started, and won with. So this upcoming season he can prove a lot to the doubters that he is worth every single inch of critical acclaim and praise he is being handed now.
And he can prove these things with another ring.
Just as Kobe now has the utmost respect around the league and from many NBA fans alike, Brady can achieve the same. He got those two championships and Kobe-haters are near nonexistent
Can he win again? That is the question. He isn't getting younger with his 34th birthday in August. While he is having the best stretch of his career in the past three seasons (116 TD's 21 INT's 13102 yards not counting the 2008 season as well as two MVP's) he's also lost a Super Bowl in upsetting fashion, a wild card loss to the Ravens, and a surprising loss to a Jets team in the divisional round that they just demolished 45-3 a month beforehand.
Yes, Brady is a sure bet to be a first ballot Hall of Famer. Yes, Brady is the most poised QB since Joe Montana, but another Lombardi Trophy will automatically put him in the line of greats without someone having to raise their hands to question it.
If not, the slights will always remain.