EPL Transfer Rumours: Latest on £22 Million Samir Nasri Deal and More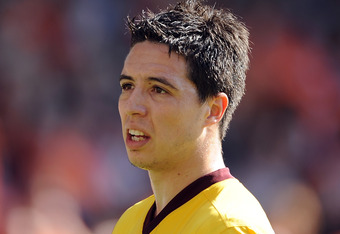 Chris Brunskill/Getty Images
Reports suggest that Samir Nasri is set to follow in former teammate and compatriot Gael Clichy's footsteps, with a £22 million move from Arsenal to Manchester City looking likely to happen today.
This would represent a major coup for City, who will soon embark on their inaugural season in the UEFA Champions League, and a blow to Arsene Wenger's ambitions to build a side capable of winning the Premier League.
Elsewhere, Stoke City, yet to sign a player this summer, have targeted injury-prone former Tottenham Hotspur midfielder Jonathan Woodgate and forgotten West Ham United forward Carlton Cole as they look to become a team capable of finishing regularly in the top half of the table.
Liverpool, in the process of rebuilding an under-performing team at no little expense, will listen to offers for their Portuguese midfielder Raul Meireles, who is attracting attention from two Serie A clubs, Arsenal may have already found an English replacement for wantaway Frenchman Samir Nasri, and Spurs are considering making a move for a catalyst of their rise to European football,
Manchester United's £15 million-rated Bulgarian forward Dimitar Berbatov, who finished last season as the Premier League's top goalscorer.
The News of the World is on its way out today after 167 years of reporting breaking stories and leading controversial campaigns.
So consider Bleacher Report as your daily football fix instead as we bring you interactive news and views, with the Premier League transfer machine starting to crank into action ahead of an exciting 2011-12 season.
Jamie McDonald/Getty Images
Mail Online today relays quotes attributed to Stoke City chairman Peter Coates which confirm the Midlands club's interest in maligned English duo Carlton Cole and Jonathan Woodgate.
In the Potters' first two seasons in the top flight since their rise to the Premier League in 2008, the team thrived on a brand of football which relied on unnerving opponents with brute strength and scoring goals from set-pieces such as Matthew Etherington's corners and Rory Delap's huge throw-ins.
However, last season the club made it to the final of the F.A. Cup and were a whisker away from finishing in the top half of the league table by playing a more attractive passing game.
By targeting Carlton Cole, they are confirming their ambition to compete with the league's big guns by scoring more goals.
With West Ham's relegation last season, 27-year-old Cole will look for a quick return to top-flight football in order to stay in the frame for inclusion in England manager Fabio Capello's next squad.
Provided the player does not demand exorbitant wages, the Britannia Stadium could be the perfect environment to rebuild his career and reputation as one of the most powerful forwards in English football, a reputation he has built up during a productive spell with Chelsea which catapulted him into international fame,
A move for former Leeds United, Newcastle United and Tottenham Hotspur defender Jonathan Woodgate is more risky.
Woodgate, 31, has enjoyed notable highs in his career: eight England appearances, a £13 million move to Real Madrid and a Carling Cup final winner for Spurs against Chelsea.
However, he has managed just 31 matches in three seasons at White Hart Lane and has just been released by the club due to chronic, recurring injuries to his legs.
If the Potters can convince Cole to take a pay cut and Woodgate to accept a pas-as-you-pay contract, they could entice both to join the club.
Link: http://www.dailymail.co.uk/sport/football/article-2013036/Potters-target-Carlton-Cole-look-risk-Jonathan-Woodgate.html
This article is
What is the duplicate article?
Why is this article offensive?
Where is this article plagiarized from?
Why is this article poorly edited?
Clive Mason/Getty Images
"Downing Hijack" reports the Daily Mail, somewhat dramatically.
With news that Manchester City are on the brink of sealing a £25 million move for Samir Nasri and ongoing rumours surrounding Cesc Fabregas's future at the club, Arsenal manager Arsene Wenger is anxious to appease fans and rebuild his midfield quickly.
And the 61-year-old Frenchman has now identified England international winger Stewart Downing as a player who can create and score goals in Nasri's absence.
Although the 26-year-old former Middlesbrough left-winger has failed to score a goal in 26 international appearances, his stock has steadily risen on the back of his improving output in the Premier League.
Downing scored 8 goals in 44 matches in all competitions last season and for larger parts of the season outshone Ashley Young, who has already moved to Manchester United for £20 million.
Although Wenger has identified a lack of height and physicality throughout his team as one of the most important reasons for their inconsistent league form and inability to finish teams off, perhaps it his squad's youth and lack of Premier League experience which fans are now beginning to bemoan.
Nine years of Premier League experience and more than 250 matches under his belt, Downing fits the profile of players Arsenal should be looking at as he will guarantee a certain level of performance and is a player who can not only create and score important goals, but who can also be a role model to the likes of Jack Wilshere and Kieran Gibbs, who are just breaking into the England set-up.
It is thought a £15 million bid to Aston Villa is imminent.
Link: http://www.dailymail.co.uk/sport/football/article-2013030/Stewart-Downing-hijack-Arsenal-set-beat-Liverpool-Aston-Villa-stars-signature.html
This article is
What is the duplicate article?
Why is this article offensive?
Where is this article plagiarized from?
Why is this article poorly edited?
Clive Mason/Getty Images
Caughtoffside.com writes about Tottenham's interest in Manchester United duo Dimitar Berbatov and Johnnie Evans.
Spurs have been linked with dozens of players this summer, with targets as varied as a Nigerian teenage T.V. sensation, an English-Mexican forward and some of the world's most sought after forwards but have yet to add to their early signing of veteran American goalkeeper Brad Friedel from Aston Villa.
Despite a quarter-final appearance in the Champions League and a fifth-placed finish in the Premier League last season, some fans have voiced their concern of the North London club's inability to attract a star striker to White Hart Lane to convert the chances created by dynamic midfield trio Gareth Bale, Luka Modric and Rafael Van der Vaart.
This is understandable given that Spurs season ticket owners generally pay more £1,000 per year for their seats and expect a better return than 30 goals and 36 points from 19 home matches.
It was the team's inability to break down teams in or near the relegation zone which hampered their bid to finish in the top four positions as they lost to each of the three teams which dropped down to the Championship. In all, their four forwards scored a paltry 17 goals between them: only four more than top scorer Rafael Van der Vaart.
And with moves for Gervinho, Giuseppe Rossi and Sergio Aguero having seemingly fallen through, manager Harry Redknapp is looking to Old Trafford for answers.
Manchester United manager Sir Alex Ferguson has seen Edwin Van der Saar and Paul Scholes retire and has sanctioned the departure of defenders John O'Shea and Wes Brown to Sunderland as he embarks on the biggest ever overhaul of his playing staff in more than 20 years. He may now consider a proposed bid of £20 million from Spurs for defender Jonny Evans and forward Dimitar Berbatov.
Berbatov scored 20 goals last season, including a stunning hat-trick against Liverpool but was overshadowed by Javier Hernandez's fine first season in English football and left out of the UEFA Champions League final against Barcelona. Evans has been usurped by Chris Smalling, who has just signed a new contract at Old Trafford.
Link: http://www.caughtoffside.com/2011/07/09/tottenham-plan-22m-double-man-united-star-bid/
This article is
What is the duplicate article?
Why is this article offensive?
Where is this article plagiarized from?
Why is this article poorly edited?
Denis Doyle/Getty Images
People.co.uk says that Liverpool are willing to listen to offers for their Portuguese midfielder Raul Meireles.
The 28-year-old former Boavista and Porto player moved to Anfield just last year in a deal reported to be worth £11 million and has fared much better than Liverpool's other recent high-profile, high-money foreign midfielder Alberto Aquilani.
In fact, the Premier League statistical engine rated Meireles as the 34th-best player in the league last season with a total score of 423. This suggests that he consistently performed at a higher level than Cesc Fabregas, David Silva and Scott Parker.
Despite lacking form in the first half of the season and playing in a team which lacked confidence and direction until manager Roy Hodgson's departure in January, Meireles eventually showed that where there is a will there is a way.
His goals and performances in the second half of the season even won him the PFA Fans' Player of the Year award and Lucas Leiva, winner of the club's Player of the Year award said Meireles was the club's best player.
In this context, it is amazing that Liverpool are considering selling Meireles, but the player will be uneasy over the arrivals of creative midfielders Charlie Adam and Jordan Henderson for fees totalling nearly £30 million and he does not really fit the player profile favoured by the club's new Director of Football Damien Comolli.
It is thought that Italian clubs Internazionale and Juventus are leading the chase for Meireles, but may have to offer more than the amount Liverpool originally paid for a player who has proven to be hard-working and versatile.
Link: http://www.mirrorfootball.co.uk/transfer-news/Liverpool-to-let-midfielder-Raul-Meireles-speak-to-Inter-Milan-and-Juventus-about-a-12m-move-article763217.html
This article is
What is the duplicate article?
Why is this article offensive?
Where is this article plagiarized from?
Why is this article poorly edited?
Shaun Botterill/Getty Images
Emirates247.com reports today that French midfielder Samir Nasri may complete a move from Arsenal to Manchester City today.
Marseilles-born Nasri, 24, has long been linked with a move away from the Emirates Stadium and it now seems that he may finally join his compatriot and former team-mate Gael Clichy, with a £22 million move to Eastlands.
If this deal goes through, it will be a significant blow to Arsenal in their quest to win the Premier League title or even just a first trophy in seven years and it may also send out the wrong message to both fans of the team and potential transfer targets.
Although Arsenal finished fourth last season, the Gunners played the most attractive football for long periods of the campaign and boasted two standout performers in Robin Van Persie and Samir Nasri.
In fact, Nasri scored 10 league goals and 15 in all competitions, was ranked by the Premier League's EA Sports Player Performance Index as the sixth-best midfielder for the season and, in a recent analysis feature run by the Daily Telegraph had the one of the highest pass completion rates of all midfielders in Europe with more than 87% finding their way to teammates.
However, the mercurial Marseilles-born talent is approaching the end of his contract with Arsenal and there is sense in selling him now and bringing in a fee which could then be spent on a replacement, rather than playing hard ball and risking losing him on a Bosman free transfer next summer.
Manchester City, who finished third last year in Italian manager Roberto Mancini's first full season, want to take advantage of the situation with a cut-price bid of £22 million in what would be their third signing of the offseason, following defenders Stefan Savic and Gael Clichy's decisions to join the Qatari revolution happening at the club.
Link: http://www.emirates247.com/sports/football/arsenal-s-nasri-agrees-to-join-man-city-for-22-million-report-2011-07-10-1.406802
This article is
What is the duplicate article?
Why is this article offensive?
Where is this article plagiarized from?
Why is this article poorly edited?