20 Athletes with the Biggest Toys
Athletes have a lot of toys, mostly because they have a lot of money. But I'd say it's more because they're stupid and don't know how to wisely use that money.
And so we have the following 20 things.
I shouldn't say all of these purchases are terrible, as a few of these actually have practical uses. But for the most part, we'll be looking at large—both in size and cost—purchases made by athletes.
As we'll also see, adult toys are much better than children's toys.
Unless we're talking about Legos. You're never too old for those.
Begin Slideshow

»
If you're wondering why there's not a picture of a jet where Scottie Pippen's disgruntled face is, it's because I can't actually find a picture of it.
But it exists! I swear!
He bought a Gulfstream jet in 2002 for $4 million. Then it sat there for a bit and the idiot forgot to get it inspected, costing him another million in engine repairs.
At least it would have. He declined to get the repairs, so the jet became, for the most part, useless. But he could always dress as a pilot and pretend to fly it.
I might have taken this one too literally.
What you're looking at is Rondo playing the arcade version of H2O Overdrive as he heals from an ankle injury. So next time you're sick and staying home from work or school, think of this picture.
It'll remind you to curse God for not blessing you with extraordinary athletic ability.
Karl Malone is a member of the NRA, so he's got lots and lots of "toys"—probably ones much, much bigger than this one.
But these are very special toys—they're the type that can kill you. And you have to be a certain age to play with them. And you have to take really good care of them and keep them out of sight and locked away from children. And you can only use it in certain places and certain times.
And if you shoot yourself in the leg with this toy, you go to jail for two years in the state of New York. Well, not this particular toy—your leg would be gone. And good luck fitting it into your pants.
This is Rickie Fowler, professional golfer. But I'm not here to talk about him—mostly because I don't really care to. I'm here to talk about his sweet ride.
Puma, his sponsor, gave Ricky this golf cart, and as you can see, it's not your average one. The custom wheels are a dead giveaway. He gets a pass on this one since he didn't pay for it.
It seems like a waste to keep this thing on the golf course, though. I'd take it out on the highway or to the beach to run over some sand castles.
Hey, a pet's a toy. You ever seen a two-year-old around a dog? I'll tell you, my niece tries to ride my dog like she's Tommy from Rugrats.
What you're seeing here is a rather lovely moment between Mike Tyson and his former pet tiger, playing in the water, having a golly ol' time.
I can't think of many pets bigger than a tiger, unless you can get a hold of an elephant.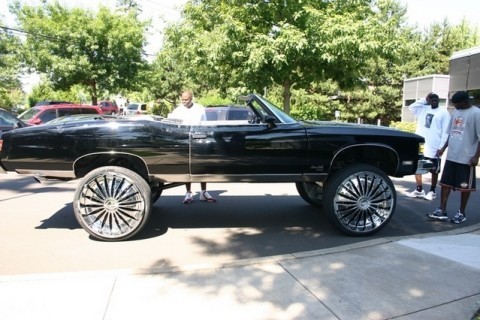 God, this thing is hideous.
Darius Miles "suped up" this '96 Chevy Impala and somehow keeps a straight face driving it around in public. I don't know what's better: him raising it two feet off the ground or the comically large rims he put on it.
Some people just shouldn't have disposable income.
Here we go again.
I placed this above Darius' car because it at least looks classier. However, as I'm sure you noticed, I'm not the biggest fan of this type of thing. You would never see me in this car.
This is coming from a guy who drove a '98 Toyota Camry in college that had a vise grip for a key. Chicks dig the vise grip.
This photo doesn't say "explosive athlete." It says "pimp who's doing well for himself."
Yes, he has bigger cars. But unless you want to look at what is essentially the same Hummer as everyone else's, this is what I'm putting.
This is LeBron's Jeep Wrangler. As you can see, LeBron is inside of it, looking as though he may kill whoever is taking this picture.
Just kidding—we all know LeBron has no killer instinct.
Ah, the Range Rover.
You knew you'd see one on here. For the most part, this is a pretty standard one, if you don't count the rather enormous rims. I don't even want to know what's going on inside.
There's probably a bowling alley in there. Don't ask me how that's possible, but if you throw enough money at someone, they'll make it happen.
This isn't a car—it's a weapon. A very loud, unnecessary weapon.
Alfonso Soriano is that guy who cruises throughout the neighborhood blasting his music, either because he's oblivious to the fact that he does indeed inhabit a world with other people or because he thinks everyone listens to the same music.
You know who you are, Sorianos of the world.
This is Gary Payton and friends on his yacht The Glove, which is a nickname Payton's cousin reportedly gave him because he was "holding Kevin Johnson like a baseball in a glove."
This makes it sound like his cousin caught Payton spooning with Johnson, but it was actually during a basketball game. And that made it sound like they were spooning during a basketball game.
Just forget it.
I don't think they actually go anywhere on this yacht. They just like to take pictures with it.
Evidently, there are far more athlete pilots than you would think, many of them in NASCAR. This plane is Tony Stewart's, and it looks rather boring.
He has money, so it should—at the very least—have flames on it. You can't fly without flames. Decal flames, of course.
You don't actually want any kind of real flame near your plane, unless you're in an action movie and your name's Nicolas Cage.
Now this is a plane.
Though Stewart's plane is bigger, Biffle was placed ahead because he took the time to make his plane look awesome, and I appreciate that.
He's been involved in a "small" plane crash before, so maybe he should stop playing with this thing if he knows what's good for him.
Chad Johnson bought himself this Freightliner for his 32nd birthday.
Seems like lately Johnson has been spending more time farting around off the field than actually playing on the field, as his numbers have dropped substantially over the past couple years.
He might just start using this to run over opposing cornerbacks, because he can't seem to get open on his own anymore.
Why anybody would possibly need a truck—is that the right word, truck?—this large is beyond me. Obviously, it's not practical, both in regards to size and gas mileage.
I originally wanted to call this article "20 Athletes Who Are Compensating for Something," and this is exactly why.
What are you hiding in there, Joe?
As if Shaq wasn't large enough, right?
This one's kind of a given. They call him "Shaq Diesel," so it's only fitting that he own a diesel-sized car.
I will say, though, I'm quite disappointed in the size of the wheels.
It looks funny, like a really large guy with a small...pencil. Yes, that'll do.
Reggie Jackson might not have the biggest cars, but he has the biggest car collection, with over 100 vintage cars to date.
That's a lot of toys.
He probably doesn't play with many of them, though. Some toys you don't take out of the plastic, or the garage in this case, I guess.
My God, it's spawning smaller, more efficient boats!
It's like that scene from Independence Day where the mothership craps out smaller, yet still very large, ships as part of a plan to destroy Earth.
I'm on to you, Greg Norman. Now I'll just need to develop a virus...a computer virus.
Come step aboard Air Jordan.
Leave it to Michael to buy his own jet and put his logo on it. Looks like he went with North Carolina colors too. Burn, Chicago.
He probably won this gambling. Actually, that can't be right—I said "won."
For Christ's sake, he named the damn thing Privacy.
Privacy. I wonder why. Privacy's something you want when you're up to no good, like, I don't know, Tiger Woods. No wonder Elin didn't want it in the divorce.
Can you imagine looking around this thing with a black light?
He's reportedly trying to sell it now, so if you've got $25 million to burn, it's all yours.