Los Angeles Galaxy vs. Chicago Fire Live Blog: Play-by-Play Analysis, Reaction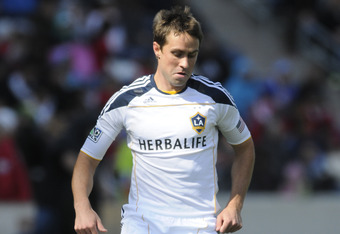 David Banks/Getty Images
Bruce Arena's Los Angeles Galaxy continue their busy July with an important Major League Soccer showdown against the Chicago Fire on Saturday at the Home Depot Center in Carson, California.
The Galaxy are currently 9-2-9, and in spite of an unbeaten run, wins have been harder to come by. As for Frank Klopas's Fire, they are 2-4-12 and are in need of a victory to have an outside shot at qualifying for the MLS Cup Playoffs.
Keep it here on Bleacher Report for continuing coverage of the 2011 Major League Soccer season.
Thank you very much for following this live blog. Have a good night, everyone!
90' + 6' - That's it!
FINAL
LOS ANGELES GALAXY 2
Landon Donovan 58'
David Beckham 66'
CHICAGO FIRE 1
Cristian Nazarit 62'
90' + 5' - Josh Saunders collects.
90' + 4' - Red card 23 Josip Mikulic
Chicago Fire
Total brain explosion on the reserve's part.
Substitution Chicagto Fire
IN 77 Bratislav Ristic
OUT 14 PAatrick Nyarko
90' + 3' - Things have gotten real ugly, real late. And Nyarko is helped to his feet.
Yellow card 8 Chris Birchall
Los Angeles Galaxy
Substitution Los Angeles Galaxy
IN 26 Michal Stephens
OUT 8 Chris Birchall
90' + 2' - That is deflected. If I'm Bruce Arena, I'm asking my guys to press for a third. That will be out for a throw-in. And there's a fight on the way. Here we go. I think we have some players that will be sent off here.
90' + 1' - Yellow card 99 Diego Chaves
Chicago Fire
Harsh challenge. Lucky to not get sent off. Free kick for the G's. What will Beckham do here?
90' - Gregg Berhalter's legs are tangled up. Let's see how many minutes of stoppage time we get here tonight. Too strong for Miguel Lopez.
Four minutes of stoppage time. Here we go.
89' - If you're just joining us on this play-by-play, well, you've missed out on a lot. Gonzalo Segares's attempt is wide right. Corner for the Fire.
88' - At the rate things are going now, the English press will have at least something to smile about, in spite of the penalty-shootout kryptonite. Free kick for Beckham is taken short.
87' - The Galaxy are susceptible to squandering 2-1 leads. Case in point: Toronto several weeks ago. Here's Gibbs.
86' - Cleared by Sean Johnson, and the counter is cleared in return by Josh Saunders. Back to action, and Saunders will collect that one in the push to take more time off the clock.
85' - Same angle and direction, but it's deflected. A harsh challenge on Beckham. Free kick, No. 23 of the G's.
84' - Some nice buildup from the Galaxy, but Mr. Johnson is defending for his life. Corner, David Beckham. Now, what will he make of this...?
83' - Goal kick, Sean Johnson, and the Fire continue to press.
82' - The Galaxy redistribute, looking to milk some time off the clock.
Substitution Chicago Fire
IN 15 Orr Barouch
OUT 16 Marco Pappa
81' - David Beckham starts a counterattack. Sean Johnson snuffs it out.
80' - Ten and stoppage to go, and it's 2-1 LA. Cory Gibbs with some touch, and the drums continue to pound in the July summer air.
79' - Sean Johnson redistributes. Here's Nyarko, and Josh Saunders is not going to take any chances.
78' - Substitution Chicago Fire
IN 99 Diego Chaves
OUT 6 Jalil Anibaba
So it looks like the Uruguayan international will look to be the super sub the Fire need at this point inn the contest.
77' - ...or die trying. Here's the counter for the G's. Snuffed.
Substitution Los Angeles Galaxy
IN 17 Adam Cristman
OUT 9 Juan Pablo Angel
76' - Paladini now, and here is Marco Pappa. Nyarko with possession, and LA will let the Fire take their best shot from this point forward...
76' - So now we are heading into crunch time, and it's a precarious 2-1 lead to the G's.
75' - Juan Pablo Angel takes, and Juninho plays it back.
74' - Nazarit was thinking brace. Slow down, good sir. Landon Donovan with the stop.
This article is
What is the duplicate article?
Why is this article offensive?
Where is this article plagiarized from?
Why is this article poorly edited?