What TNA could learn from WCW and the Monday Night Wars
July 9, 2011
Paul Kane/Getty Images
Many people see potential in TNA and the product that it has been putting out for the past couple of years. But TNA has not lived up to all the hype. Sure they've signed a few big names here and there, but it isn't enough to get people to draw their attention away from the WWE.
WCW managed to expose the WWE and be a legitimate contender against them for a few years, even beating WWE Raw in the ratings for an extended period of time. And WCW did something pretty simple. They stuck with the direction that they were headed.
WCW tried to make a splash in every way possible. They signed two of the biggest names the WWE had ever produced in Hulk Hogan and Bret "The Hitman" Hart.
Now as you're reading this you might think, TNA signed Hulk Hogan. TNA signed Sting. And they signed Kurt Angle. But here's the problem. Hulk Hogan doesn't wrestle anymore. They have him running the company and it's obvious he wanted to make changes.
Sting is getting older. His matches aren't going to be as great as they used to be. And the only reason TNA has been able to keep him is because of the scheduling issues that many wrestlers have when they are with the WWE.
As for Kurt Angle, TNA pretty much blew it. I can admit that the amount of passion that he's had in the rivalry between himself and Jeff Jarrett has been awesome to watch. But it's gotten to the point where I can't see him fighting against anyone else.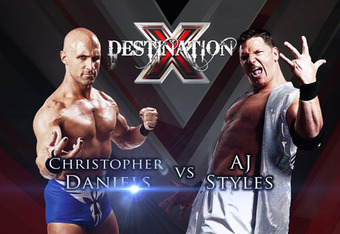 But I like the direction TNA is going in. They just have to stick with it. Bring back the six-sided ring. It made the company unique. Hulk Hogan has been trying to put a WWE-like atmosphere into TNA. But TNA can't be the WWE. TNA cannot let Hulk Hogan change what has made TNA special. Hulk Hogan didn't produce guys like AJ Styles, Samoa Joe and Christopher Daniels. TNA did. TNA made them stars. So TNA needs to put them back in the spotlight.
And TNA has to bring back the X Division. And make it an actual division. Abyss DOES NOT QUALIFY as an X Division wrestler. The X Division is an exciting concept and is something WWE could not replicate even if they wanted to.
It's always good to sign big names to try and attract new fans, but choose wisely. Can you imagine CM Punk going to TNA? No. Because it's not a good fit. Spend money in the right way. You have a lot of good headliners. TNA should build up the rest of their roster so that people actually care about things other than the main event. Build the tag team division. WWE hasn't had a decent and legitimate tag team division in years. (Not saying they don't produce good teams, they just don't produce good teams at the same time)
TNA needs to stop bringing in old faces. Let's name some of the names they've signed over the years:
Booker T, Kevin Nash, Scott Hall, Sting, Hulk Hogan and Eric Bischoff from WCW. Rob Van Dam, Sabu, Team 3D, Raven, Tommy Dreamer and Tazz from ECW. We've seen all these guys before. The only person that should still be in TNA from that list right now is RVD. TNA needs to grow their own stars. Maybe a developmental program is in order.
And many will disagree with this statement, but once TNA builds itself up enough, attack the WWE in any way possible. I loved watching Billy Gunn and Road Dogg going to WWE HQ in Connecticut. I love the "Wrestling Matters" motto. That's a shot at WWE without a doubt (referring to WWE banning the words Wrestling and Wrestlers). But they should wait until they are ready. TNA tried the move to Mondays way to early. (Another stupid move by Hulk Hogan)
TNA has some things to do to get back on track, but once they do it'll be a fun time to be a wrestling fan.