Winnipeg Jets Should Trade Places with the Nashville Predators: Idea for the NHL
July 9, 2011
Rich Lam/Getty Images
During the course of the news cycle that focused on the return of an NHL franchise to Winnipeg (before I saw that they were renamed the Jets, which I completely support), I was struck with a strange idea.
I thought about the notion of Winnipeg playing in the Southeast division as impractical, based on what I had been taught about geography as a young child. It simply didn't make any sense to say that Winnipeg was located anywhere near Carolina, Florida, Tampa Bay or Washington. 
I know that the logic behind the Eastern and Western Conferences is not perfect, but I still believe that the possibility of a swap between two teams is not unheard of.
With that in mind, I would like to argue that Nashville and Winnipeg should switch places. Winnipeg, which is currently in the Southeast Division of the Eastern Conference, could switch with Nashville, located in the Central Division of the Western Conference.
I admit that the location of these cities is definitely a contributing factor. Winnipeg is a relatively central city in North America, and Nashville is clearly in the Southeast. However, there are some hockey related factors that also play into my desire to see this happen.
Nashville is a contender almost every year that wants to see their market for hockey grow significantly.
Playing with Washington, Tampa Bay and Carolina will provide them the chance to expose their fans to a comparable amount of star power, while fostering possible rivalries on a local level—a possibility which was not previously available.
This would also give Nashville a chance to "preview" the playoffs before they get there, which might help them build a team that is better suited to make a deeper playoff run.
If what some people seem to think about the West is true and it is easier to make the playoffs in the East, then Nashville should have no problems doing so.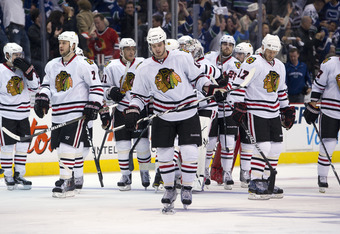 Rich Lam/Getty Images
Winnipeg would move to the Central Division, which is always very competitive and has the Blackhawks and Red Wings, two of the healthiest markets and most popular teams in the NHL. This could set up friendly U.S.-Canada competition, and I believe would be something that the Canadian fan base would be open to.
The Jets are a very young team that is looking to build itself into a contender, kind of like the Blackhawks of a few years ago. I invite fans to remember that the Thrashers looked really good at the beginning of this season, and its not a stretch to think of the Jets in the playoffs in the next few years.
Playing in a more competitive division will allow the Jets to see just how ready they are to play for the Stanley Cup. They can learn from the example provided by Chicago or Detroit.
Although I would like to see this happen, I do not think that the NHL is likely to take my suggestion. There are probably many obstacles involved in making such a decision, as well.
It is a fun idea to kick around in my head, however, and I hang onto a sliver of hope that someone in the NHL will have a similar idea.