Why Steven Stamkos Will Get Columbus a Stanley Cup
July 9, 2011
Justin K. Aller/Getty Images
Steven Stamkos is one of the best young players in the NHL.
It is not every year that a player of his caliber is actually available. It is also no secret that the Columbus Blue Jackets have had problems drafting players in the NHL draft. Losing four first round picks to sign a guy of his caliber really would not hurt the Jackets too much, because we are one of the worst drafting teams in the NHL. This is not a shot at Scott Howson—I am actually a Blue Jackets fan.
Before the free agent period started, I was hoping that we would've signed Wisniewski and traded for Jeff Carter and we did. We have made great moves to try and become a playoff team but we are still a ways away from seriously contending for a Stanley Cup.
I like the additions of Jeff Carter and James Wisniewski. You get a guy that can be the great center that we have always needed to play with Rick Nash. Wisnieski is a tough defenseman that will definitely become a fan favorite early with his hard-hitting nature and his ability to move the puck.
These two signings make us relevant in the playoff conversation, but we are still a sixth seed at best in the ultra competitive Western Conference.
Steven Stamkos can come in right now and be our top flight center for years to come. I really do feel that Jeff Carter would be better suited at the left wing. Carter will thrive in Columbus, but he is not an elite center like Stamkos would be for us.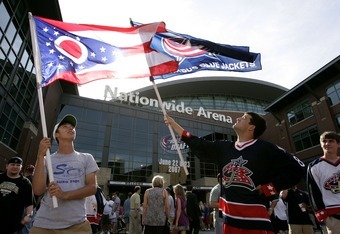 Jamie Sabau/Getty Images
Stamkos just fits our team philosophy and he is a much better passer than Jeff Carter. Carter is a guy that is a better goal scorer than a gifted passer. Stamkos playing with Nash and Carter places both of them at their more natural positions.
Having Stamkos, Nash, Carter and Wisniewski takes a ton of pressure off of Steve Mason. With an advanced puck handler like Stamkos, the Jackets will keep the puck out of the other teams' hands. Simply put, if they have the puck the other team cannot score.
This move gives the Blue Jackets arguably the best power play in the NHL. He does not hurt in the penalty kill either as Columbus would definitely be in the Top 10 next season.
Adding Stamkos to the team would cost the Blue Jackets a lot of money, but they do have other assets that would be highly valued on the trade market.
With guys like Johansen ready to be added to the active roster, we have enough flexibility to trade some of our other guys to add more depth to the team. R.J. Umberger and Kristian Huselius are players that have trade value on the open market. The Jackets still need another defenseman for their second pairing.
These two guys can contribute in major ways for the teams that were left without a forward in free agency. Trading one or both of these guys can add valuable draft picks that they would be trading away in order to acquire Stamkos, along with adding quality depth.
Guys like Johansen, Brassard, Vermette and Calvert makes Umberger and Huselius expendable with Stamkos on the roster. Trading these two players pretty much keeps the Jackets at their current cap, which is around $8 million.
The results for Stamkos would be him having 100-plus point seasons for the next five to six years. He could easily be the top center in the NHL after next season's end.
The Blue Jackets would instantly jump from a bubble playoff team to a top-four team in the Western Conference.