Chris Smalling of Manchester United FC Signs New 5-Year Contract
July 8, 2011
Laurence Griffiths/Getty Images
Chris Smalling today put pen to paper, as Manchester United FC announced a new five-year deal with the talented and young defender. Smalling is seen as the long-term centre-back at United, and this lucrative contract running until the end of the 2015-16 season shows just how much the 21-year-old impressed Sir Alex Ferguson last season.
Smalling, I jealously admit, is the same age as this writer; in fact we share the exact same day of birth. Like most on this wonderful site, whether you are writing your opinions or sharing them with others, you have no doubt wanted to be in the same position as young Chris currently is at some stage in your life.
My envious side almost regularly comes forward as I watch footballers the same age as me throw away careers and talent on a daily basis; yet, for Chris Smalling, I have only respect.
Despite tabloid reports like The Sun, detailing a London hotel rendezvous with a few females following United's 2-1 loss to Chelsea, Smalling has successfully maintained a healthy dose of realism and a down-to-earth mentality, which shows someone who feels genuinely lucky to be playing at the top of his profession.
His story of coming from non-league football in the Isthmian League to UEFA Champions League football in little over 18 months is nothing but remarkable. Few expected him to play as big a role as Smalling ultimately did this season. In the end, 34 games started, one goal, a Premier League medal and the Community Shield was not a bad haul for someone who once had to leave Middlesbrough after signing his first professional contract due to homesickness.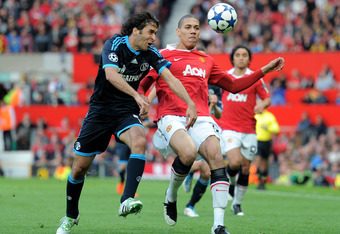 Michael Regan/Getty Images
With the departures of John O' Shea and Wes Brown, the patchy form of Jonny Evans and Rio Ferdinand's ever-increasing injury problems, Smalling goes into this season with a real chance of finishing it with a guaranteed first-11 spot.
Having been called up for the friendly against France last November, who would bet against him making the England team (if not starting) next summer in Ukraine and Poland, should they make the European Championships?
The path he took to a career at Old Trafford was the first time since Ian Wright that a player had come from non-league via a Premier League team to one of the biggest teams in the world. His move gives greater hope to those plying their trade in the lower echelons of English football that perhaps they can, with a bit of good fortune and the right mentality, be the next Chris Smalling.
Although it seemed Smalling was always destined for a career in some sport. Something that is rarely said about Smalling is that, as an 18-year-old, he played rugby in Twickenham, cricket at Lords and football at Wembley, showing just how uniquely talented the boy from Greenwich really is.
There is no doubt in my mind that Smalling has the talent to scale the very heights of the game, and today's announcement comes as a reassuring pat on the back for a player who you can't help but feel happy for.
The only thing I can say is...well, I just wish it had been me.