NFL Free Agency: 8 Teams That Should Pursue Soon-to-Be Free Agent Reggie Bush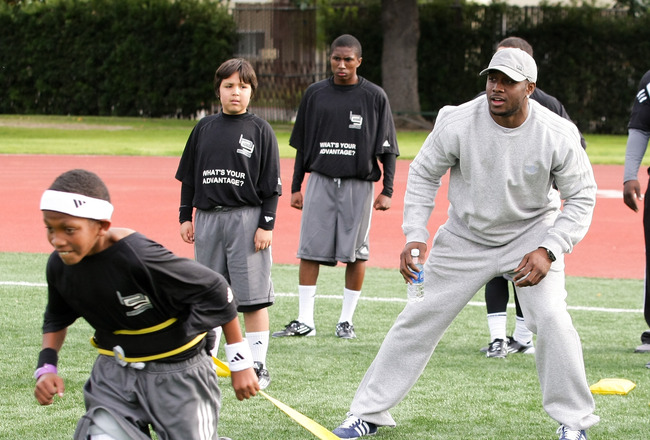 Reggie Bush (right) is team- and seemingly fashion-less. These are organizations that present mutually beneficial scenarios for the former (like, he isn't anymore) Heisman Trophy winner.
Noel Vasquez/Getty Images
Begrudging lockout update: Looks like this might take a while, with an evening report that a deal isn't likely before next week, and this morning's 8th Circuit Court's ruling on the lockout's legality.
If you thought the owners abused their leverage before, just wait.
But there's still football to be played, and commodities to be had.
One of them is Reggie Bush, who I'm calling a lock to hit free agency the second Roger Goodell called Mark Ingram's name on Draft Day. Bush has little trade value, and fewer takers for that lush $11.25 million contract he's no longer worth.
He'll be cut the day the lockout is lifted. Book it.
Admittedly, he's a bit worn. But even 90 percent of Reggie Bush still oozes with athleticism.
And he'll need a job like he does arm candy. (Hey, last time he was wifed up, he was the one to get a ring out of it.) Effort won't be a question, especially not for an incentive-laden deal teams would have to be sillier than Tosh.0 "Web Redemption" putty to offer anything other than.
Simply: He's got carries in the tank. Here are the teams that should wring them out of him.
Criteria: Method Behind the Match-Making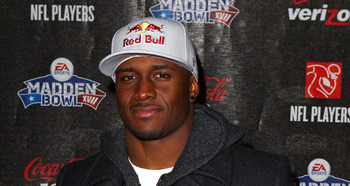 Reggie Bush (above) is making considerations you probably won't, like weather, state income taxes, prestige and market size. This list honors them.
Joe Scarnici/Getty Images
Aside from the obvious, prerequisites like teams' holes at running back and their cap room, a slew of ancillary considerations were used to rank these fits.
They are:
1. Where would Reggie most succeed? Sure, Reggie would look good next to Maurice Jones-Drew, Arian Foster, and Peyton Hillis, and be a start toward replacing Ronnie Brown and Ricky Williams. But neither the Jaguars, Texans, Browns nor Dolphins are going anywhere in 2011.
So Bush won't be coming.
2. Who most benefits from adding Reggie? This simply ranks the pool of teams after the first cut. I'd tease with rationalizing the order, but then you won't read on. (Thank you, TCNJ School of Business.)
3. Stadium: Bush averaged 6.1 yards per carry on turf and 6.7 yards per carry indoors in 2009, his last injury-free season. His people might miss that detail.
I didn't.
A lifelong competitor in warmth and inside (at USC and New Orleans), Bush plays a game predicated on speed. And he's got to be healthy enough to play to...well...actually play.
Turf accentuates his quicks, and softens falls come December. For a guy who's missed 20 regular season games due to injury, that has to be considered.
Sorry Philadelphia, if I'm Bush's agent, I won't let him concuss himself repetitively by cracking his head on a Novacare Complex grass field-turned-concrete throughout a nippy, 2011 winter.
4. Organizational Stability: This includes tenure and authority from under center and above. A few questionable suitors squeaked their way on this list in spite of shaky leadership, but plenty were demoted or disregarded because of feeble coaches, overbearing front offices or unsettled quarterbacks.
For a guy with Bush's star power, any crack in the organizational shield would turn into a fault line with the media scrutiny—maybe more so if he performed well. And fast.
5. Eye Test: Plain and simple: Do you buy that team, that GM or that president making this move? If no, feel free to omit your team from this list.
6. Intangibles: Beyond a horrendous roster and incompetent front-office, there's a reason back-to-back 60-win seasons and MVPs couldn't keep LeBron in Cleveland.
It was Cleveland. It was cold (and unredeeming). Had state income taxes. But no marketing potential.
Bush is a person. And people consider variables most fans don't.
Ipso facto: Bush, a person, will consider variables YOU won't.
It Should Be Noted...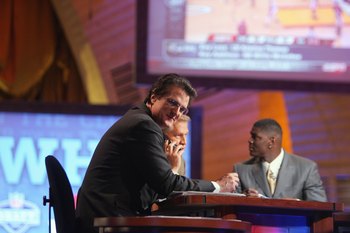 Keep in mind: I'm not Mel Kiper (above, with patently ridiculous hair). That means all of this is original, and NOT based on closed-door conversations.
Chris McGrath/Getty Images
I'm not important.
(Yet.)
That means that this slideshow is based ENTIRELY on personal observations, as opposed to the insider information and back-door chatting that write every Mel Kiper column themselves. So sorry, but I can't promise mention of anonymous GMs or unnamed assistants who I haven't spoken with.
(Editor's note: For any front-office exec willing to talk, my assistant is taking calls. His name is Matty.)
For the intents and purposes of originality, I won't be citing ESPN Rumor Central or the monsoon of previously written clips. I'll do homework, but not the "regurgitate my way to 50,000 hits" track to relevance.
Plus: trying to prove I'm not expendable here... (Wink, elbow, wink.)
IMPORTANT: This reliance on my gut includes a pretty important detail, my prediction that Bush won't be retained by New Orleans.
If he is, the direction of this slideshow is altered dramatically. Then we're talking who's most likely to trade for Bush, who I think would end 2011 as a Saint, before hitting free agency (for realsies) in 2012. I just really don't think there's a market for him, if sacrificing players or picks is the caveat.
That said...
8. Rams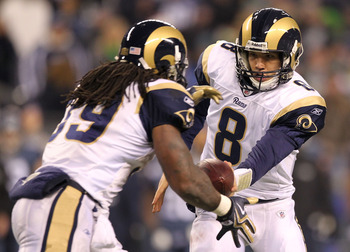 Whether it happens or not, both Sam Bradford (No. 8) and Stephen Jackson (No. 39) would much-appreciate Reggie Bush taking hand-offs in 2011.
Otto Greule Jr/Getty Images
"WHAT?!" you ask yourself. "You JUST said Bush won't sign with a non-contender."
And you'd be right.
I'll level with you: the Rams aren't Super Bowl-bound.
But they do play in the NFC West, the punch line of NFL groupings, and Sam Bradford is promising enough to shake worries of a sophomore slump and irrelevance in 2011.
If the Rams do ANYTHING to help Danny Amendola and Austin Pettis (third-round pick out of Boise State) at wide receiver in free agency, St. Louis becomes prohibitive favorites to nab that automatic playoff spot.
Plus, the Rams play on turf (plus) have a deceivingly talented offensive line (you know about Jason Smith, but Google Rodger Saffold) and could use an excuse to use the screen game to take pressure off both Bradford AND an iffy interior line.
That should be enough for Bush's people to look into it.
Preserving Stephen Jackson's body—he's missed 12 games in seven years for achy hips, thighs, groins, knees and back—should be enough for GM Billy Devaney.
It's unlikely, but a surprisingly sensible for both.
7. Raiders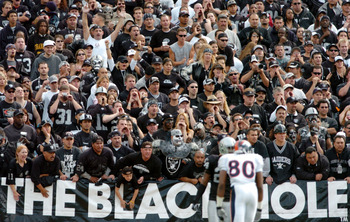 Hey, Bush wouldn't go unappreciated. Not by this mob.
Travis Lindquist/Getty Images
If Oakland EVER had opportunity to break from a decade-long rut, this is it.
I long contended that Bruce Gradkowski was serviceable enough a fabric to a.) hold the team together with leadership and b.) help it legitimately contend for the division you refuse to let yourself follow, at least on ESPN.com. (Thanks, Bill Williamson.)
But Al Davis is taking a hard line on this one, despite whatever glimmering promise Gradkowski flashed during his time in the Bay Area: He's not bringing him back.
If Jason Campbell can screw his head on right, though, the Raiders do have themselves value under center. Remember: Campbell's 2010 had its moments, not the least of them a 23-20 overtime win at home against the Chiefs that featured a 94-yard bomb to Jacoby Harris, trumped later by the 29-yarder late in the fourth to set up a game-tying field goal, both of which were dwarfed by his 47-yard haul in overtime to prime the Sebastian Janikowski's winner.
Great game. Hope you caught it.
The organization seems to be wholly vested in Campbell, who couldn't earn the same trust in Washington, even though he rolled through the first half of the 2008 without an interception, and went pick-less in 12 of Washington's hopelessly heartwrenching 8-8 season. If Cameron Diaz is Hollywood's biggest man eater (I know, news to me, too), Dan Snyder is the NFL's biggest quarterback eater, making Jason Campbell an afternoon bag of Doritos.
In other words: Campbell got a raw deal with the Redskins. He, and the Raiders, should be mutually and reciprocally better.
Why that matters: Because Reggie Bush would have to believe Joe Theismann (thank you, "Cosmo Kramer") to sign there.
If he does, he'd mesh well on a team that threw 65 passes to running backs Darren McFadden and Michael Bush. Envision McFadden in a game of Madden, but with a 200 endurance attribute rating. That's essentially what you'd get with him and Bush, so strikingly similar stylistically he's seemingly an extension of Oakland's current starter.
Losing Justin Fargas to free agency and leaning WAY too heavily on Michael Bush—158 carries last year for a guy who's leg exploded once more than any leg should is excessive—creates a need. For 2010's second-ranked rushing attack (155.9 yards per game), that could be easily Reggie.
The hometown factor—Bush grew up just outside Spring Valley, Calif.—is huge, as is the money Al Davis would overpay him with.
(Pause for serendipitous laughs at Al Davis' spending habits. One ... two ... three ...
OK.)
Again, not a lock for Lucas Oil Stadium in February with or without Bush, nor is the signing a certainty.
But Bush in Raiders black intrigues me enough to give it a chance.
6. Buccaneers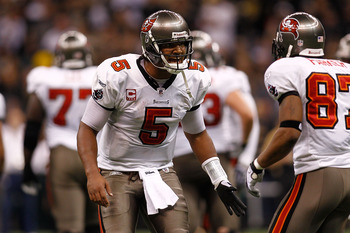 Josh Johnson (No. 5) is just a sliver of the temptation that is Tampa Bay for ANY free agent, let alone someone with options like Bush.
Chris Graythen/Getty Images
The only thing keeping the Buccaneers from legitimate contention in 2011 was its defensive line—Tampa ranked 28th in rushing yards against—which GM Mark Dominik squared away by drafting defensive ends Adrian Clayborn (Iowa) and Da'Quan Bowers (Clemson) in the first two rounds this April.
Roll in linebacker Barrett Rudd and pray that Aquib Talib isn't locked away for the rest of his natural born life, and you've got a plucky thorn in New Orleans' and Atlanta's sides.
With that problem axed, all other factors point to a possible marriage for Bush.
There's the weather and income-tax-less-ness that Florida offers, "woman scorned" effect of sticking it to the team that dumped you, a gentler media than Bush has EVER known—everything a bachelor like Bush would want.
And then there's falling in line behind one of the league's most buoyant up-and-comers (quarterback Josh Freeman), beside a bruiser (LaGarrette Blount), and under football's second-most inspiring active coach (Raheem Morris, behind only Mike Tomlin).
(After this, Herm Edwards takes the lead among antiques.)
Who wouldn't want in on that?
5. Chiefs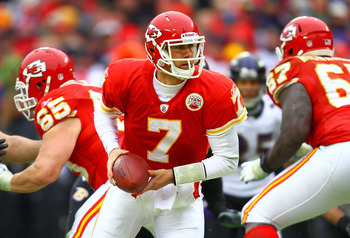 How scary would Bush be on the other side of this handoff from Matt Cassel (above)?
Dilip Vishwanat/Getty Images
Another team I can't help but love. And willingly, too.
That's not always so. A lot of the time, you find yourself endeared in a reluctant romance.
But I love to loves me some Chiefs, and bet Reggie feels the same.
They're chock-full of youth—Dwayne Bowe, Jamaal Charles, Javier Arenas, Eric Berry and Jonathan Baldwin (in age order)—on both sides, stabler at quarterback than most, finally defensively capable (blame the Chief offense's video game scoring for the defense's Nos. 14 and 17 rankings against the run and pass), and spilling from the ears with smarts, even less offensive coordinator Charlie Weis.
And there's that thing about their offensive line. Not bad, that bunch.
(If you're into advanced stats: They're ranked No. 5 in adjusted line yards, higher than their No. 8 in 'open-field rank'—meaning not only are they among the best in the league, but KC's No. 1 rushing offense was marginally more a product of the hog-mallies than Charles and Thomas Jones.)
What isn't there to love about the Chiefs?
Admittedly, Arrowhead Stadium isn't as synthetic as Reggie (and I) would like, nor is Missouri as eventful.
But this is a bull market for shares of KCC, and preempting Jones' precipitous decline—dude is 32-years-old—makes for an enticing pairing come September.
4. Ravens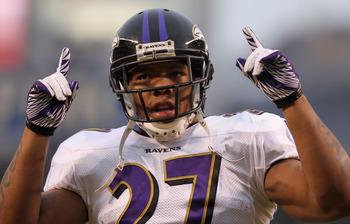 Ray Rice (above) would be EVEN MORE grateful if GM Ozzie Newsome brought in Bush to split his carries.
Nick Laham/Getty Images
And now for the team that mopped the floor with our No. 5 fit in last year's AFC Wild Card.
This has Ozzie Newsome written all over it (as it does a few GMs still to come). Bush could be had at a discount—coming off an injury-plagued 2010 of mop-up duty isn't exactly a bargaining chip—and doing so could proactively solve his running back problem (wait for it...) before it starts.
Look: Ray Rice is phenomenal.
But he, like every running back—not to mention every running back annually battered by the AFC NORTH—is breakable. Newsome could use Bush to lighten Rice's load.
Willis McGahee used to be that guy, but the house money McGahee burned through in defying every statistical and orthopedic odd imaginable is running dry.
I love him. (Really, I do. ... Or did.) But that knee, his overachievement or both will go by season's end.
Trust me.
(Note: Accounting majors will tell you McGahee's $15 million guaranteed as part of a 7-year/$40 million deal has absolutely no bearing on any future decisions. That also goes for his 2011 earnings of $6 million, which correlates to a big-time cap hit if he gets cut. But even keeping him can't dissuade from scooping up Bush.
We tend to call contracts like that "sunk costs" and delicate running backs like McGahee "liabilities.")
Newsome's rotating door will bring in Bush, if he can.
As for Bush, he'd be willing to bundle up in a parka during whited-out Maryland winters to play under John Harbaugh and vie for Super Bowls—this team's trajectory, even if Ed Reed and Ray Lewis are already on Shaq's AARP level, and with a few free agents to sign on defense (who doesn't?).
If nothing else, running behind one of the league's best offensive lines—No. 9 adjusted line yards, but No. 27 open-field rank (YIKES!)—is alluring enough for Bush's people to pick up the phone.
Or answer. Who knows? Newsome might call first.
3. Colts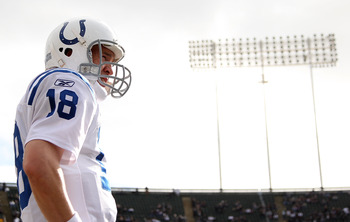 Reggie Bush could a HUGE factor in keeping that guy (Peyton Manning, No. 18) healthy, and under those lights.
Jed Jacobsohn/Getty Images
Lucas Oil Field is the ONLY factor in the Colts leapfrogging the Ravens. (I initially had them flip-flopped.) The turf just played too big a factor come crunch time.
But that's not to say these two aren't compatible.
There's the Colts' obvious need at the position, with Joseph Addai coming off injury—he missed eight games in 2010 with a bum neck, which I don't think ever "un-bums"—and Donald Brown's tread thin from a bazillion carries at UConn.
I like Mike Hart (always did). But he's not nearly as dynamic as Bush could be in the right system.
Which reminds me...
Could you IMAGINE Reggie Bush beside Peyton Manning?! Bush is a blatantly otherworldly check-down option and a crippling headache for coordinators.
But he's also grossly underrated as a blocker, something Manning (and his still-screaming, surgically-repaired neck) would appreciate—as would Bill Polian, who paid Manning a copious amount of guaranteed money this off-season (as part of a 1-year/$20 million offer, CBA-pending; and if franchise tags are dropped, Polian will have to pay more, in one of those "contract" thingies Top 3 quarterbacks are typically rewarded with).
This team has thrived for a decade-plus by plugging holes with talent on the cheap.
Bush is that exactly.
2. Cowboys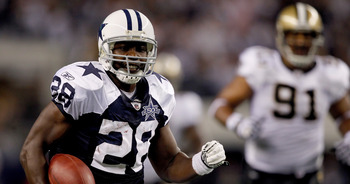 Imagine backfield triplets of Felix Jones (No. 28), third-round 2011 pick DeMarco Murray and Reggie Bush... Like a mirage of the Cowboys playing in February.
Matthew Stockman/Getty Images
This wouldn't even be "Jerry being Jerry." You can make a legitimate, logic-founded argument that a.) these two are unspeakably well-suited for each other and b.) Bush could push Dallas into a stratospheric, Super Bowl echelon.
The basics: Marion Barber is history, according to Calvin Watkins and everyone else with a Dallas-Fort Worth newspaper email address.
That frees up cap room—Barber was due $4.25 million with a $500k roster bonus in 2011—and carries for Bush, who would excel in Dallas' zone blocking scheme that was hamstrung statistically by Barber's impotence and Felix Jones' injuries.
Both mutually improve with Bush in Big D.
All the factors align: Relevance? (Check.) No state income taxes? (Check.) Turf? (Check.) Mega-hott cheerleaders/Kim Kardashian rebound potential? (Check.)
But this wouldn't be so superficial.

Maybe not a factor in the decision, but Bush would stumble on a unique blend of obstacles and rewards if he landed in Arlington.

In most of the above-mentioned locations, save for Indy and Tampa, Bush would concede any chance at being a starter. But I'm not sure he does in Dallas, even with Jones and Tashard Choice being somewhat proven.
But Bush would have to earn it, something he wouldn't have to in Indy and Tampa, and something he couldn't anywhere else. He'd have to work for it though.
Like translate that 365-pound power clean into functional football explosiveness. Like realize his "best 15-carry running back in a really, REALLY long time" potential.
Like stay on the field for more than 35 seconds.
If he does, Bush would pad not only reputation—nobody wants to be labeled "NFL Draft bust"—but his stat lines, and consequential escalators.
Not only do I think that Jones (both Felix and Jerry) pushing him would help Bush finally settle into his own skin as a player, but I also think it makes Dallas substantially better—for ALL the reasons mentioned for ALL the other suitors.
You can't find that ménage anywhere else on this list. Or in 2011 free agency.
1. Patriots
If there's anybody in the league who could mold Bush into a productive member of sports, it's Tom Brady (left) and Bill Belichick (right).
Jim Rogash/Getty Images
You had to see this coming.
Corey Dillon, and Fred Taylor would, after being scooped from near irrelevance to fill a void recent enough to remember, and draw a corollary.
Bush doesn't compare with Dillon and Taylor's production—easily among the most underappreciated of the 2000s—but he does with their malleability (like Dillon and Taylor, Bush would submit to "the Patriot way") and ability to spackle a hole.
Again: dynamism as a check-down receiving option, stellar pass blocking, versatility in comp routes—you get the works with Bush, if you know how to use him.
And if there's anybody with a track record of milking value from running backs—like, say, wringing Super Bowl serviceability from Kevin Faulk, Sammy Morris and the countless other notches on Bill Belichick's belt—it's "The Hood."
Roll that in with BenJarvus Green-Ellis' impending free agency and Danny Woodhead's 5-foot-nothing stature (average length of a running back career is 2.7 years, for dudes jacked to the ear lobes with bulk; I'm not saying...I'm just saying), and you've got yourself just cause to toy with the idea.
Hey, nobody thought Randy Moss would've been a Patriot, either.
Until, of course, it happened.
Honorable Mentions
A few who missed the list by this much (in alphabetical order only):
Browns: I was intrigued by the possibility of Peyton Hillis and Bush in the same backfield, all in the same patently bland unis as Colt McCoy, Josh Cribbs and Mohamed Massaquoi wear, and under Mike Holmgren's unspeakably successful thumb.
But it's the AFC North. And they're not Pittsburgh or Baltimore. So they won't be landing Bush.
Falcons: I just don't think they have the cash—at least not enough to justify chancing their 2010 continuity on Bush. Between Matt Ryan ($11.25 million in 2011), John Abraham ($8 million) and others they still need to pay, like, say, Julio Jones, who Thomas Dimitrioff sold the kids to acquire in April.
That, and it just didn't feel like a move Atlanta would make. Think they moved on from flashiness after the post-Vick image overhaul.
Seahawks: The turf, taxlessness and Pete Carroll connection boded well.
But disastrous quarterbacking prospects and god-awful weather—really, I don't think any sane human being would willingly relocate to Seattle—did them in.
Steelers: The ONLY factor precluding the Steelers was weather. Simply, I don't think his game would bode well in that frigid a winter, given Bush's uselessness between the tackles. Organizationally, they're set. Positionally, Rashard Mendenhall (shoulder) is fragile.
And their passing game could use some sprucing up with slip and swing screens, Bush's forte.
But West Pennsylvania gets mighty cold in December, and I fear Bush would, too.
Keep Reading

New Orleans Saints: Like this team?