The Atlanta Braves Head to Philadelphia with a Chance to Take First Place
July 8, 2011
Scott Cunningham/Getty Images
The Atlanta Braves, hot off a four-game sweep of the Colorado Rockies and winners of 14 of their last 17 games, head to Philadelphia with a chance to take over first-place in the National League East heading into the All-Star break. 
Lately, nearly everything has been going right for Atlanta.  Their pitching is top-notch and has shown it can compete with the best, even with Philly's celebrated foursome—one of whom is relegated to the disabled list (Roy Oswalt) most of the summer.  Their offense has picked things up lately as well.  
Dan Uggla, the slugger the Braves acquired in the offseason, and then rewarded with a 5-year contract extension, has been absolutely dreadful most of the season.  However, it was never a matter if he would hit, but when.  Uggla's batting average is still far below the Mendoza line, but his production has increased in recent weeks and he's tied for the team lead in homers with 14.
Franchise player Chipper Jones may not be what he was even a few years ago, but there is still some life left in his bat and the veteran leadership he provides is unquestioned.  Brian McCann might be baseball's best offensive catcher; he doesn't generate the buzz that Joe Mauer's name does, but McCann has steadily been one of the best hitting backstops in baseball for several years now.
Atlanta could definitely use another bat—and it would be surprising if Frank Wren doesn't address that before the July 31 trading deadline—but their biggest asset is on the mound.  Jair Jurrjens is having a season for the ages and he might not even be the team's best pitcher. Tommy Hanson is also having a fine season and Tim Hudson has been the ace of every staff he's pitched on for many years now.
With most teams with great starting pitching, the goal is to work their pitch counts in hopes of getting into the bullpen for a chance to win.  That's not the case with Atlanta, where they have perhaps the game's best relievers.  Craig Kimbrel has been dominant, Brad Lidge—2004 dominant.  He's among the league leaders in nearly every statistical category for relievers and, at times, has been downright un-hittable.  And Johnny Venters  is as good—if not better–from the left-side.  The rest of the pen is proven, durable and can come at an opponent for both sides with dominating stuff.
In any case, Atlanta is a scary competitor for most teams.  In the major leagues, Philadelphia has more wins and they have holes of their own.  This weekend series could help determine supremacy not only in the National League East but in baseball as well. 
But it's still only July, with a lot of baseball left on the calendar.  Come September, hardly anyone will remember this series as pivotal, regardless of which team wins it.  The Braves could sweep and head into break with a half game lead in the division, or they could fall five and a half games back.  
Odds are neither team sweeps and Philadelphia holds its lead heading into the All-Star break.  And while the Braves are younger, they may not have the fortitude to hold on all year and catch the Phillies.  As good as Jurrjens, Hanson and Brandon Beachy have been this year—and will be in coming years—they also lack the experience of what pitching deep into October means for their young arms.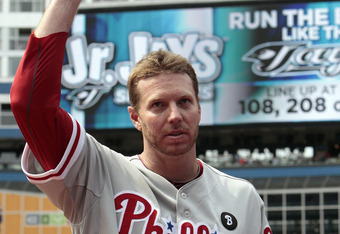 Abelimages/Getty Images
The Phillies trio—Roy Halladay, Cliff Lee and Cole Hamels—have the experience of knowing exactly what it takes to get their team to late October and no doubt they will do it again.  
The Phillies have lined up their rotation perfectly for this series and should dominate it.  The Braves have gotten within 2.5 games of the division lead and despite all the good things happening in Atlanta that is as close as they will get.  The Phillies will take the series and division lead to the All-Star break and never relinquish it.  They will cruise to a fifth straight division title and probably meet the Wild-Card champion Atlanta Braves in the National League Championship Series.  
The Braves have built a phenomenal team and are as good as anybody.  But they're the Phillies.  I wish them luck the remainder of the season, and look forward to seeing them in October.