2011 NHL Free Agency: 4 Mistakes That Will Hurt Your Team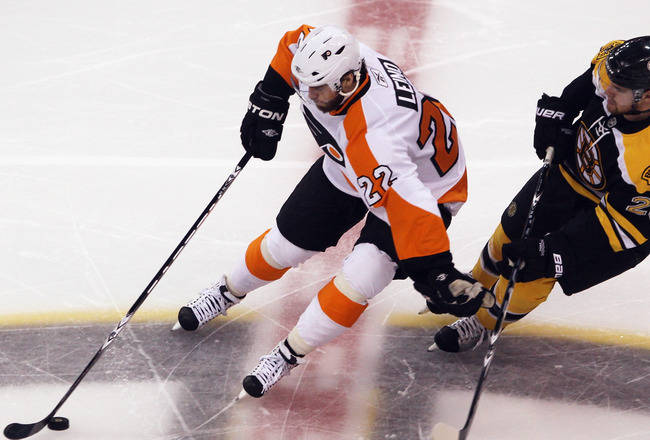 Ville Leino
Bruce Bennett/Getty Images
Some of the big names have already been signed to long-term contracts, including the coveted gem Brad Richards. The July 1st Free Agency Frenzy has passed us by, and we are left to try and pick up the pieces of all the signings from this offseason. Many teams overpay for familiar names in an effort to excite their fan bases about the potential for a Stanley Cup run. Of course, there is always the overpayment of players based on career success, but there is also the overestimation of the value of a player based on the past season (especially the playoffs). I have compiled a list of common mistakes and the signings which most accurately reflect the nature of those mistakes.
The Big Market Pickup Mistake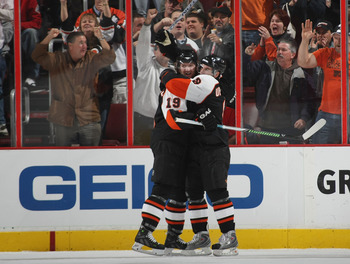 Upshall celebrates with Hartnell after a goal
Bruce Bennett/Getty Images
The big market pick up is a very common mistake for a team that is looking to build a contender. In this category, I have included Ville Leino and Scottie Upshall. I refer to these guys as big market because of their temporary success with the Philadelphia Flyers, and how it led to a new contract. I know that Upshall has moved on but he clearly got his first big payday as a result of his success in a big market in Philly. His latest contract (4 years, $14 million) with Florida is clearly supposed to match that money for someone whose numbers never really reached the potential that many imagined for him. Leino simply was in the right place at the right time and a lot has been said about the fact that he has never put up 20 goals. He does have a reputation for stepping it up in the playoffs, but he has yet to show any superstar potential and is set to make $27 million over six years with the Sabres. We have simply become too familiar with him from his performance from 2 years ago.
The Long Term Mistake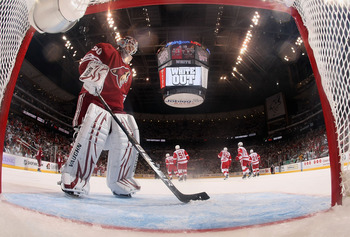 Christian Petersen/Getty Images
A long term mistake is when a team decides to sign a player for a ridiculous number of years, which sometimes leaves many fans wondering what a certain player did to deserve so much security. The idea should be to lock up the elite players in a league using this technique. Offering someone a contract longer than 8 years should, in my opinion, be reserved for a handful of players. In this offseason, most of us have agreed that Brad Richards belongs in this category. Ilya Bryzgalov (9 years, $51 million) is a big gamble for the Flyers because he has not had the kind of consistent success that merits a franchise label. He is clearly a star at this point, but he may not be a superstar just yet. Is he a better option in goal than Bobrovsky? Absolutely. But Ilya will have to do more than just end the questions in goal. He is expected to lead them to a Cup and I am not sure he can do that.
The Postseason Star Mistake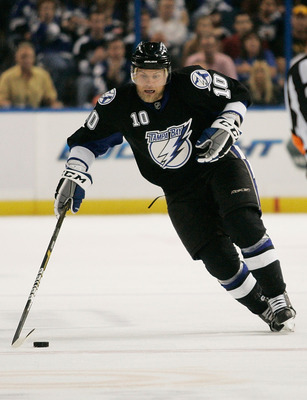 Justin K. Aller/Getty Images
The postseason star mistake is when a team becomes interested in someone who excelled during the previous playoffs and decides to offer him a ridiculous contract. Although Christian Ehrhoff's performance did not really stick out that much, he was still given a 10 year, $40 million dollar contract by Buffalo. Ehrhoff actually combines two mistakes by being both a player who shouldn't be signed for 10 years and a player whose presence on a great team obviously got him more attention than normal. However, the best example of this mistake would have to be Sean Bergenheim who got 4 years and $11 million dollars from Florida just for playing 10 times better than he ever had in his life, though he did not even lead his team to the Finals. That has got to be the most puzzling example of a postseason performance leading to a contract that I know. If not for that performance, he would have gathered little to no interest this offseason.
Overestimation of One Season Mistake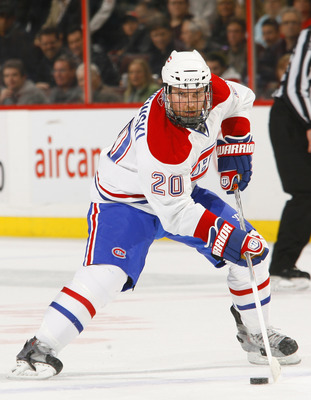 Phillip MacCallum/Getty Images
The most obvious and common mistake that people make is the overestimation of a contract-year performance from a player.
James Wisniewski (signed by Columbus for 6 years, $33 million) may have a very hard shot and be an exciting player, but it is just as likely going to give them someone who struggles to score 30 points. If Wisniewski can continue to play like he did last year, then he will be worth it, but that is quite a risk to take over six years. He will certainly get the minutes in Columbus, where they do not really have a blue liner who can score. However, many defense men with offensive potential have been temporarily overestimated (Wade Redden, Brian Campbell). Those signings were disasters; this may be more like an instance in which a player is not bad enough to be bought out or demoted, but is also not performing up to par.
Keep Reading