NHL Free Agency/Trade Rumors: Steven Stamkos, Alex Semin and Ales Hemsky News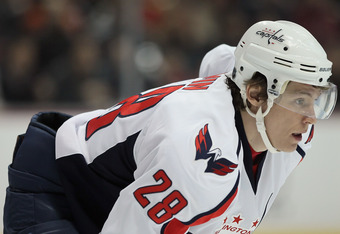 Jeff Gross/Getty Images
Who says free-agent frenzy is just a weekend-long event?
Today, a week after NHL free agency began, there still remains a lot of uncertainty regarding the future of some superstar players.
The Steven Stamkos saga continues, with rumors upon rumors surfacing about scenarios in which the 21-year-old would leave Tampa Bay.
Meanwhile, big names such as Alexander Semin and Ales Hemsky have seen themselves linked to numerous trade rumors around the league.
Perhaps it's much ado about nothing, but Stamkos is not the only restricted free agent still without a contract. Shea Weber and Drew Doughty, two of the top defensemen in the league, still have yet to sign contract extensions with their current teams.
While it's not expected that many of these players will switch teams, it makes for interesting speculation and discussion with regards to their futures.
Beyond the big names, backup goaltenders and third- and fourth-line role players are still on the market as well, seeking another one- or two-year deal to help a team get over the hump.
As if all of that wasn't enough to pique your interest, rookie camps across the league have begun to open, and all of the top prospects are on display in their new colors. Sean Couturier, Brayden Schenn and Dougie Hamilton have all wasted little time getting to know the media in their respective new towns.
The offseason doesn't stop the big names from hitting the headlines, so here are the latest and greatest rumors and rumblings from around the NHL.
So, keep it locked on this page for the rest of the day and throughout the weekend for up-to-date information on free agency and the trade market.
Remember, when it comes to covering the NHL, there is no offseason.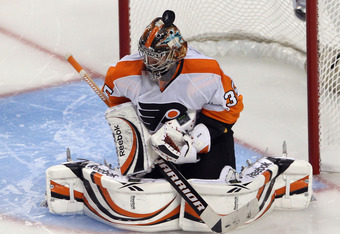 Just when you think the dust has settled in Philadelphia, and Paul Holmgren has put his phone down for good, more trade rumors surrounding the Flyers begin to surface.
After trading away Jeff Carter, Mike Richards, Kris Versteeg, and Daryl Powe, Holmgren is now reportedly shopping 22 year-old goaltender Sergei Bobrovsky, according to Pro Hockey Talk.
Here's the report from Philly.com's Frank Seravalli:
According to sources, the Flyers began to shop Bobrovsky – the man they called "the goaltender of the future" as recently as May – to all suitors once they struck a 9-year deal with Ilya Bryzgalov on June 23.

"The Flyers, though, couldn't get the exact asking price they hoped for when shopping Bobrovsky's services on the open market. Varlamov, a fellow Russian only 5 months older than Bobrovsky, netted Washington a first- and second-round pick in a July 1 trade.

It's plain to see that Bobrovsky – without the first-round pedigree and nearly 3 full years' worth of experience in North America – would not garner as much as Varlamov on the market. The Flyers would have pulled the trigger at that price."
The signing of Ilya Bryzgalov to a nine year contract has clearly made Bobrovsky expendable, especially considering Bob is no longer eligible to be sent down to the AHL without first clearing waivers because he played in 60 games this season.
The Flyers have signed some young goaltenders to groom for the future this offseason, and can manage with another, less expensive backup goalie next season.If he is to depart, Johan Backlund makes the most sense to assume the backup role, given his cheap cap hit and solid play down in Adirondack.
The best situation for the Philadelphia Flyers and Sergei Bobrovsky is for the kid to spend some time in the minor leagues fine tuning his game. However, it is unlikely the kid would clear waivers, so trading him makes a ton of sense, especially considering he could bring in a healthy return.
The price for Bobrovsky would be a bit cheaper than the first and second round picks the Washington Capitals scored for Semyon Varlamov, but a solid prospect and a second or third round draft choice is not too much to ask for a goalie who won 28 games this past season.
This article is
What is the duplicate article?
Why is this article offensive?
Where is this article plagiarized from?
Why is this article poorly edited?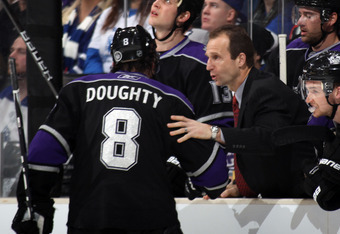 Free agent frenzy has calmed down over the past week, meaning the hockey world can now pay an unnecessary amount of attention to the contract negotiations of superstar restricted free agents. Normally, these contract talks take a while, but they always seem to get done in the end.
That will likely be the case with Los Angeles Kings' restricted free agent Drew Doughty, at least according to what Dean Lombardi told the L.A. Times.
"I am getting the feeling on Drew that unfortunately this could take a while. As we just saw this past week free agency produces a frenzy for players at all levels. We must be judicious about not getting into this market for our own players. Therefore it is critical with Drew that the dollars reflect a fair rate of return regarding the term of the contract. We must be prepared to do what it takes to get it right."
There isn't a huge rush to get a deal done with Doughty, but seeing as how he is supposedly looking to become the highest paid member of the Kings, this one could take a while. Anze Kopitar is the highest paid player on the Kings' roster at a 6.8 million dollar clip.
Doughty is almost guaranteed to re-sign with the Kings, but what will it cost the club? It could take a minimum of seven million dollars a year to reel in the 21 year old rearguard. Meanwhile, Shea Weber's negotiations with the Nashville Predators will likely help determine the market value for Doughty.
In just three full seasons with the Los Angeles Kings since being drafted second overall in the 2008 NHL Draft, Drew Doughty has nearly 100 career assists, and has become the heart and soul of the Los Angeles blueline.
Needless to say, the Kings aren't going to let a guy like that walk, no matter the price.
This article is
What is the duplicate article?
Why is this article offensive?
Where is this article plagiarized from?
Why is this article poorly edited?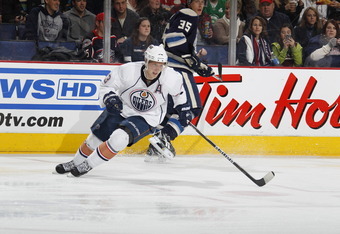 With the influx of young talent on the Edmonton Oilers' roster, Ales Hesmky, now 28 years old, has been linked to plenty of trade rumors. Now, coming off of his second shoulder surgery, the rumors continue to heat up, as Hemsky is now entering the final season of his contract at a cap hit of 4.1 million dollars.
So, what are the Edmonton Oilers going to do with the talented veteran winger? Well, the Edmonton Journal speculates that he could be on the move, and that Columbus has inquired about Hemsky.
Meanwhile, Ales Hemsky is keeping a level head about the situation.
"I wouldn't mind at all. I don't like change, looking for new stuff. I've met lots of great people in Edmonton. I've got friends. I've got a girlfriend living with me. I can't complain," said Hemsky, who will make $5 million next season.

"It's been hard the last four years for the team. It's never easy to be losing and not making the playoffs, but we've made some good additions. The young kids are getting more confident. It's going to be fun to see how this upcoming season goes. We're not talking about a new contract. I'm not worried. Like I've said, my focus is on getting back to 100 per cent so I can play."
One has to think the Oilers would like to see how Hemsky's shoulders hold up before offering him any sort of extension, though Hemsky is confident about his shoulders.
"I know to have surgery seems bad, but when you fix the shoulders, they should be OK, now. You get hit, you get a small tear in the shoulder and it's tearing and tearing and finally it's torn all the way. For two months you don't feel it, then you get to where you can't even sleep. Only thing you can do is go for surgery. I don't know if I'll ever have the motion I had before. They've tied it up pretty tightly for a hockey player, but it's good enough for sports. I can play tennis, golf."
I've always thought very highly of Hemsky as a player, but he needs to stay on the ice to be worth the money for the Oilers. Any team would be lucky to take him off of Edmonton's hands.
This article is
What is the duplicate article?
Why is this article offensive?
Where is this article plagiarized from?
Why is this article poorly edited?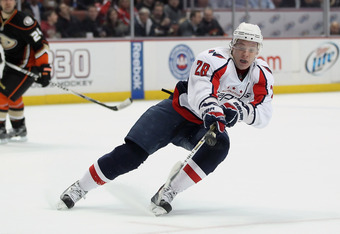 The attempt at a culture change in Washington is apparently going beyond switching to a more defensive system. Now, some of the players may be on the outs as well. Chief among them being Alexander Semin, who has piled up goals over the past few seasons in the Naton's Capital.
This from the Winnipeg Free Press:
"The Washington Capitals are said to be shopping Alex Semin with Montreal, Nashville, Toronto, Philadelphia, Pittsburgh and San Jose, all said to be interested in the right-winger, who has 166 goals in the last five years. Jets defenceman Zach Bogosian has also had his name linked to Semin in various trade rumours."
Anytime trade rumors like this one start flying around it's cause for serious speculation. Among the teams rumored to be interested, which has the best shot at bringing in the Capitals' superstar?
Well, I would immediately count out the Philadelphia Flyers. Why they are being mentioned is beyond me. They have successfully restructured the team, while keeping the defense in tact. Unless they manage to unload Scott Hartnell in the process, bringing in Alex Semin is going to suffocate them in terms of cap space.
Montreal and Pittsburgh also seem like unlikely to bring in the goal scorer. Pittsburgh is pressed for cap space, while the Canadiens have plenty of roster spots to fill and likely would not want to invest all of that money in one player, considering they have tons tied into Scott Gomez already.
Thus, the race seems to come down to Nashville, Toronto, Winnipeg, and San Jose. Given the wheeling and dealing both San Jose and Toronto have done this offseason, it's hard to know what to expect from those two clubs. Meanwhile, Nashville and Winnipeg could both desperately use Alex Semin's services. It's all a matter of who is willing to give up what.
This article is
What is the duplicate article?
Why is this article offensive?
Where is this article plagiarized from?
Why is this article poorly edited?