Phoenix Suns Will Rise Again: 7 Solutions to Make Them a Playoff Team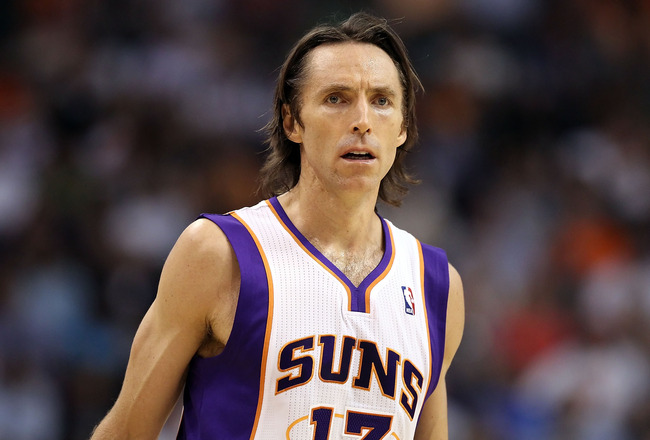 Christian Petersen/Getty Images
The Phoenix Suns finished with a mediocre 40-42 record. This regression is not good for the Phoenix Suns franchise. Injuries, lack of continuity and the loss of Amare Stoudemire triggered their descent from borderline championship contender to mediocre status. Suns President Lon Babby's obsession with small forwards has also derailed the Suns this past season.
It seems the sun is setting on Steve Nash and Grant Hill. Nash and Hill manage to turn back the sun each season with their stellar play.
Teams on the rise such as the Memphis Grizzlies and the Oklahoma City Thunder, along with old favorites such as Dallas, Los Angeles, and San Antonio, make their quest to make the playoffs that much more difficult.
The trade with Orlando netted them a future All-Star big man in Marcin Gortat. It also saved them a lot of money with the buyout of Vince Carter's contract this summer. Although the Suns are losing money, they have some cap space and a sizable trade exception.
Here are seven somewhat unconventional solutions to improve the Phoenix Suns. I am not saying these solutions will make them championship material. I am saying it will improve them to where they can make the playoffs.
Solution 1: Do Not Trade Steve Nash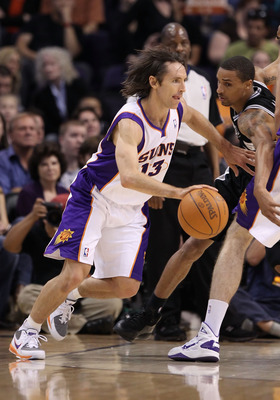 Christian Petersen/Getty Images
I know not doing something is not a solution. I know trading Nash seems to be the popular long-term solution, but trading him would be a huge mistake since he is the face of the franchise.
"You never know what you got 'til it's gone!" The music blares on a speaker somewhere.
If the Suns trade Nash, they will feel the effects of trading the former two-time MVP. Nash is a phenomenal distributor who keeps guys involved. When Nash is out of the game the offense is much more stagnant. He averaged over 11 assists a game last season in spite of numerous ailments.
Nash is not a great defender and has a tendency to over-dribble. He has been known to turn the ball over more than usual lately. If Nash's injuries start haunting him, then give him fewer minutes. The Suns have a luxury in a former starting point guard as Nash's backup in Aaron Brooks.
Solution 2: Sign J.R. Smith to Be the Starting Shooting Guard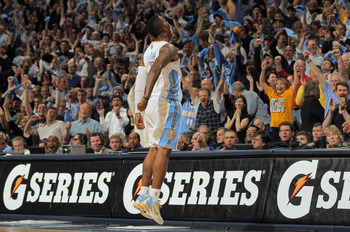 Doug Pensinger/Getty Images
For Webster's definition of "streaky shooter," it has a picture of J.R. Smith next to it—but he is much more than that. He thrives in an uptempo offense like in Denver. He has played with good point guards such as Ty Lawson, Raymond Felton and Chauncey Billups, but hasn't played with Steve Nash.
Smith can be that ideal shooting guard for the Suns' uptempo style. He has the size to guard shooting guards. He has the athleticism to run the court and throw down alley oops from Steve Nash and Aaron Brooks. He can run the wing and knock down transition threes. In fact, with starter's minutes he might become an All-Star.
Yes, I am biased. J.R. Smith is one of my favorite players.
To be fair, he is a bit of a knucklehead. But with Steve Nash and Grant Hill starting alongside him, Smith must be able to know his role. It will not work out if he can't get along with Alvin Gentry or Steve Nash. Thankfully, Nash, Gentry or Hill can set him straight if he veers on the wrong path. If possible, sign Smith to a deal no more than three years in length. That way, if signing Smith doesn't work out then his contract is flexible enough to get traded.
Note: Maybe a sign and trade for Denver would serve in Phoenix's best interests. Denver sends Smith to the Suns. The Suns send the disgruntled Mickael Pietrus to the Lakers. Then the Lakers can send Shannon Brown or whatever Denver wants in the deal.
Solution 3: Give Marcin Gortat a Bigger Role on Both Ends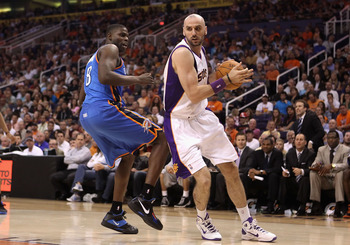 Christian Petersen/Getty Images
The trade that sent Jason Richardson, Earl Clark and Hedo Turkoglu to the Suns for Marcin Gortat, Mickael Pietrus and Vince Carter initially seemed like a good trade for Orlando. After all, the Suns were trading two starters and a former first-round pick for a backup wing, a backup center and Vince Carter.
But the Suns got the better out of the trade. Marcin Gortat played very well down the stretch for the Suns. He averaged about 10 points and eight rebounds in about 25 minutes a game. If he played 36 minutes a game, Gortat would average 13 points and 10 rebounds a game. His last five games saw him average 18 points and 10 rebounds in 32 minutes a game.
He is the ideal starting center for the Suns. He can run the court, handle passes on the run (a prerequisite for the pick and roll) and live up to his Polish hammer moniker with his athleticism and strength. He also has an improving jump shot.
On defense, Gortat is their anchor. Gortat can easily handle 36 minutes a game as the starting center, granted he can stay healthy and out of foul trouble. The Suns have lacked interior defense for a long time. Now the Suns have it with Gortat and the recent selection of Markieff Morris.
Call me crazy, but Marcin Gortat will be an All-Star next season—if we have a season.
Solution 4: Re-Sign Aaron Brooks and Make Him the 6th Man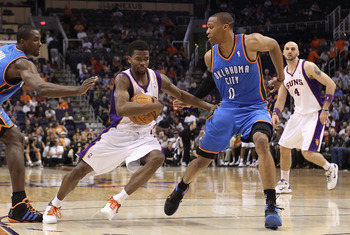 Christian Petersen/Getty Images
To me, Aaron Brooks isn't really a true point guard. But J.J. Barea isn't either. Barea was a valuable piece to the Mavericks championship run.
I can envision Brooks playing the same role as Leandro Barbosa did to those great Suns teams in the past. Brooks has the speed and ball-handling ability to break down a defense on the break. He just needs to embrace his role of sixth man.
He had a down year this season. He struggled learning the Suns offense and adjusting to being the backup for Steve Nash. Remember last season he averaged about 20 points and just over five assists in a little less than 36 minutes. He won't be playing 36 minutes unless Nash goes down.
Brooks has the ability to be a great sixth man for the Suns. Bring in a guy like J.J. Barea to play that role if Brooks is not re-signed.
Solution 5: Move Hakim Warrick into the Starting Lineup
Christian Petersen/Getty Images
Now we are moving into the unconventional part of the solutions. Moving Hakim Warrick into the starting lineup does not mean he has to play the whole game.
Warrick is fantastic at pick and rolls, which is what the Suns' entire offense is based off of. Warrick has the athleticism and the speed to be the ideal power forward in the Suns system. When they signed him, I thought he was going to be the replacement for Amare Stoudemire. Although he is nowhere near Amare's level, he can do an adequate job of playing Amare's role at a fraction of the cost.
Warrick does need to hit the weight room more often. His minutes will determine on his defensive ability and durability. If another power forward is signed or acquired then Warrick should move back to the bench.
Solution 6: Trade Robin Lopez to Minnesota for Anthony Randolph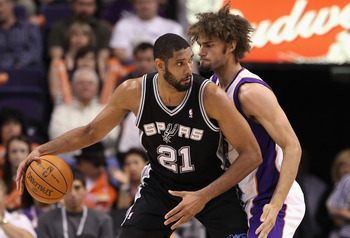 Christian Petersen/Getty Images
Let's face it. Robin Lopez can never be the starting center for the Suns as long as Marcin Gortat is there. He can only be going down in his stint with the Suns. He is a true center who many teams covet.
Did I just say many teams covet Robin Lopez?
I know there is one team who could use him. The Minnesota Timberwolves have a logjam at power forward but a gaping hole at center. Darko Milicic is a serviceable big man for Minnesota but they sorely need a solid center to compliment the trio of Michael Beasley, Kevin Love and Derrick Williams.
Enter Robin Lopez.
David Kahn might be crazy enough to trade Anthony Randolph for Robin Lopez. The Suns might need to throw in a draft pick as well to make the trade work. I know Anthony Randolph is thinner than a wheat thin but his game translates to the Suns' style very nicely. Randolph can possibly be the starting power forward with his 6'11" frame, forming a potent front court with Marcin Gortat. He would have to beat out Hakim Warrick, Markieff Morris and Channing Frye for that spot.
While he was at Golden State and Minnesota, he showed some glimpses of brilliance. He was never given a chance in New York. But his lack of consistent minutes and overall inconsistency will be issues to overcome. Steve Nash and Alvin Gentry will be charged with making a very talented player into a solid NBA starter.
Solution 7: Push the Pace Even Faster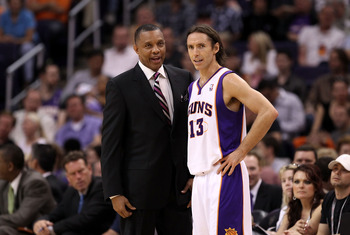 Christian Petersen/Getty Images
The Suns are at their best when everyone is sprinting up and down the court. J.R. Smith can run one of the wings while Grant Hill runs the other wing. Both players are extremely fast and can shoot on the run. Smith is better at long range while Hill is the master of mid-range and attacking the rim.
Hakim Warrick, Anthony Randolph, Markieff Morris, Marcin Gortat and Channing Frye are all well-suited to the uptempo game as well. Randolph, especially, can be a terror on the break with his ability to run the court and finish. Frye's tremendous shooting ability will spread the court for Nash, Smith and Hill to attack the rim. It also gives Gortat more space to roll to the basket.
Again, I am extremely biased towards the fast break. I have always loved teams that like to run. The Suns should be a running team as long as Steve Nash is the point guard. The Suns often lose when the pace is slower.
Conclusion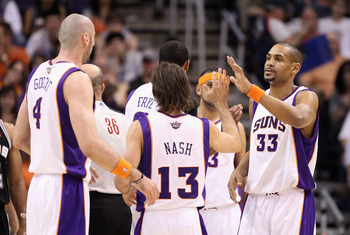 Christian Petersen/Getty Images
All of these solutions are not silver bullet answers to making the Suns a championship team. They are tweaks designed to improve the team. The team will have to continuously improve their chemistry. This proposed rotation below has a lot of versatility. The Suns will need to add another guard to balance the rotation.
The projected starting lineup if my solutions happen, could be very good—it all depends on the chemistry.
PG: Steve Nash/Aaron Brooks
SG: J.R. Smith/Jared Dudley
SF: Grant Hill/Josh Childress
PF: Anthony Randolph/Hakim Warrick/Markeiff Morris/Channing Frye
C: Marcin Gortat/Channing Frye
Again, none of these solutions are perfect by any means. These are more tweaks than drastic changes. Nevertheless, this lineup should be able to propel the Suns back in to the playoffs. Both the starters and the second unit would have the balance of defensive-minded players and offensive-minded players to make the Suns better on both ends.
Thanks for reading!
Keep Reading

Phoenix Suns: Like this team?