Albert Pujols Returns Early from Broken Wrist: Are Rumors of PED Use True?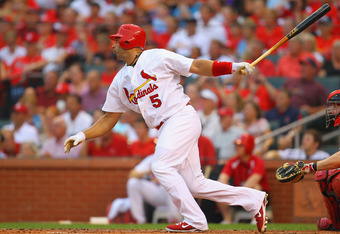 I guess Albert Pujols really is the machine.
It took Pujols only two weeks to recover from a broken wrist that was supposed to knock him out for at least four to six weeks. Now, I'm not a doctor—a fact that probably comes as a big surprise to everyone reading this—but the idea of being able to remove a cast from a broken bone after a fortnight boggles my mind, even forgetting that he immediately started using it to swing a big piece of wood with all his strength.
Apparently I'm not the only one who thinks so.
It may be unfair, it may be reactionary, and it's definitely disturbing to think that the best player in baseball may have used performance-enhancing drugs to expedite his recovery. But in this day and age, steroids' possible role in something like this are definitely the elephant in the room.
"For every story link on Twitter that touted Pujols' impending return," Yahoo! Sports'Jeff Passan wrote, "someone tweeted back about Pujols needing human growth hormone to make it. It wasn't just one or two people, either."
Bleacher Report's own Matt Strobl admitted he was ashamed to have suggested it, but said he can't shake the notion that Pujols may have cheated:
We know from others players and former players, including former Yankee and Astro Andy Pettitte, that performance enhancing drugs are used in attempts to recover from injury. There is very little medical research to support the idea that PEDs could help lessen recovery time, but that lack of evidence hasn't dissuaded athletes in the past. And, unofficially, rapid recovery time is one of the alleged benefits of such drugs.

So to see Pujols go from missing most of the summer to barely serving out his fully allotted time on the DL has to raise eyebrows. Like I said, there could have been a misdiagnosis, or perhaps he's not actually as healed as we've been told. Maybe, as the papers would have us believe, Albert Pujols really does have superhuman recuperative powers to go along with his baseball prowess.
Given the amount of testing in baseball today and the enormous tonnage of what Pujols would have to lose by being caught, I can't imagine the rumors are true. But given the circumstances, it's at least understandable that people have their suspicions.
Most recent updates:
This article is
What is the duplicate article?
Why is this article offensive?
Where is this article plagiarized from?
Why is this article poorly edited?