Jose Bautista's Slump: Small Sample Size or Worrisome Problem?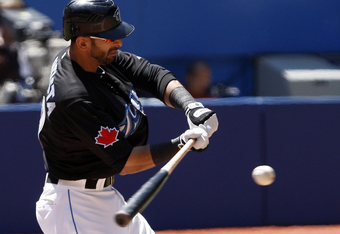 What a wild season this has been for Jose Bautista.
After shocking the baseball world by coming out of nowhere to hit 54 homers last year, Bautista got off to an absolutely torrid start in 2011.
Bautista posted an absolutely insane .366/.532/.780 triple-slash in 24 games in April, including 9 home runs. That put him on pace for 61 homers over 162 games. He also posted a 261 wRC+—i.e., he was 261 percent as valuable as the average MLB hitter—and put himself on a pace for 17.6 wins above replacement over 162 games. If you're unsure about the scale of WAR, I'll put it this way: that would be without a doubt the single greatest season by any player in more than 100 years.
He cooled off slightly in May, hitting "only" .360/.476/.791 for a 234 wRC+. That month, he was on pace for an insane 77 home runs and 14.8 WAR—still good for one of the best seasons in MLB history.
Then the calendar flipped to June and the wheels came off the wagon. Over the first three weeks of the month, he hit .227 with a .288 slugging percentage. He had only two extra-base hits in 19 games.
Fortunately for him, his troubles seemed to have been behind him. Since then, he's hit .380/.458/.880 (an .880 slugging percentage!) with 7 homers and 14 RBI. Six games is hardly a significant sample size, but for what it's worth his July pace would have him at 108 homers, 216 RBI and 18.9 WAR over 162 games.
So just how good is Bautista? Is Joey Bats' slump a chink in the armor, or is it just a meaningless small sample size? Blue Jays Rant's Thom Tsang thinks it's the latter:
As much as it goes against a lot of my core beliefs about player performances, I think this is actually Bautista's talent level – he might be a late bloomer (like Cliff Lee), but Bautista is the best hitter in the game right now.
Whatever he may do going forward, Bautista is now the scariest hitter in baseball. It's hard to see anyone else as a legitimate candidate for AL MVP this year.
Most recent updates:
This article is
What is the duplicate article?
Why is this article offensive?
Where is this article plagiarized from?
Why is this article poorly edited?