MLB Trade Rumors: Hanley Ramirez on the Block and Other Hot Ideas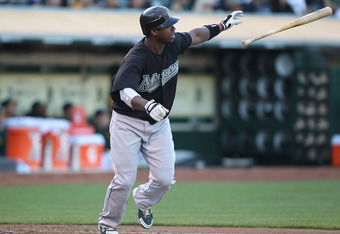 Jed Jacobsohn/Getty Images
Ah, July. The Hot Stove is heating up and trade rumors are swirling. The All-Star Game is right around the corner, and playoff races are starting to intensify.
Throw in the warm weather and it's a great time to be a baseball.
Stay tuned here this afternoon for updates and analysis on the biggest buzz and hottest rumors in baseball today.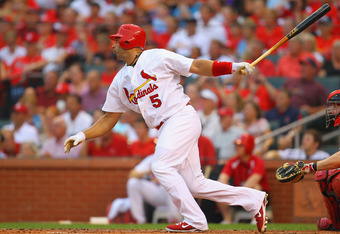 I guess Albert Pujols really is the machine.
It took Pujols only two weeks to recover from a broken wrist that was supposed to knock him out for at least four to six weeks. Now, I'm not a doctor—a fact that probably comes as a big surprise to everyone reading this—but the idea of being able to remove a cast from a broken bone after a fortnight boggles my mind, even forgetting that he immediately started using it to swing a big piece of wood with all his strength.
Apparently I'm not the only one who thinks so.
It may be unfair, it may be reactionary, and it's definitely disturbing to think that the best player in baseball may have used performance-enhancing drugs to expedite his recovery. But in this day and age, steroids' possible role in something like this are definitely the elephant in the room.
"For every story link on Twitter that touted Pujols' impending return," Yahoo! Sports'Jeff Passan wrote, "someone tweeted back about Pujols needing human growth hormone to make it. It wasn't just one or two people, either."
Bleacher Report's own Matt Strobl admitted he was ashamed to have suggested it, but said he can't shake the notion that Pujols may have cheated:
We know from others players and former players, including former Yankee and Astro Andy Pettitte, that performance enhancing drugs are used in attempts to recover from injury. There is very little medical research to support the idea that PEDs could help lessen recovery time, but that lack of evidence hasn't dissuaded athletes in the past. And, unofficially, rapid recovery time is one of the alleged benefits of such drugs.

So to see Pujols go from missing most of the summer to barely serving out his fully allotted time on the DL has to raise eyebrows. Like I said, there could have been a misdiagnosis, or perhaps he's not actually as healed as we've been told. Maybe, as the papers would have us believe, Albert Pujols really does have superhuman recuperative powers to go along with his baseball prowess.
Given the amount of testing in baseball today and the enormous tonnage of what Pujols would have to lose by being caught, I can't imagine the rumors are true. But given the circumstances, it's at least understandable that people have their suspicions.
This article is
What is the duplicate article?
Why is this article offensive?
Where is this article plagiarized from?
Why is this article poorly edited?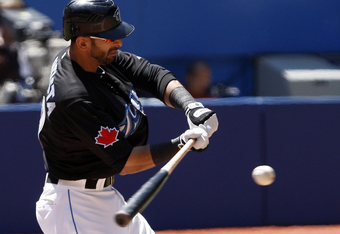 What a wild season this has been for Jose Bautista.
After shocking the baseball world by coming out of nowhere to hit 54 homers last year, Bautista got off to an absolutely torrid start in 2011.
Bautista posted an absolutely insane .366/.532/.780 triple-slash in 24 games in April, including 9 home runs. That put him on pace for 61 homers over 162 games. He also posted a 261 wRC+—i.e., he was 261 percent as valuable as the average MLB hitter—and put himself on a pace for 17.6 wins above replacement over 162 games. If you're unsure about the scale of WAR, I'll put it this way: that would be without a doubt the single greatest season by any player in more than 100 years.
He cooled off slightly in May, hitting "only" .360/.476/.791 for a 234 wRC+. That month, he was on pace for an insane 77 home runs and 14.8 WAR—still good for one of the best seasons in MLB history.
Then the calendar flipped to June and the wheels came off the wagon. Over the first three weeks of the month, he hit .227 with a .288 slugging percentage. He had only two extra-base hits in 19 games.
Fortunately for him, his troubles seemed to have been behind him. Since then, he's hit .380/.458/.880 (an .880 slugging percentage!) with 7 homers and 14 RBI. Six games is hardly a significant sample size, but for what it's worth his July pace would have him at 108 homers, 216 RBI and 18.9 WAR over 162 games.
So just how good is Bautista? Is Joey Bats' slump a chink in the armor, or is it just a meaningless small sample size? Blue Jays Rant's Thom Tsang thinks it's the latter:
As much as it goes against a lot of my core beliefs about player performances, I think this is actually Bautista's talent level – he might be a late bloomer (like Cliff Lee), but Bautista is the best hitter in the game right now.
Whatever he may do going forward, Bautista is now the scariest hitter in baseball. It's hard to see anyone else as a legitimate candidate for AL MVP this year.
This article is
What is the duplicate article?
Why is this article offensive?
Where is this article plagiarized from?
Why is this article poorly edited?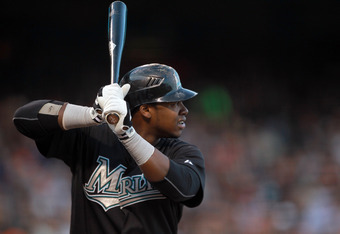 It sounds insane. You recoil at the thought of it. In all likelihood, it's not going to happen.
But the idea of trading Hanley Ramirez might not be as crazy as you think.
Ramirez, who has been the consensus No. 2 overall pick in fantasy drafts for years, entered this season with a reputation as one of the best players and arguably the single best shortstop in baseball.
Entering the season, he had a career .313/.385/.520 slashline with 124 homers and 196 steals across five full seasons. With 29.1 WAR by age 27—including 15 in 2008-9 alone—he looked to be on a certain path for Cooperstown.
Last year was a bit of a hiccough for Ramirez' stat sheet. Excluding his 2006 season, at age 26 he set career lows in average (.300), OBP (.378), slugging percentage (.475), homers (21), runs (92), and WAR (4.6). It's hard to complain about those numbers—especially for a shortstop—but it wasn't on par with his usual production.
This year, though, something has changed. He's hitting just .236/.324/.358 while playing his usual subpar defense and is on pace for just 13 homers, 58 RBI, 80 runs, 26 steals, and 1.5 WAR.
Part of the problem might be bad luck—his .270 BABIP is 77 points below his pre-season career mark—but given his declining power numbers and line drive rates, it's no surprise that to see his hit rate falling too.
So could the Marlins, who are 15.5 games back in the NL East, trade Han-Ram? Given that his value is at an all-time low, it seems unlikely that he'll be dealt before the deadline. The only way I could see a deal happening is if the Marlins think Ramirez is truly broken and the other team does not.
Long-term, though, it wouldn't be a surprise to see him dealt in the next year or two. Many agree that Ramirez isn't well suited to shortstop (he has a -9.2 career UZR/150). FanGraphs' Joe Pawlikowski sees an eventual move as another reason Han-Ram will be dealt eventually:
They have an up and comer in Matt Dominguez slated for third base, and then have young budding stars Logan Morrison and Mike Stanton in the corner outfield positions. Ramirez's bat, at least at its peak, will play anywhere, so finding a team with a need at either third base or left field shouldn't be much of an issue.
Buster Olney thinks Ramirez would net a return of only around "50-60 cents on the dollar" right now, so a deal this season, while not impossible, seems unlikely. Long-term, though, Han-Ram will likely be suiting up for someone else before his contract expires in 2014.
This article is
What is the duplicate article?
Why is this article offensive?
Where is this article plagiarized from?
Why is this article poorly edited?