Manchester City Transfer Prospects: The Top 10 Replacements for Carlos Tevez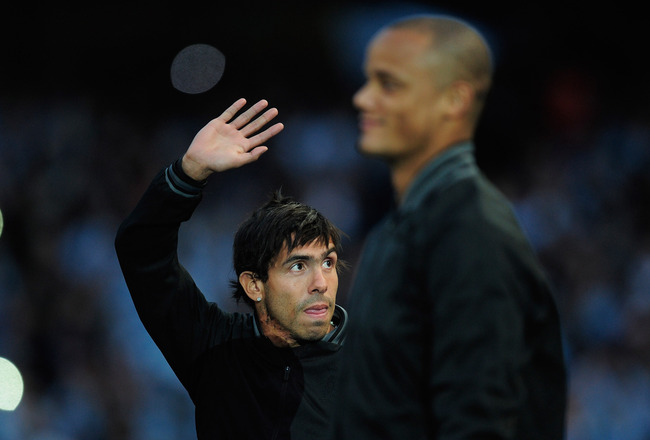 Goodbye Manchester City
Jamie McDonald/Getty Images
Carlos Tevez announced his desire to depart Manchester City in a bid to become closer to family members. Since joining the Sky Blues in 2009 from rivals Manchester United, the Argentine has become a emphatic presence and fearless leader in the Eastlands, amassing 52 goals inn 81 appearances however the 27-year-old is likely to terminate his tenure by the conclusion of the Summer.
Considered the best forward in the English Premier League and one of the best in World Football, Tevez is a devastating striker who combines speed, balance and tenacity alongside a vicious, clinical shot to be a force up front. Inter Milan are the club heavily linked with the Argentina international but Argentine giants Boca Juniors have also emerged as potential suitors due to Tevez's daughters being currently located in Buenos Aires.
None the less it will be a horrific loss for Manchester City, who are beginning to convey there financial worth after finishing 2010/2011 in an impressive third place, automatically qualifying for the UEFA Champions League. Fortunately with Sheikh Mansour multi million investment, Roberto Mancini will have no financial trouble acquiring a new replacement.
But how do you replace the 2010/2011 EPL top scorer?
BleacherReport establishes the 10 best replacements for Carlos Tevez.
10. Klaas-Jan Huntelaar-Schalke 04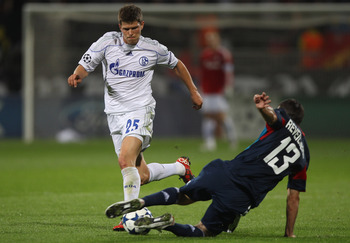 Michael Steele/Getty Images
The striker who tore apart the Dutch Eredivisie for a number of seasons rediscovered clinical form in 2010/2011 as German giants Shalke 04 advanced to the UEFA Champions League semi finals and achieved the German knockout Cup.
Managing 13 goals in 35 appearances, the 27-year-old was a constant threat and evoked the form that saw him secure 140 goals in four and a half seasons of Dutch football. Imposing and intelligent, Huntelaar is blessed with an impressive work ethic and would greatly complement the Manchester City attack, particularly the likes of David Silva and Yaya Toure.
The Dutchman is strong in both the air and on the ground and as his statistics highlight, Klaas-Jan Huntelaar knows where to find the goal.
9. Bojan Krkic-Barcelona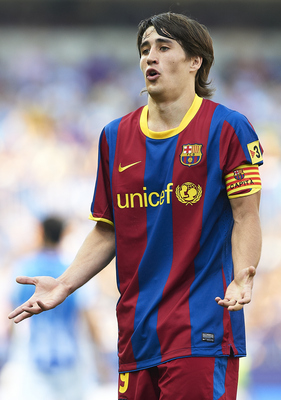 Manuel Queimadelos Alonso/Getty Images
The diminutive Spaniard is a terrific talent but due to the calibre of European kings Barcelona, it is a struggle for Bojan Krkic to receive consistent playing time. With the likes of Lionel Messi, David Villa and Pedro in the Barcelona forward line, the 20-year-old struggles to adequately impose himself.
However Bojan has proven himself to be a clinical, demanding striker. Having made his debut for the Spanish giants in 2007 as a 17 year old, the Spain international has amassed 41 goals and has often sparkled against big sides, including an emphatic display against Manchester United during the 2008/2009 season.
Destined to emulate Lionel Messi and even Carlos Tevez, granted Bojan is able to enhance his potential, Manchester City have an opportunity to secure the Spaniard's services and aim to mitigate Tevez's efforts. Currently desiring a move away from the Spanish giants, Bojan Krkic is a solid option as Carlos Tevez replacement.
8. Alexandre Pato-AC Milan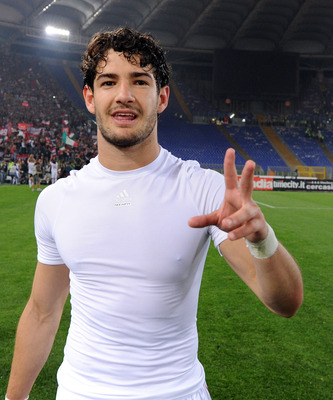 Giuseppe Bellini/Getty Images
The Brazilian has been a consistent force for Serie A giants AC Milan for a number of seasons now and has amassed over 50 goals in four seasons for Milan alongside over 120 appearances. Strong, fast, composed and efficient, Pato is experienced on the UEFA and international stage and boast a Serie A triumph. And the former Internacional striker is only 21.
Pato would be a superb replacement for Carlos Tevez at Manchester City as the Brazilian possesses similar speed and composure to Tevez and is still enjoying rapid development despite making his professional debut as a 16-year-old in 2006. As stated money is not an issue for City and manager Roberto Mancini would be able to tempt Pato with a move to the Premier League.
Versatile and deceptively quick, the Brazilian would complement the City attack and could be utilized all across the front line and as a second striker. Not quite Carlos Tevez but certainly close.
7. Neymar-Santos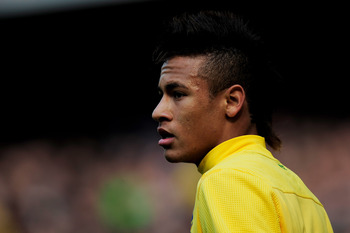 Jamie McDonald/Getty Images
One of the most chased prospects in World Football and it is not difficult to see why. Neymar is a formidable force in the Brazilian national league with 66 goals for Santos in three seasons, 42 of which were achieved in 2010. A immensely quick and skillful striker whose ability to weave between defenders with ease has tormented numerous defences across South America and despite being only 18, yes 18, Neymar conveys outstanding maturity as a young striker.
Barcelona, Chelsea, Real Madrid and Manchester City are all eager to secure the Brazil international but City would be able to easily meet the fee demand by Santos, rumoured to be capable of £40 million. Destined to become Europe's best striker, Neymar would more than mitigate Tevez's departure and at such a young age, will only get better.
6. Karim Benzema-Real Madrid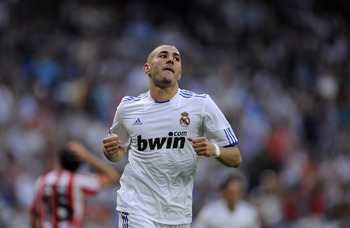 Denis Doyle/Getty Images
Strong, tenacious, lethal and versatile, Karim Benzema would only strengthen Manchester City should the Frenchman be signed as the replacement of Carlos Tevez. A natural goal scorer who provides an efficient aerial threat alongside a clinical edge inside the box.
Currently with Real Madrid, the 23-year-old managed 26 goals in 48 appearances during 2010/2011 despite enduring slight injury concerns. Pursued by the likes of Arsenal and Manchester United, Madrid manager Jose Mourinho is willing to sell the France international for just under £30 million.
Many believe Benzema will thrive in the English Premier League due to his ability to handle physical defenders, furthermore his consistent goal scoring records in the French Lique 1 and the Spanish La Liga highlight the efficiency of the Frenchman.
5. Thomas Muller-Bayern Munich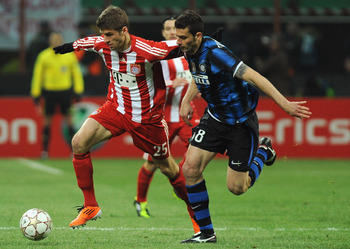 Valerio Pennicino/Getty Images
Although not primarily a striker, the 2010 FIFA World Cup Golden Shoe and FIFA World Cup Best Young Player winner would arise as a terrific replacement for Carlos Tevez at Manchester City. At only 21 years of age, the German is a composed, experienced and matured attacker who can impact all across the midfield, wings and second striker role.
Despite a tendency to occasionally fulfill the main striking role, Muller still manages to thrive as an efficient goal scorer. 2010/2011 saw the German international secure 19 goals in 48 appearances whilst 2009/2010 achieved 19 in 52 appearances. Enough yet?
Also a natural assistant in goals which is highlighted in the 2010 World Cup when the German dynamo was a prominent force in Germany achieving a successive third place finish. Bayern Munich will demand a considerble fee for their play maker but as most are aware, money is no problem for Manchester City.
4. Mario Gomez-Bayern Munich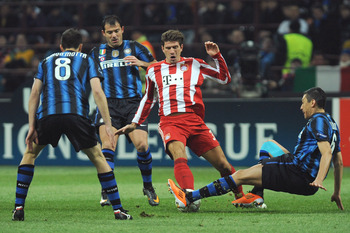 Valerio Pennicino/Getty Images
An imposing, powerful forward who has risen and risen in recent seasons to emerge as one of the most lethal strikers in Europe. Gomez enjoyed a stellar 2010/2011 in which the 25-year-old achieved a superb 39 goals in 45 appearances, defeating his previous Bundesliga record of 35 strikes in 44 appearances and previously 28 goals in 32.
Clinical and consistent, similar to Carlos Tevez and Roberto Mancini is known to be heavily interested in acquiring the German. The former VfB Stuttgart sharp shooter harbours ambitions to grace English Premier League football and at 6ft2, Gomez will provide intimidating aerial threat that will also aid Edin Dzeko.
3. Robin Van Persie-Arsenal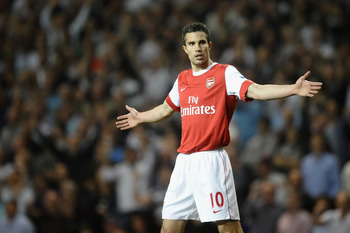 Laurence Griffiths/Getty Images
One of the most damaging and creative strikers in World Football and a consistent threat in the UEFA Champions League and English Premier League. Robin van Persie has been Arsenal's talismanic striker for a number of years and despite ongoing injury woes, maintains an impressive ability of goalscoring.
The Dutchman enjoyed a superb 2010/2011 in which he managed 18 EPL goals from January onwards to conclude the season with 22. The 27-year-old is also a constant assistant with goals, achieving the most amounts of assists in the Premier League during 2008/2009. Furthermore the Netherlands international possesses a vicious left foot and is one of the most damaging free kick takers in Europe.
There have been rumours circulating that van Persie will depart Arsenal should the likes of Cesc Fabregas and Samir Nasri depart,which is appearing increasingly likely. Manchester City have the room and the money to offer for van Persie and give Arsene Wenger a deal the Frenchman cannot refuse.
2. David Villa-Barcelona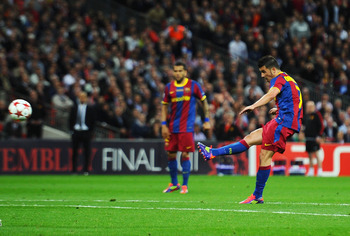 Clive Mason/Getty Images
The most efficient and clinical striker in Spain, David Villa has never achieved below 20 goals during Spanish campaign in ten seasons. Strong, balanced, agile and fast, Villa is a physical handful who is also a consistent assistant whilst providing natural leadership and intelligence.
Manchester City are heavily eager to secure the 29-year-old and Barcelona are rumoured to be willing to allow the Spaniard, who secured 23 goals during 2010/2011 as the Spanish giants won the La Liga and UEFA Champions League, for around £45 million.
A heavy fee but none the less a sufficient won due to Villa's immaculate ability. The former Valencia striker is an ideal replacement for Carlos Tevez but is approaching 30 and may take time to adjust to English Premier League football.
1. Samuel Eto'o-Inter Milan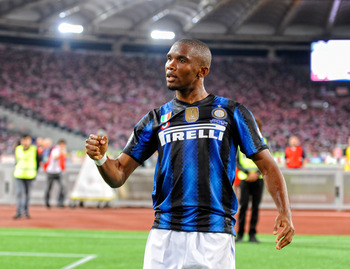 Claudio Villa/Getty Images
Roberto Mancini views Samuel Eto'o as the best replacement for Carlos Tevez, and many can see why. The 30-year-old is the form forward in World Football and combines speed, strength and intelligence to the extent that at times the Cameroon captain is almost impossible to defend.
A natural leader, the former Barcelona sharp shooter enjoyed a stellar season with Inter Milan, scoring a superb 37 goals in 53 appearances for the Italian giants. Harbouring a great desire to play in the English Premier League, Mancini is eager to establish a swap deal with Inter Milan between Tevez and Eto'o, but Inter are tentative, and with reason.
However, similar to Villa, the striker is already 30 and could struggle with the physicality of English football. Although it is highly unlikely.
Keep Reading

Manchester City: Like this team?