John Fox: Why the Denver Broncos Head Coach Will Right the Ship in 2011
July 7, 2011
Justin Edmonds/Getty Images
It is difficult to determine what may have actually been said when John Fox was first offered the job in Denver.
Most likely it was John Elway saying, "I know its gotten pretty bad here, do you think you can fix it?"
To which we can guess that Fox simply patted Elway on the back, smiled and said, "Don't worry…I've fixed worse."
In 2002, John Fox walked into Carolina's training camp in Spartanburg, South Carolina and saw three Pro Bowlers on his roster. Only one, tight end Wesley Walls, was not a special-teamer.
It was probably no surprise that this team was riding a 15-game losing streak into the 2002 season opener, but what was surprising was how quickly it ended.
Fox started his tenure with the Panthers on a three-game winning streak and took the team from one win to seven wins in just a season.
More impressive than finding five extra wins was finding the talent on the roster that needed help to grow. Fox and his staff were able to identify Steve Smith and Kris Jenkins as the blossoming stars they were and kick start their careers.
One year later, Fox turned former Redskin running back Stephen Davis into a Pro Bowler and rode him, and unknown quarterback Jake Delhomme to the Super Bowl.
The good news is that the cupboard in Denver is not quite as bare as it was in Carolina.
The bad news is that the road to the Super Bowl in the AFC is a lot tougher of a trek than it was to go through the NFC in 2003.
Whereas Josh McDaniels tried to do things that would force his team to respect him, Fox will most likely have that respect from the start. If you think that is an age discriminating comment, that's because it probably is.
Fox has the look and demeanor of a tough and gritty veteran coach who has "been there and done that" and that is not just a saying when it comes to Fox.
When Fox finally has the opportunity to help assemble and address his team for the first time, his words will not be hollow when he declares that "he knows what it takes to fix things."
He does.
A six-game swing in the win column would obviously be viewed as a huge success for the Broncos. Luckily for Fox, that is neither required nor expected.
What fans can hope to expect though is a coach with a system designed to extract the most out of a marginal roster. Until the free agency period opens and the Broncos make their moves, this team remains marginal.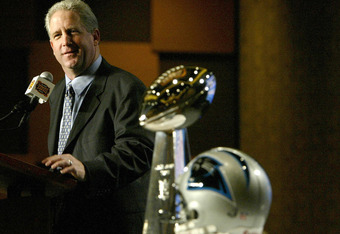 Jeff Gross/Getty Images
Still, Fox is walking into a division with a lot of question marks, which is not unlike the situation in the NFC South in 2003.
The Chargers could be nearing the end of their dominant reign. The Chiefs could prove to be nothing more than an anomaly last year and the Raiders…are still the Raiders of the last eight seasons until they prove otherwise.
The circumstances could be right for John Fox to cement his legacy as a turnaround specialist. Realistically, it shouldn't be hard for the Broncos to win more games than they did last year.
In order to make sure that happens, Fox will have to make this team over in his image. And if this team can do that, then the looming shadows of both Shanahan and McDaniels will both be effectively gone.
At the end of the day that is really what this team needs more than anything.
Although, I don't think anyone would complain if the Broncos made like the Panthers and went to the Super Bowl in Fox's second season…maybe even won it.