College Football 2011: Can Russell Wilson Be an Elite Big Ten QB?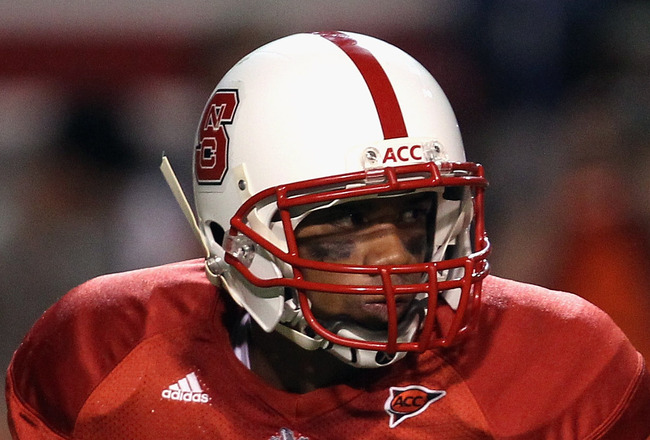 How well will Russell Wilson do as the new starting quarterback at Wisconsin?
Streeter Lecka/Getty Images
Can new Wisconsin quarterback Russell Wilson become one of the elite quarterbacks in the Big Ten this year?
The answer is "No". However, before explaining the answer, we need to consider what is triggering the question.
Last month we looked at how the conference quarterbacks stacked up with the departure of Terrelle Pryor. Northwestern quarterback Dan Persa secured the No. 1 spot and was declared the favorite for the Big Ten Player of the Year.
Michigan State's Kirk Cousins and Nebraska's Taylor Martinez are expected to perform well at quarterback and lead their teams to a division title and a spot in the Big Ten championship game. Russell Wilson may be just the quarterback Wisconsin needs to take their shot at the conference title.
You also have to keep an eye on Michigan's Denard Robinson, Illinois' Nathan Scheelhaase and Purdue's Rob Henry. How does Wilson compare with the previously listed top six quarterbacks?
Take a look at this update of the top seven quarterbacks in the Big Ten..
No. 1 Quarterback: It's Still Dan Persa of Northwestern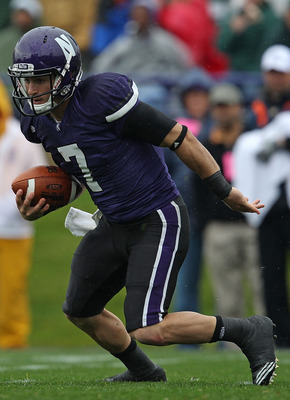 Jonathan Daniel/Getty Images
Nothing has changed in the assessment of Northwestern quarterback Dan Persa. He is such a talented quarterback and leader that Northwestern must be considered a "dark horse" candidate for the Big Ten Leaders Division title.
Persa had the best quarterback rating (152.0) of all the quarterbacks returning to play Big Ten football in 2011. He had 2,581 yards passing and 15 touchdown passes last year. He also ran for nine touchdowns.
Persa has completed 72 percent of his passes during his Big Ten career and his pass attempts-to-interception ratio is 56 to 1.
I still think that if Persa stays healthy, the Wildcats could be 9-3 team by the end of the season.
No. 2 Quarterback: Kirk Cousins' Target Is Another Big Ten Title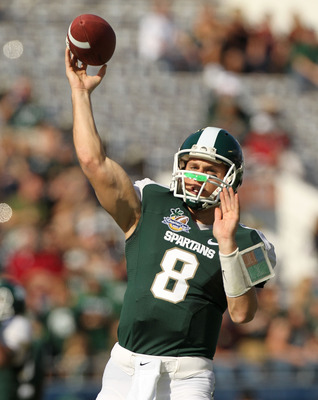 Mike Ehrmann/Getty Images
Spartan Kirk Cousins is the perfect leader for a team trying to repeat as Big Ten champions. A good indication of his consistency is his quarterback rating was 150.7 in 2010.
Only Northwestern's Dan Persa had a better QB rating (158) going into this season and MSU head coach Mark Dantonio has surrounded Cousins with plenty of talent.
Cousins threw 20 touchdown passes and had 2,825 yards passing last year. And unlike Persa and other quarterbacks on this list, Cousins prefers to hand the ball off to running backs Edwin Baker, Le'Veon Bell and Larry Caper.
As indicated in the previous Big Ten quarterback assessment article, Cousin's success this season may be decided in two critical road games. He and the Spartans face Ohio State in Columbus on October 1st and Nebraska in Lincoln on October 29th. If he and the Spartans can win those two games plus the other conference games on their schedule, they will be the Legends Division representative in the Big Ten championship game.
No. 3 Quarterback: Taylor Martinez Set to Lead Nebraska's Big Ten Title Drive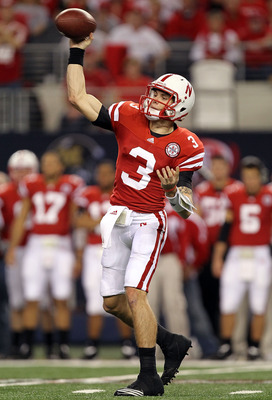 Ronald Martinez/Getty Images
How does a Big Ten defense contain Nebraska quarterback Taylor Martinez?
Cornhusker fans are counting on Martinez to easily exceed his 2010 numbers of 22 combined touchdowns (10 via touchdown passes and 12 running the football). His quarterback rating (138.8) would have been better if had thrown fewer interceptions (seven) and completed more passes (completion percentage of 59.2) in 2010.
Martinez and Nebraska's tough defense may be part of a formula that earns them a title shot. They have a big game against Wisconsin on October 1st and then play at home on October 29th in a game against Michigan State that may decide the Legends Division title and who plays in the first Big Ten championship game in Indianapolis.
No. 4 Quarterback: Michigan's Denard Robinson Will Adapt and Succeed in 2011
Leon Halip/Getty Images
He's not Superman, but it's fun to watch Michigan quarterback Denard Robinson play football.
Robinson is not shy about running or throwing the football. He ran for 14 touchdowns and 1,702 yards in 2010. He also threw 18 touchdown passes and 2,570 yards passing.
The challenge for Robinson is to adapt to new head coach Brady Hoke's offense and make it more successful than the 2010 Wolverine offense. The challenge for Hoke is eliminating the mistakes that provided opponents with too many opportunities to beat Michigan.
I believe Robinson will be better in 2011 and the Michigan fans will love it.
No. 5 Quarterback: Illinois' Offensive Success Depends on Nathan Scheelhaase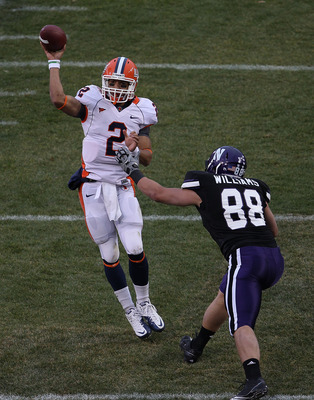 Jonathan Daniel/Getty Images
Okay, here is where Wisconsin fans may raise a fuss, but Illinois quarterback Nathan Scheelhaase was one of the most productive offensive weapons in the Big Ten last year.
Scheelhaase had 1,825 yards passing and tossed 17 touchdown passes. He rushed for 868 yards and scored five touchdowns. He amassed more total yards than Illinois star running back Mikel Leshoure, who was drafted in the second round (with the 57th pick) in the 2011 NFL draft by the Detroit Lions.
Scheelhaase also has the benefit of throwing the ball to talented receives like wide receiver A.J. Jenkins and tight end Evan Wilson. Experience with the Illinois offense plus a talented pool of players should equal a big year for Illinois' starting quarterback.
No. 6 Quarterback: Russell Wilson Can Help Wisconsin Win the Big Ten Title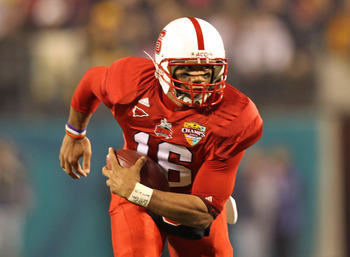 Mike Ehrmann/Getty Images
Does quarterback Russell Wilson improve Wisconsin's chances of winning the Big Ten title in 2011? Absolutely.
Is he the ideal replacement for Scott Tolzien? Not exactly.
The problem is Wilson was not the best quarterback in the ACC last year, while playing for the North Carolina State Wolfpack. He finished as the fifth best quarterback in the conference statistically. Tolzien was the No. 1 quarterback in the Big Ten.
Wilson is a mixture of positive and negative statistics. He threw 59 touchdowns for North Carolina State in the last two years, but he was also responsible for 25 interceptions and was sacked 69 times. His 127.5 quarterback rating in 2010 was almost 30 points below Tolzien's 165.9.
Thankfully, he will be playing behind a solid Wisconsin offensive line and has the Big Ten's best pair of running backs, James White and Montee Ball, to lead the rushing attack. Wilson will also benefit from better defensive support.
So Wilson's good enough to get the Badgers to the title game, but don't expect him to be among the league's top five quarterbacks.
No. 7 Quarterback: Purdue's Rob Henry Is a Big Ten 'Rodney Dangerfield'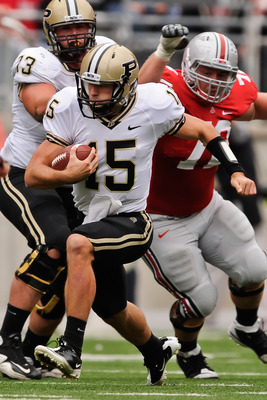 Jamie Sabau/Getty Images
Comedian Rodney Dangerfield's famous catchphrase was "I don't get no respect."
That statement seems to capture the plight of Purdue quarterback Rob Henry. He was thrust into service in the fourth game of 2010 after starter Robert Marve was injured. Henry finished his freshmen year with eight touchdown passes and 996 yards passing. He also ran for four touchdowns and had 547 yards rushing.
Unfortunately, Purdue head coach Danny Hope has been reluctant to name Henry the starter for 2011 because Marve is healthy and battling for the No. 1 quarterback spot. Henry is well liked by his teammates who elected the sophomore quarterback to be one of their captains this season.
The problem may be who will support Henry on offense. Purdue failed to place a player on the Bleacher Report's Top 10 Big Ten Wide Receivers list or the Top 10 Big Ten Running Backs list.
Regardless of how much respect he gets, expect Henry to post better results in his sophomore season as the Boilermaker quarterback in 2011.
Keep Reading