Mayweather vs. Ortiz: 5 Possible Future Opponents for the Winner of the Fight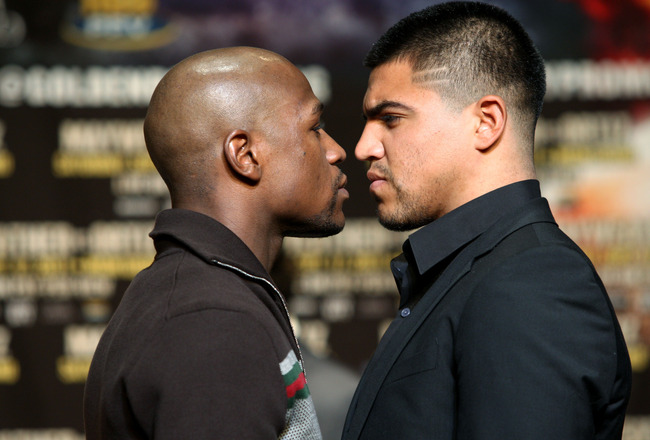 Daniel Barry/Getty Images
Floyd Mayweather Jr. (41-0 25 KO) is set to challenge the young southpaw Victor Ortiz (29-2-2 22 KO) for Ortiz's WBC welterweight belt on Sept. 17th.
This will be Mayweather's first fight since his lopsided victory over Shane Mosley last May where Floyd spent almost the entire fight schooling a faded Mosley.
Ortiz won his first world title in his last fight against Berto and is looking to ride this momentum into his fight with Floyd and be the first man to defeat him.
After everything is said and done, everybody will be buzzing about what will be next for the winner of the star power showdown.
Here's a look at five likely opponents for the winner between Mayweather and Ortiz.
Saul "Canelo" Alvarez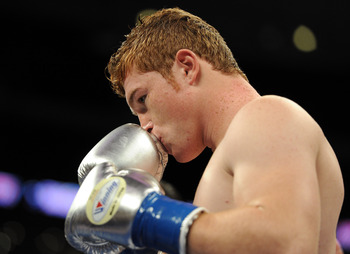 Harry How/Getty Images
This is an unlikely option, but still a viable option for the winner of the fight.
Canelo (37-0-1 27KO) is one of Mexico's rising stars and Golden Boy's newest money-maker.
He's the current WBC light middleweight belt holder, undefeated and he's only 20 years old!
A future matchup with the winner of the Ortiz/Mayweather fight is a possibility as Golden Boy is looking for a name fighter to add to his resume and break him into super-stardom.
He's still young though and lacks experience in huge fights, but so far has disposed of all his past opposition that were supposed test him.
He defeated his latest opponent, Ryan Rhodes, with relative ease despite the Rhodes being the toughest test in his career.
While a fight with the winner may not be immediate, Canelo has a good chance of having a fight with them in the near future.
Andre Berto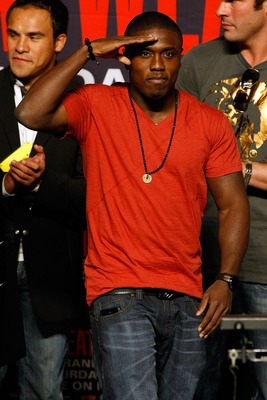 Ethan Miller/Getty Images
Andre Berto (27-1 21KO) is the next possible opponent to this winner of the star power matchup.
Berto lost his last fight in a Fight of the Year candidate against Victor Ortiz where both fighters were knocked down two times and he lost his WBC belt.
Berto has since spent his free time criticizing Ortiz of his win via twitter and now supposedly plans to make his return with a world title shot against IBF title holder Jan Zaveck.
If Berto were to win and get another belt, he'd put his name out there again for bigger fights.
If Berto would face Mayweather, this would give Mayweather another young fighter to add to his list while making Pacquiao's opposition look too old. This would also give Berto a name to add to his resume which people criticize for being "weak."
If Ortiz were to win instead, he would no doubt want to extend his welterweight dominance by taking on Berto and showing his defeat of Berto was no fluke.
Again, this is all assuming that Berto and Zaveck face off and Berto beats Zaveck for his IBF belt. I didn't include Zaveck because he isn't as marketable as Berto is in the States and fights all of his fights overseas.
Amir Khan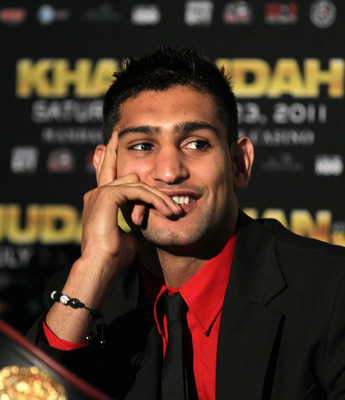 Stephen Dunn/Getty Images
Amir Khan (25-1 17 KO) has made it no secret that he wants to fight the best in the world, and it doesn't get any better than a fight with Mayweather.
A fight with Pacquiao seems less and less likely as the two refuse to face each other on account that they share the same trainer and are too good of friends to face off in the ring.
A fight with Mayweather in the near future doesn't seem that far off either as Mayweather has actually expressed interest in fighting the young champion from Bolton.
Also, if Mayweather is here to stay like he has indicated after he returned, then a matchup between the two doesn't sound far-fetched at all. That is of course if Mayweather wins his upcoming fight.
If Ortiz was to get the better of Mayweather, then Ortiz would be the new man to beat.
Both Ortiz and Amir Khan are promoted by Golden Boy, so it isn't ludicrous if they decide to set up a matchup between the two fighters.
Khan already has his fight plan set out going into 2012. After Judah, he'll challenge Morales in December, Kell Brook in the Spring and Mayweather in the summer of 2012.
Manny Pacquiao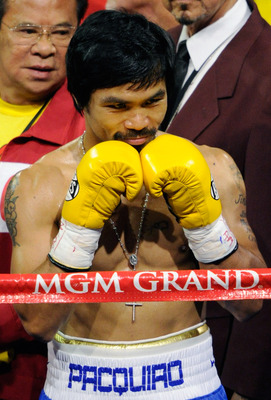 Ethan Miller/Getty Images
The other golden ticket in boxing besides Mayweather.
No matter who wins the Sept. 17 showdown in Vegas, they're guaranteed millions of dollars for their next couple of fights.
The Pacquiao-Mayweather mega-fight has constantly been put to sleep from different issues and problems concerning drug testing and money. It's the fight that everybody wants to see, boxing fan and casual fan alike.
Now that Mayweather is back, he said not only does he want to fight Pacquiao but he wants him after the Ortiz fight.

This only gives hopes to people clinging to the dream of a mega fight between the two.
If Ortiz is too upset Floyd though then people will be demanding for a fight between the two which Ortiz will not hesitate to sign like he did for Floyd. Ortiz won't ask for anything, he'll just ask where the dotted line is.
In the end, Pacquiao is the ideal opponent for the winner of the Sept.17 showdown for most boxing and casual fans.
Rematch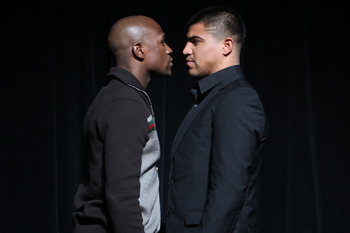 Daniel Barry/Getty Images
This option is the most likely out of all the others if Ortiz is able to defeat Mayweather.
If Mayweather was to lose, there would definitely be a rematch in store for the both of them.
Not only because Mayweather would want to avenge a loss, but also because there is a rematch clause in their contract that would have them fight again should Mayweather lose.
If Floyd were to win though, an immediate rematch or a rematch at all most likely won't be in the future, as there are other fighters Mayweather would want to take on before he retires.
Mayweather is 34 years old, and he isn't getting any younger.
Keep Reading