Alex Morgan Boyfriend: Marriage Proposals for Soccer Star Run Rampant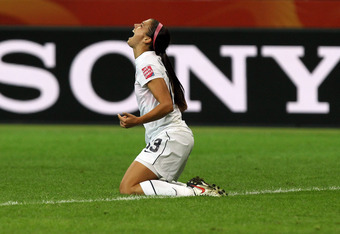 Alex Morgan's boyfriend can't be too pleased with all of the Facebook love his significant other has been receiving of late.
Servando Carrasco is an MLS player for the Seattle Sounders and met Morgan when the two were in college together at Cal. They have been a couple for the last four years and have a strong enough relationship to live apart from each other for months at a time. Carrasco is way up in the pacific northwest and is on the entire opposite side of the country of Morgan.
Morgan lived and trained in New York for the World Cup and it's unclear where she will reside now that the tournament is over.
The 22-year old heart throb has accumulated quite the fan base over the past week. She scored the game winning goal in the semi's against France and secured a goal and assist in the heartbreaking defeat to Japan on Sunday.
She is attracting Facebook friends like crazy and a lot of them are trying to marry her. Morgan is getting the proposals in at a fast and furious rate.
Elliot Turner of Yahoo! Sports talks about his extensive research into the proposals:
Of course, in terms of statistical counting, a marriage proposal must involve a clear and explicit offer. We did not include any general "wish you were with me" facebook posts. We did include a Spanish-language offer, but were unable to translate the German posts. Thus, if anything, our final number of 27 may be lower than it should be. Due to logistical constraints, we only focused on a single Alex Morgan Facebook page. And sorry gents, I know the word "single" and "Alex Morgan" made your heart skip a beat. In fact she is attached. Making these 27 proposals all the more audacious.
Now that the Women's World Cup is over the amount of proposals will likely take a nose-dive, but her star is only beginning to shine.
She is young, attractive and an amazing player that is only going to get better. This is certainly not the last you will hear from her and expected hundreds of more proposals to flood in....much to the chagrin of her boyfriend.
Follow me on Twitter: @BigLeagueEball
Most recent updates:
This article is
What is the duplicate article?
Why is this article offensive?
Where is this article plagiarized from?
Why is this article poorly edited?