Alex Morgan Boyfriend: Who Is the Lucky Guy with the Women's World Cup Star?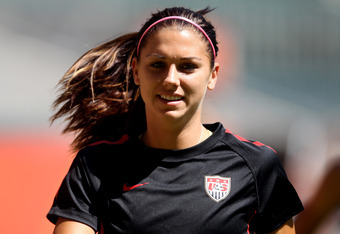 US Women's World Cup forward Alex Morgan has a boyfriend that knows a few things about the sport of soccer.
Servando Carrasco is a midfielder for the Seattle Sounders FC in the MLS and he was cheering on his girlfriend as she scored the third goal in Wednesday's 3-1 US victory over France. Morgan, in addition to her national team duties, is also a member of the New York Flash in the women's soccer league.
The couple met back in college at Cal and have been together ever since. At the age of 22, Morgan is the youngest member of the Women's National Team. After drilling the clinching goal on Wednesday, she is now one of the premier players in the entire sport.
Despite the month away from each other, in addition to currently living on the other side of the country, Morgan says the couple had been preparing for these type of situations for years now:
We spent almost four years in college together and we knew this was coming. We were prepared for it. We are both trying to live our dreams as professional athletes. We know each other's schedules and we respect that.
Despite the constant travel, it sounds like the couple is doing better than ever....except when it comes to playing any sort of game. The highly competitive couple can't even play a board game according to Carrasco:
We can't play Monopoly or any other board games because she hates to lose. We stay away from things like that. It's better for our relationship and for our future.
Now is the time for Morgan to really turn up the competitive juices as her US squad enters the World Cup Finals.
This Sunday with the whole world on the edge of their seats cheering on Morgan and the rest of the US squad—and Carrasco will be going just as crazy as the rest of us.
Follow me on Twitter: BigLeagueEball
Most recent updates:
This article is
What is the duplicate article?
Why is this article offensive?
Where is this article plagiarized from?
Why is this article poorly edited?