WWE: CM Punk and John Cena Showed Mutual Respect at Live Event in Australia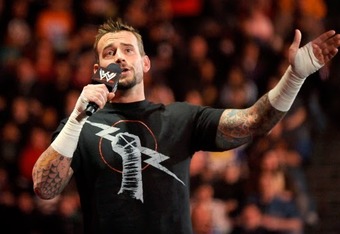 Copyright WWE

CM Punk may never have seen eye to eye with John Cena on WWE television, but it appears that they have a strong mutual respect for each other in the professional wrestling business.
WWE has been on tour in Australia over the last week, and the visit has created more and more propaganda for Punk and his apparent departure from the organization.
Punk successfully produced one of the best shoot promos in WWE history on Raw last week, and this week his name has been all over the news for what is being regarded as a "gay slur" towards a fan over the weekend at a live event in Australia, despite the fact that Punk has always been supportive of gay marriage. His apology reflected that:
"I'm glad TMZ posted that video because everybody needs to be held accountable for their b*llsh*t, me included. What I said was b*llsh*t...I'm embarrassed. I own up to being a total douche in this situation and I offer a sincere apology to anybody I hurt with careless words."
However, another interesting event took place at the conclusion of a Raw live event in Brisbane last night.
John Cena defeated CM Punk in the main event of the show, but after the match CM Punk grabbed the mic and publicly endorsed John Cena, showing him a great deal of respect.
Punk then continued his verbal assault on The Rock from his now famous Raw shoot promo of last week, saying that while The Rock is filming movies, Cena is performing in sickness and in health for the benefit of the WWE fans.
Will CM Punk ever wrestle in WWE again after his match with John Cena at Money In The Bank?
The two then shook hands before Punk left.
Cena then took the mic, calling Punk the best wrestler in WWE and claiming that the match between the two at the Money In The Bank pay-per-view will be the match of the year.
He even went on to say that it will be bigger than his match with The Rock in the main event of next year's WrestleMania.
I really have to give credit to both men here.
I have never been a Cena fan, but as a fan of professional wrestling, love him or hate him you have to respect the amount John Cena does for the company and the business. Punk showed a lot of class, and the fact that he and Cena respect each other can't do Punk's chances of remaining with the company any harm.
As for Cena, I am really surprised and pleased to hear him say that this match is bigger than his showdown with The Rock at WrestleMania.
I honestly believe this to be the case myself—this match is one of the most highly anticipated bouts in recent memory, and whether Punk leaves or comes back to WWE at a later date, this whole angle has finally made Punk into the megastar he deserves to be.
Offer Punk anything and everything he wants in order to stay at WWE, because it will be worth it in the long run.
He is currently the best wrestler in the world.
***Update*** Here is the footage of Punk congratulating Cena:
http://www.youtube.com/watch?v=7fUW7zszlSg&feature=mh_lolz&list=LL4xvDM7KdadU
This article is
What is the duplicate article?
Why is this article offensive?
Where is this article plagiarized from?
Why is this article poorly edited?