The 25 Hottest Athletes in Action (w/ Video)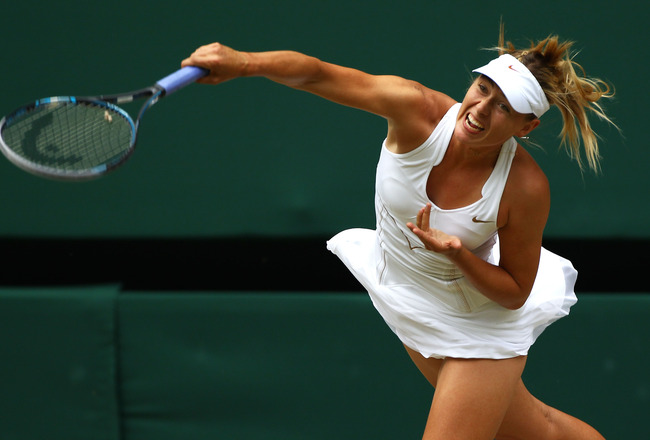 Clive Brunskill/Getty Images
At Bleacher Report, we are proud to keep you abreast of the hottest WAGs and female athletes in sports, providing you with lovely pictures and some fun facts to keep you in the know.
But we can do more for you, our loyal readers—we can also provide you with video of some of the hottest ladies around.
That's what we've done here, showcasing video from 25 of the hottest athletes in action. After all, it isn't just tennis outfits or surfer's bikinis that are hot—watching these ladies actually compete makes them all the more sexy.
To the slides!
Jennie Finch
Chicks may dig the long ball, but dudes go crazy for the pitcher.
Well, namely when the pitcher is Jennie Finch.
Daize Shayne
Here's a front row seat as surfer Daize Shayne rides a wave in.
Natalie Gulbis
The only unattractive thing about Natalie Gulbis might be her swing.
But hey, if it works, it works, right?
Kim Yu-Na
Kim Yu-Na as a hot, ice-skating spy?
Yes, please.
Veronica Kay Baker
All I can say is, Veronica Kay seems like one really cool chick.
Michelle Waterson
Okay, so she isn't totally "in action" on this video—so sue me.
For more action-oriented Waterson action, check this video out.
Kristi Leskinen
I know what men need as well—even more sexy athlete videos.
And maybe some women out there need that as well.
See, I do know what women need, Kristi.
Malia Jones
I've said it before, but I'll say it again—there is no greater combination of sex appeal, talent and laid-back perspective then you find from surfer girls.
They truly are a special breed.
Gina Carano
Insert knockout pun here.
Ana Ivanovic
Hot tennis player. Hot tennis outfit. Occasional tennis grunt.
That's pretty much the formula for a hot tennis video, right?
Yevgeniya Kanayeva
I know I'm going to totally get ripped in the comments for this, but I don't care: This performance is awesome!
For some reason, I was not only totally transfixed by this particular dance, but the previously confounding appeal of using a ribbon during rhythmic gymnastics suddenly made sense.
This particular pairing of music and movements combined with the swirling ribbon to form an almost psychedelic moment, and I was totally digging it.
Again, I know I'm going to get ripped in the comments for this, but so be it—I just had an emotional response to a piece of art, and that's my story.
Allison Stokke
Here we have Allison Stokke pole vaulting for Cal, and not her high school.
Because it's a lot less weird when she's pole vaulting for Cal and not her high school.
Nastia Liukin
U-S-A! U-S-A!
Hottest American gymnast ever?
In my humble opinion, yes. But feel free to disagree.
Lindsey Vonn
There isn't a lot about watching skiing that is sexy. But watching Lindsey Vonn train for competitions?
A whole lot sexier.
As is watching her pose for Sports Illustrated and ESPN the Magazine (as Sharon Stone, nonetheless).
Blair O'Neal
Are you a golf enthusiast? Do you love breaking down a player's swing in slow motion?
If you answered yes, I've got another video just for you!
Anna Rawson
Anna Rawson takes us into two of her passions: modeling and golf.
Anastasia Ashley
Everything about this video is cool, from the smoking-hot Ashley and the surfing action, to the music and cinematography.
I need to move to the West Coast and buy a surfboard.
Bia and Branca Feres
They do a little bit of swimming in this video, but more importantly, the video mentions Bleacher Report at 0:31.
If Bleacher Report is popular down in Brazil, we should probably send a field reporter down there to interview athletes such as the Feres twins. I humbly submit my name for consideration.
Maria Sharapova
Three words should suffice on this slide: "The Sharapova Scream."
Allison Baver
Baver is a speed skater, but I thought you might appreciate all of the difficult aerobics training she puts herself through.
You're welcome, by the way.
Clair Bidez
Clair Bidez is unbelievably hot.
Leryn Franco
You didn't know javelin could be hot, did you?
Roberta Mancino
1. Roberta Mancino is incredibly sexy.
2. This is one of the coolest videos I've ever seen. If you have a few minutes, watch it—it is breathtaking.
Be sure to hit me up on Twitter (@TRappaRT) along with the entire B/R Swagger team (@BR_Swagger).
Keep Reading