Derek Jeter 3,000 Hits: Latest Updates Following Jeter's Quest for Milestone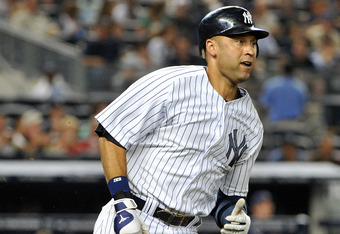 Christopher Pasatieri/Getty Images
It's pretty incredible that no member of the 3,000-hit club has ever achieved that milestone mark wearing Yankee pinstripes.
But it's even harder to believe that no man who ever spent the bulk of his career at the game's most fabled franchise is even a member of the 3,000-hit club.
Wade Boggs was a member of the Red Sox first and foremost. Rickey Henderson may have spent a handful of seasons in the Bronx, but he's a Oakland Athletic through and through.
And although Dave Winfield's most infamous years (Mr. May, being spied on by George Steinbrenner) were with the Yankees, few think of him as a "Yankee legend."
That title is reserved for Babe Ruth, Lou Gerhig, Joe DiMaggio, Mickey Mantle, Yogi Berra, Reggie Jackson, Thurmon Munson, Don Mattingly and a few others, none of whom ever reached the 3,000-hit mark.
That all figures to change in the next week or so when Derek Jeter—a lifelong Yankee and future Hall of Famer—knocks his 3,000th hit. As of today (July 7), he's only three hits shy.
Because it's such a momentous event in baseball history, we'll keep you up to date on the Jeter chase for 3,000 in this dedicated quick hit.
Michael Heiman/Getty Images
Tickets during the New York Yankees' four-game series against the Tampa Bay Rays were reported to be around $200 each on average, according to the New York Daily News.
Those who paid for those tickets for Saturday's game at Yankees Stadium weren't disappointed.
Yankees longtime star Derek Jeter hit his 3,000th career hit on Saturday against Rays' ace David Price in the third inning, becoming the 28th player in MLB history to do so.
Did I mention his 3,000th hit was a home run?
Coming into the game, Jeter was batting .257 for the season with just two home runs.
But "The Captain" once again proved when everything's on the line, he delivers.
Jeter, a 12-time All-Star and five-time World Series champion, became only the second player in MLB history to hit a home run for his 3,000th hit, joining Hall of Famer Wade Boggs.
Sure, the ticket prices were absurd, ever more absurd than they generally are at Yankees Stadium.
But this will be a memory that will last a lifetime for all who attended Saturday's game. When you witness history, it's hard to say it wasn't worth the price of admission.
It was a moment of joy that will forever resound in the annals of history, a moment that will be told over and over again, passing down through generations.
People will say, "I saw the great Derek Jeter smack No. 3,000 in person."
Those who watched the game on TV will remember where they were when it happened. Even Boston Red Sox fans.
When a player records his 3,000th hit, you tip your cap to him, whether you're a bitter rival or the pitcher who just gave it up.
As of now, Jeter is 4-for-4 and is one triple away from hitting for the cycle.
At this point, it wouldn't be a surprise if he did.
This article is
What is the duplicate article?
Why is this article offensive?
Where is this article plagiarized from?
Why is this article poorly edited?
Michael Heiman/Getty Images
America is fascinated with Hollywood and reality TV shows.
But if you really want a classic script, full of drama and intrigue, follow Derek Jeter's career throughout the years.
On Saturday, the Yankees' star collected his 3,000th career hit, becoming only the 28th player in MLB history to do so.
If that wasn't enough for you all, his 3,000th career hit just so happened to be a home run, becoming only the second player in MLB history to do so, joining Hall of Famer Wade Boggs.
Coming into the game, Jeter was 6-for-25 lifetime against the opposing pitcher, Tampa Bay Rays' ace David Price. He also only had two home runs for the season.
Whether it's been smacking game-winning hits, making game-winning plays at shortstop or simply being the leader which earned him the nickname "The Captain," Jeter has given it all to us, right there on a platter.
He's a reality TV star and Hollywood movie in his own right, and this one has gone on for 17 seasons.
When all is said and done, he will be known as one of the greatest shortstops and players to ever play this game, but he will be known more for the memories he gave us than the 12 All-Star selections or five championships.
Like, diving into the stands to catch a foul ball. Or sprinting from his post at shortstop to gather an errant throw to home from the outfield and flipping it to the catcher for the out.
He has a MLB record 175 career postseason hits and 99 runs, with a .309 career postseason average.The Yankees have made it to the playoffs ever year since he joined the team except for 2008.
"The Captain" has been piloting his own ship ever since he donned a Yankees uniform, and he's treated us to one of the greatest spectacles sports fans have ever seen.
This article is
What is the duplicate article?
Why is this article offensive?
Where is this article plagiarized from?
Why is this article poorly edited?
Jason Miller/Getty Images
If you're heading to Yankee Stadium at any point in the next couple days in hopes of seeing Derek Jeter notch his 3,000th career hit, I have one question I want to ask you.
Honestly, will it be worth it?
Before you take that question the wrong way, we're not talking about the value of the moment itself. We're talking about the value of the ticket(s) you have in your hand.
As detailed in a Thursday report from the New York Daily News, ticket prices for the Yankees' weekend four-gamer with the Tampa Bay Rays have pretty much gone through the roof. Tickets for Friday night's game are going for an average of $195, a 103% increase from a week ago. Tickets for Sunday are going for over $200.
Needless to say, this is going to lead to a nice profit margin for ticket sellers. In fact, Jeter's quest for 3,000 hits is apparently proving to be much better for business than Alex Rodriguez's chase for 600 home runs.
In case you're wondering, the average ticket price for tonight's game is $142, which would seem to suggest that most people aren't banking on the idea that Jeter will collect the three hits he needs to get to 3,000 tonight. Not a bad bet seeing as how Jeter has just two three-hit games all season.
It's unclear whether or not these ticket averages take scalpers' rates into account. If not, they are probably pretty modest. It's not every day that scalpers get to charge top dollar for Rays tickets, so this is a golden opportunity.
Regardless of how people get in, Yankee Stadium will definitely be packed to the gills, which would be a nice change of pace. As well as they draw, it's very rare that Yankee Stadium actually looks full. This is largely thanks to the fact that the best seats in the house tend to be bought by invisible people.
I kid, of course. At least, I think I do.
This article is
What is the duplicate article?
Why is this article offensive?
Where is this article plagiarized from?
Why is this article poorly edited?
Scott Boehm/Getty Images
There's going to be a lot of excitement in the air at Yankee Stadium and the greater New York area on Thursday night. The New York Yankees are going to be locked in an AL East battle with the Tampa Bay Rays, but the bigger matter at hand concerns Derek Jeter's hunt for 3,000 career hits. All he needs is three more.
Everyone has their own reasons, but you get the sense that most people are pulling for the longtime Yankees shortstop. Rest assured that the fans in attendance will be, as well as the players in the Yankees' dugout. Heck, some players in the Rays dugout will also be rooting for Jeter.
Except one. That would be starting pitcher Jeff Niemann, who is in line to toe the rubber for the Rays tonight. It's his job to keep Jeter hitless. And if Niemann has his way, Jeter's quest for 3,000 will have to wait until Friday.
"It's just one of those things -- you try not to think too much about it," Niemann said about being the guy that might surrender hit No. 3,000, courtesy of MLB.com. "You just try to go out and make your pitches and just throw your game."
Jeter has only had nine at-bats against Niemann in his career. Five of them resulted in hits, including two doubles. If nothing else, that bodes well for Jeter. He came off the disabled list just days ago and has notched just three hits in 13 at-bats.
Interestingly enough, Niemann himself was on the DL not too long ago. He's been pretty good in three starts since coming off, going 2-0 with a 3.60 ERA. The only problem is that Niemann has had issues at Yankee Stadium in the past. He does have a 3.78 ERA and a win at the Yankees' new digs, but he was knocked around a little in his three starts.
Still, Niemann insists he's not going to be overwhelmed when he's on the mound tonight.
"It'll be fun -- there will be a little bit different buzz in the air, for sure, when you're going out there to take the field," said the 28-year-old righty. "It'll be exciting. There won't be any shortage of adrenaline or excitement."
If Jeter does collect his 3,000th hit off of Niemann, perhaps Aaron Cook can offer a few words of advice. Cook, after all, was the pitcher who surrendered Craig Biggio's 3,000th hit in 2007. That was the last time a player joined the 3,000 hit club.
This article is
What is the duplicate article?
Why is this article offensive?
Where is this article plagiarized from?
Why is this article poorly edited?
Jason Miller/Getty Images
When the New York Yankees take the field against the Tampa Bay Rays tonight, Derek Jeter will be playing shortstop and probably batting leadoff as well. Just like any other night.
Except not. If Jeter notches three hits in Thursday night's contest, he will hit the magic number of 3,000. Fans packed into Yankee Stadium will howl and cheer, flashbulbs will go off, and Jeter will just stand there modestly waving at the crowd.
And he will do so in the snazziest gear the Jordan Brand has to offer. Because, you know, what's a personal milestone if it is not accomplished in style?
The funny part is that I'm not kidding. The Jordan Brand spilled the beans on its very own Twitter account a short while ago. They have arranged a handful of signature items for Jeter to wear as he chases 3,000 hits, including: gold-accented cleats, sock-liners that pay tribute to the shortstop's very first contract, and a pair of spiffy batting gloves. Jeter has also been graced with a pair of special red sneakers designed to pay homage to his high school.
Add it all up, and it's apparent that Jeter is going to be pretty decked-out. Unlike, say, Brian Wilson's awesome orange cleats, no item in particular is likely to stand out, but at least Jeter will look a little different from his pinstriped comrades.
That's the point, you see. After all, Jeter is going to become the first Yankee to ever reach 3,000 hits, so there may as well be an effort to distinguish him a little.
More than that, though, this is a pretty obvious money grab. Both Jeter and the powers that be at the Jordan Brand are aiming to make a few extra bucks now while they still can. After Jeter reaches 3,000 hits, everything will go back to normal and it will be much harder to ignore the fact that Jeter is not the player he once was. Shoot, it's already nigh impossible to do so.
I get it, but I don't like it. I'm no Yankee fan, but any baseball fan can appreciate what Jeter is about to accomplish. For me, seeing Jeter's 3,000th hit packaged and labelled for the sake of making a few bucks serves to cheapen the moment itself.
Such a shame.
This article is
What is the duplicate article?
Why is this article offensive?
Where is this article plagiarized from?
Why is this article poorly edited?
Ezra Shaw/Getty Images
Thanks to a sinlge and a double last night against the Indians, Derek Jeter is only four hits shy of that historic 3,000th hit.
So with a four-game set against the Rays ahead of the Yankees after tonight's series finale in Cleveland, there's a pretty good chance Jeter will reach the milestone in Yankee Stadium before the fans that love him so dearly.
But what if Jeter wears the collar a couple times in and doesn't reach 3,000 before the All Star break starts next Sunday evening? (And that's not all that unlikely since The Captain is hitting just .251 and has gone hitless 16 times in just 64 games this year.)
Since the Yankees open the second half of the season in Toronto that 3,000th hit may come north of the border. And that shouldn't matter one bit.
Manager Joe Girardi might be able to justify sitting Jeter for one game, but not an entire series; and since the Yankees head to Tampa after leaving Toronto he can't hold out too long....even if upper management would like to see Jeter sit so he can get to 3000 at home thus hauling in a few extra million or so from larger crowds interested in seeing Yankee/baseball history live and in person.
Yes, it would be nice for the New York fans to see Jeter reach 3,000 (no man in history has ever collected his 3,000th hit in pinstripes) but Yankee fans are renowned for being the most baseball knowledgeable and most interested in world championships. So they should know that if they are going to return to the World Series they need Jeter playing his best, and that's not going to come with frequent trips to the bench and being in and out of the lineup. In short, Jeter needs to play, not sit and schedule his hits around the Yankee homestands.
Besides, Alex Rodriguez can still collect his 3,000th hit in the Bronx sometime in late 2012, and that's just as good, right? Nope.
This article is
What is the duplicate article?
Why is this article offensive?
Where is this article plagiarized from?
Why is this article poorly edited?

New York Yankees: Like this team?