New York Islanders: 4 Picks Analyzed in the Aftermath of the NHL Draft
July 6, 2011
Nick Laham/Getty Images
The New York Islanders have seen a lot of their recent draft picks in action a lot sooner than they initially anticipated. Due to injuries and management decisions, draftees have often made the big team the same year as they come out of the amateur ranks. It is therefore important to look at their stock from the recent draft. One never knows when an unanticipated promotion (such as Kevin Poulin) will come out of Bridgeport and onto the Island. With that in mind, I have provided brief descriptions of the NHL potential of the Islander picks from the 2011 NHL Entry Draft.
1. Ryan Strome:
The gem of the draft according to central scouting rankings is the Canadian from Mississauga, Ontario who had moved up significantly in the rankings following an excellent season in Niagara (OHL) with 33 goals and 73 assists. Strome has a sweet game that includes slick playmaking and excellent skills distributing the puck. It would not be surprising to see him get some minutes like Nino Niederreiter did as the top choice last season. Ideally, he would try and get more seasoning at the junior level because he might not be at the point where his physical play or hockey IQ is quite at the level of an NHLer (rushing prospects sometimes backfires for a time, I don't want to see Strome end up in the same boat as Josh Bailey). He does have significant upside and projects nicely into a second-line center assuming that no veteran help is brought in before he makes it to the NHL.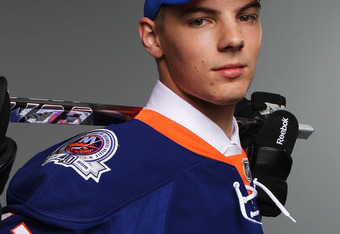 Nick Laham/Getty Images
2. Scott Mayfield:
Mayfield is a defenseman with excellent skating skills who is a product of the USHL (Youngstown). Scouts hope that he develops into a Robyn Regehr-type player who has excellent positional play. He might develop into more of a two-way player if given the chance. Scott does have some skill as a playmaker but seems rather tentative in joining the rush. He may be able to be pushed into shooting more if he makes the Islanders and gets a roster spot in the top 6.  Mayfield is 6-4, 197 and plays well in many different game situations. They may be able to convince him to shoot more as he gets experience at higher levels (like they did with Andrew MacDonald).
3. Johan Sundstrom:
Sundstrom is a typical big man (6-2, 196) from European roots (Frolunda, Sweden) that plays with a little bit of grind. His development is a little hard to analyze at this stage because the overseas game is so different from what he will see as an Islander. In any case, he appears to be a very solid player with an excellent scoring touch. If he can avoid being compared to Franz Nielsen, then his development should go pretty smoothly. There are a fair amount of centers already in the system, which means that Sundstrom will be a third-liner if he pans out. Jeremy Colliton is not seen as a permanent solution by most; he will probably be gone by the time Sundstrom develops. Sundstrom would have to fit into either an energy mold or he would have to really blossom in juniors, the Islanders have too many players who are not grinders and cannot score 20 goals a year.
4. Andrei Pedan:
Pedan is a physical D-man from Guelph of the Ontario Hockey League. His size (6-4, 200) is something that excites scouts right away, as does his poise and intimidating demeanor. Pedan has shown some flashes of offensive upside, which led some scouts to hope that he will develop into a Dion Phaneuf –type player. That is quite a label to receive, but some (including myself), think that this is a little optimistic for a third-round pick. In any case, you can never have too many defensemen in the NHL and the next 2-3 years will determine if he can reach his potential, which I think would be best assessed as a bottom-pairing defenseman.