NBA Rumors: Will Lockout and Potential for Missed Games Help Boston Celtics?
July 6, 2011
Mike Ehrmann/Getty Images
The inevitable NBA lockout is now upon us, as the Boston Celtics are one of countless teams in the league that will suffer as a result.
These Celtics are a team based around the Big Three in Ray Allen, Paul Pierce and Kevin Garnett. The performance of these three will ultimately determine whether or not the team contends this season. If there is no season, the three won't play basketball until 2012-2013.
As Allen, Pierce and Garnett are aging veterans who only continue to age, the time off may hurt this Celtics ball club.
One must also consider the current roster situation for this Celtics team. They currently have just six players under contract going into next season: Jermaine O'Neal, Kevin Garnett, Ray Allen, Paul Pierce, Rajon Rondo and Avery Bradley.
Then of course there is the addition of JaJuan Johnson and E'Twaun Moore from the 2011 NBA Draft, which still gives the team just eight players.
With the NBA in a lockout, free agency is put to a hold and teams cannot negotiate contracts. With Glen Davis, Delonte West, Troy Murphy and several other Celtics players now free agents, the Celtics might just have to consider re-signing these players if this lockout doesn't end before the season begins.
If there is a shorter season, there might not be much time at all to sign free agents and add depth to the team.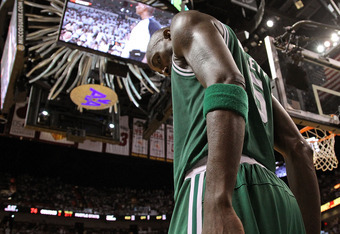 Mike Ehrmann/Getty Images
Yet, at the same time, the NBA lockout might just benefit these Celtics. As they are an aging team, one year off might help the Big Three rest up. So long as Allen, Pierce and Garnett stay in basketball shape, then they should be able to come into the 2012-2013 fresh and ready to go.
Although one might say they would age even further, going through an entire NBA season is more of a toll on a player than a year off.
Also, if there is a shorter season, the Celtics might also be able to gain an advantage in the lockout. As the season would perhaps be anywhere from 50-60 games, the veteran ball club would have less games to play and could prove to be more efficient. The aging team would be avoiding the wear and tear of an 82 game season.
The Celtics are undeniably getting older. They need to stay in basketball shape and could use the season to help develop the games of their promising talents in JaJuan Johnson and E'Twaun Moore.
To an extent, this lockout will help the team going forward, yet, this ball club cannot be pleased with it. It hurts them more than it plays into their advantage.