MLB Trade Rumors: 11 Teams in Desperate Need of a Major Move at the Deadline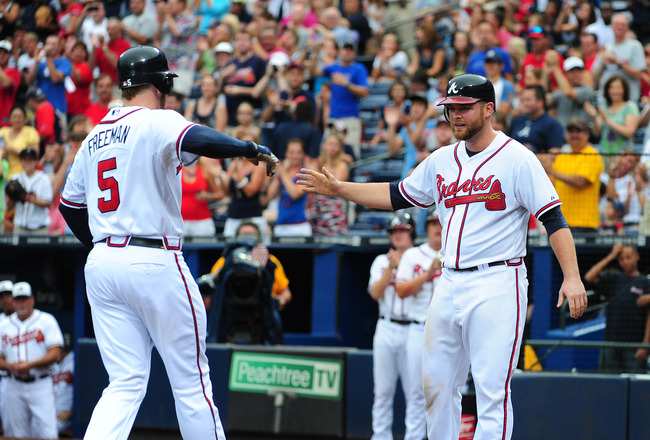 Scott Cunningham/Getty Images
The last few weeks heading into the trade deadline can end up being very important when it comes to the playoff race down the stretch. Some teams will be looking to add some pitching, while others will be looking to add one big bat.
These eleven teams could be just one piece from really making a run to the playoffs and possibly the World Series. These teams may be leading their division now or are within just a few games.
Will they all make a move? Probably not, but it may be key for them to do so to make that deep playoff run.
Detroit Tigers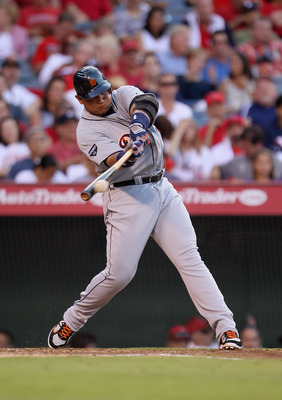 Jeff Gross/Getty Images
The Detroit Tigers were just one game behind the Cleveland Indians in the AL Central heading into Tuesday. This is fairly surprising considering they have actually allowed more runs (397) than they have scored (391).
Their offense has been one of the best in the league, but their starting pitching hasn't been very good. Justin Verlander has been the only consistently good pitcher in the rotation, and that is going to have to change if they are to make it to the payoffs.
There will be a couple of starting pitchers, such as Carlos Zambrano (who could use a change of scenery) maybe, that they may be able to trade for to make a run.
Chicago White Sox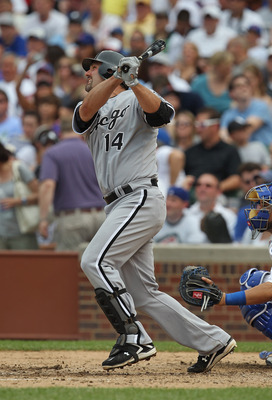 Jonathan Daniel/Getty Images
For a team that has been known the past few seasons as an offensive team, this lineup sure has some holes in it.
Alex Rios is hitting .215 on the season and doesn't look like he is going to be able to turn it around this year. Brent Morel has hit just one homer in 61 games at third base.
There will be some guys that they could make a move for and try to bring in, such as Hunter Pence or Michael Bourn, but they may not have enough to get those players.
Time will tell, though, because one more good bat would really improve their chances in taking over the AL Central.
Los Angeles Angels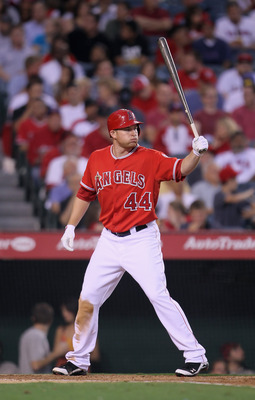 Jeff Gross/Getty Images
The Angels are really struggling to score runs this season, as they rank 22nd in the category in the league.
One of the biggest problems has been Vernon Wells, who was traded for to help the offense out. While he has hit 13 homers so far this season, he is hitting just .215 for the season.
The team hits for a solid average with good speed, but they need one more big bat to provide a little bit more power to the lineup.
I know the Angels think highly of Hank Conger, but maybe trying to trade for a guy like Ryan Doumit (though the Pirates are very much in the NL Central race) would really help the team out.
Seattle Mariners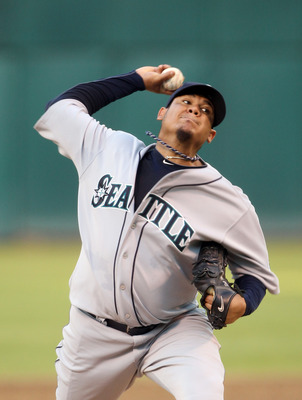 Ezra Shaw/Getty Images
The Mariners have one of the very best pitching staffs in all of baseball, but they have the worst offense to go along with it.
One of the problems have been the struggles of Ichiro Suzuki, along with Jack Cust not doing much of anything as the designated hitter.
While Justin Smoak has been a bit of a surprise this year and is the team's best offensive player at this point, he is not enough to help this team win the division.
The team is hoping that Dustin Ackley can help improve the offense, but he won't be enough. The Mariners will be looking a for a big bat to help out the young guys.
Texas Rangers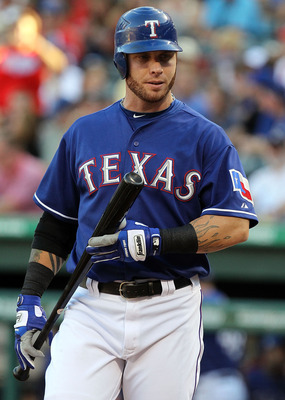 Ronald Martinez/Getty Images
The Texas Rangers are currently tied with the Angels for first in the AL West, and one of the major reasons why they aren't in front has to do with some inconsistencies with the starting rotation.
Colby Lewis and Derek Holland both have high ERAs, and you may be hearing about them trying to get a pitcher to help stabilize the rotation a bit.
It's not that their pitching has been bad, just a bit inconsistent.
San Francisco Giants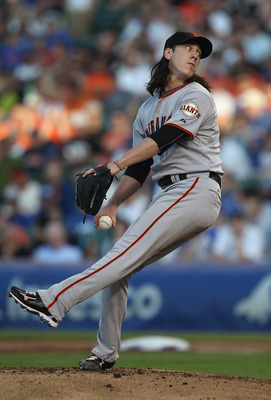 Jonathan Daniel/Getty Images
The San Francisco Giants are again having a fantastic year on the mound, but have been the opposite at the plate.
The loss of Buster Posey has really weakened what was already an average-at-best offense. The rumors have been flying around that they will make a move to pick up Jose Reyes, but at this point I just don't know if that is going to happen.
If it does, then you will see a good uptick in offensive production. If not, then they will try to make another trade for a guy they feel will be a difference maker.
Arizona Diamondbacks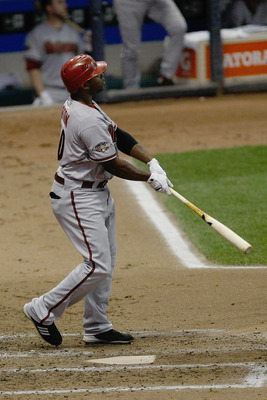 Scott Boehm/Getty Images
No matter how many 450-foot home runs Justin Upton hits, the Diamondbacks are going to find it very hard to win the NL West as long as their pitching continues to be as poor as it has all season.
Three of the five spots in the rotation have been good in Ian Kennedy, Daniel Hudson, and Josh Collmenter. The other two spots have not been good, though. The bullpen has been bad at times this year, though J.J. Putz is back to being one of the best closers in the game.
Getting a good player for the bullpen or the rotation could go a long way to making the team more consistent and likely to beat out the Giants.
Milwaukee Brewers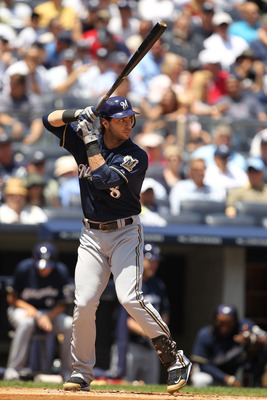 Al Bello/Getty Images
The Brewers are going to hit enough to make the playoffs, but will they pitch enough?
Zach Greinke's ERA is an appalling 5.66, but he has been lucky enough to have a 7-3 record.
The pitching as a whole hasn't been great, as the team is 21st in ERA. While they are hoping the starting pitching rolls around, the bullpen is a little weak and the Brewers could use another good guy in there. The problem is the lack of prospects the team has now.
Pittsburgh Pirates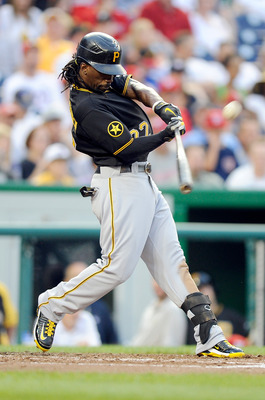 Greg Fiume/Getty Images
While the Pirates offense has had some players really step up this year, such as Andrew McCutchen and Neil Walker, but for the most part it hasn't been very good.
Pedro Alvarez has been one of the biggest disappointments for the team as he wasn't hitting much before he became injured. Third and first are currently preoccupied by Brandon Wood (.211/.268/.331) and Lyle Overbay (.238/.311/.360), respectively.
The Pirates need a lot more production out of those guys if they are going to survive the race in the NL Central, and they may have to try a trade to get another player.
Cincinnati Reds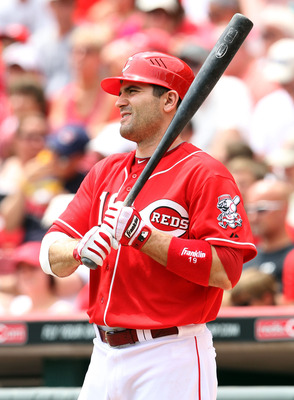 Andy Lyons/Getty Images
The Reds can hit, but they have had some troubles stopping the opposing teams from scoring. Other than Johnny Cueto and Homer Bailey, the starting rotation has been pretty horrid.
There will be some choices for the Reds to try and trade for, but I don't know if they would want to trade away some of their best prospects and risk some of their future potential.
They are currently fourth in the NL Central, but are only four games back from first place. Making a choice in the next few weeks could be the difference between making the playoffs and not making it.
Atlanta Braves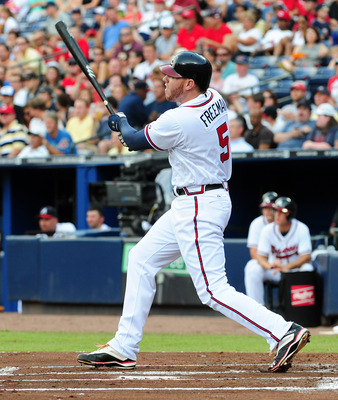 Scott Cunningham/Getty Images
When looking at the numbers, it's really amazing how well the Braves have pitched this season. They are 19th in runs scored this year, yet they have a run differential of +53, the fourth best in all of baseball.
They also have the third best average in the league. The problem is that one of the two teams ahead of them are the Philadelphia Phillies.
While I think the Braves have a better pitching staff, the offense has been pretty weak all year. Dan Uggla is starting to show signs of having a good second half and Jason Heyward is still trying to get back into a groove after having some shoulder problems.
The popular trade guy for Braves' fans has been Hunter Pence. He would give them a good power-speed combination guy that is having one of the seasons of his career.
While realistically I know that it is going to be hard for the Braves to pass the Phillies, getting Pence or another good outfielder may just be able to put them over the top.
Keep Reading