2011 College Football Preview: The Top 20 Recruiting Classes of 2011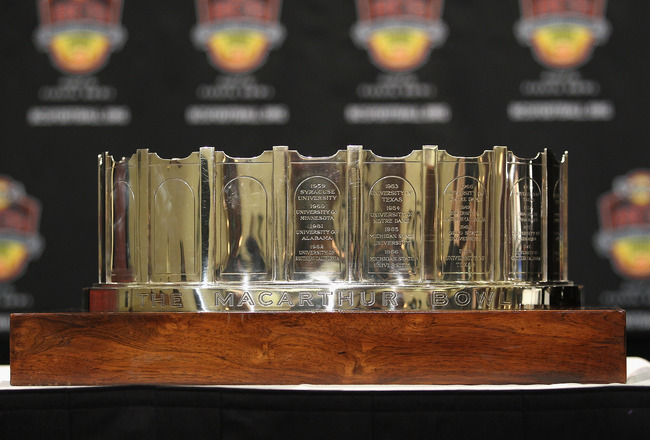 Christian Petersen/Getty Images
As the NFL players and owners continue to battle over billions of dollars in profits, all eyes are on the upcoming college football season.
Hot from the desks at Prepstar Magazine and Prepstar.com, please enjoy our Top 20 College Football Recruiting Classes for 2011.
The 2011 recruiting class, highlighted by Jadeveon Clowney, will be sure to give football fans another year of being "wowed" by a fresh new batch of world-class athletes.
#20: Ole Miss Rebels

Nickolas Brassell

The Ole Miss Rebels are coming off one of their tougher seasons in recent memory. Coach Houston Nutt and the Rebels finished a dissappointing 4-8 in 2010 after finishing both 9-4 in 2008 and 2009.
The disappointment of the 2010 season did not prevent Nutt to stockpile a new crop of studs. Nutt and his staff did a tremendous job within the state of Mississippi by signing 14 players in the state.
Big time Wide Receiver prospect Nickolas Brassell (6'1 175 4.4) from Batesville, MS is an explosive player who should be able to provide an impact on offense whereas Linebacker LB C.J. Johnson (6'1 220 4.6) from Philadelphia, MS has the tools to potentially progress into an All SEC linebacker.
Key Signings:
WR Nickolas Brassell 6'1 175 lbs 4.4 Batesville, MS
Brassell is hard to tackle. He found paydirt 13 times during his senior season in 2010 and caught 52 passed for 877 yards. His 4.4 speed in the 40-yard dash is hard for opposing players to keep up with when he lines up as a wide receiver or goes back to return punts and kicks. Throw in a great leaping ability and it's almost unfair to ask defensive backs to try and stop this kid. Brassell comes from a program that has a lot of winning experience in his time there and he's been a huge part of all that success. He's a playmaker that simply makes his team better.
LB C.J. Johnson 6'1 220 4.6 lbs Philadelphia, MS
Johnson's combination of aggression and athleticism serves him well in pursuit of any ball carrier. While he can lack discipline at times, he often is able to make up for it with his sharp reflexes. He had 149 tackles last year, as well as a sack, a blocked punt, a forced fumble, two fumbles recovered and two interceptions. Johnson is a very quick player with the instinct and hitting ability to make big plays all over the field.
Breakdown:
Signees - 27
By Position - QB-2 WR-5 TE-1 OL-4 DL-4 LB-4 DB-5 ATH-2
By State- MS-14 AL-3 NY-2 CA-2 TX-1 LA-1 FL-2 IA-1 AR-1
Key Stat- 14 signees from the state of Mississippi.
#19 Texas Tech Red Raiders

Jace Amaro Highlights

You can feel the buzz that surrounds the 2011 recruiting class for Texas Tech.
Many observers both locally and nationally heralded this as the best recruiting class in the history of the Red Raider program.
Coach Tommy Tuberville has generated a lot of excitement due to the talent and versatility of this class. It's putting Texas Tech on the level of the Big 12's elite programs, which shows up on the recruiting trail.
"The thing you do run into -- and we went to other conferences, and we competed against some of the so-called big boys in this country in college football," Tuberville said. "We beat them some; they beat us some. But what makes me feel good is they had to take off the soft gloves and put on the hard ones because they knew we were in town. That was fun."
Key Signings:
TE Jace Amaro 6'5 240 lbs 4.5 San Antonio, Texas
As a modern tight end, Amaro doesn't seem to have a shortcoming in his game. He has enough quickness and speed to create serious matchup problems. Amaro could line up at any receiving position on the field due to his versatility. He also has soft hands and is a strong blocker. Amaro averaged nearly 15 yards per catch last season but he missed part of the season due to injury. Amaro has shown talent as a blocker, but needs to get more consistent at it he will also have to get in the weight room and add some muscle to take on Big 12 defenders. Amaro is considered one of the many players in this class that could get early playing time.
LB Blake Dees 6'0 235 lbs Spanish Ford, Ala.
Dees' stout frame and toughness make him an old school linebacker. He will likely move to an inside linebacker position in college to take advantage of his strengths and mitigate the fact he might not have the speed to play outside. He does have the quickness to move well in short bursts. One of his strengths is tackling. He is very sure in that area. Dees should make a big contribution in special teams early in his career and it would not be a big surprise if he were to receive some playing time at LB early on in his career.
Breakdown:
Signees - 27
By Position: QB-1 RB-3 WR-3 OL-4 TE-1 DL-2 DE-5 LB-4 DB-2
By State: AL-1 TX-16 FL-3 NM-1 NC-1 OK-1 PA-2 VA-1 WI-1
Key Stat: 5 defensive end signees.
#18 North Carolina Tarheels

Landon Turner - 6-5, 305 lbs

In a season marked with suspensions and adversity, Coach Butch Davis did a tremendous job for the Tar-Heels.
North Carolina finished the season 8-5, including a fascinating 30-27 win over Tennessee in the Music City Bowl.
Recruiting wise, Davis once again did a great job of keeping the Tar Heels in the National conversation.
They finished with a total of 25 signees, including 13 from the state of North Carolina. They also signed 3 from Virginia and Florida, 2 from Kansas, and 1 each from Pennsylvania, Indiana, Alabama, & New Jersey.
Key Signings
OL Landon Turner 6-5 305 Harrisonburg, VA.
Turner has the size that is ideal for the offensive tackle position at the highest level of competition. He has the length of an offensive tackle, but his immense leg strength and lack of quickness push him more toward a slot on the interior offensive line at the next level. As a second-generation BCS-level player, Turner has a great understanding of the game and scouts have lauded his leadership ability. With a commitment to UNC, Turner has the ability to maul opponents in the running game.
DT Devonte Brown 6-4 280 Fayetteville, NC
Devonte Brown is a 6-4, 250-pound Defensive Tackle with plenty of natural size and talent even if he's short on experience. He didn't start playing football till he was an eighth grader and wasn't much into sports prior to that. Brown's 65 tackles and six sacks helped his team go 11-2 his senior season. He relishes contact and plays with aggression.
Breakdown:
Signees - 25
By Position - QB-1 RB-3 WR-1 TE-2 OL-3 DL-5 LB-3 DB-6 K-1
By State - NC-13 VA-3 FL-3 KS-2 PA-1 IN-1 AL-1 NJ-1
Key Stat- 13 signees from North Carolina.
#17 Oklahoma Sooners

Brandon Williams

Oklahoma impressed a lot of people in the recruiting world with its 2010 recruiting class.
So what did it do for an encore?
Well, Sooners coach Bob Stoops brought in another group deep in talent, if not in numbers. This class gives a great picture of the kind of talent Oklahoma has hauled in during the past couple years.
Many of the top players in the group might not play for a couple seasons -- but there are a few that could get initial playing time. "We were and still are a young team, but our philosophy has been to play the guys who are ready to play," Stoops said. "We're seeing more and more who are coming to us with the maturity to be on the field. If they can help us, they'll have that opportunity."
Key Signings:
RB Brandon Williams 6'1 188lbs 4.4 Brookshire, Texas
Because of the depth at Oklahoma, Williams might not get on the field right away. But once he buckles his chin strap and develops, he might end up being the most dynamic running back in this class. Williams has the frame, speed, cutting ability and hands to be considered an elite talent. He does need to add some muscle to his frame, which would make him a more complete back. Williams should be able to do that because of the supreme depth that Oklahoma has, it's quite a luxury. He averaged nearly 10 yards per carry during his senior year of high school, and scored 35 touchdowns.
DT Jordan Phillips 6'6 290 lbs 4.8 Towanda, Kan.
Phillips committed midway through his junior year, so Oklahoma has known for quite some time what it would be getting. What the Sooners got was one of the most athletic defensive line prospects in the country. Phillips is good enough of a talent to play multiple line positions on both sides of the ball. Phillips does need to develop some more moves as a pass rusher, something that he as the tools to cultivate. Some people expect Phillips to be able to compete for playing time right away and the Sooners are certainly hopeful he can.
Breakdown:
Signees - 17
By Position: Ath-1 DB-1 DE-1 DT-3 LB-2 OL-3 QB-1 RB-1 TE-2 WR-2
By State: KS-1 MO-1 OK-2 SD-1 TX-11
Key Stat: 3 defensive tackle signees
#16 Notre Dame Fighting Irish

OL Matt Hegarty

In his first season with the Irish, Brian Kelly led his Notre Dame team to an 8-5 record and a 33-17 Sun Bowl win over Miami.
It's been an impressive 2011 year for the Irish as they bring a top notch recruiting class.
Coach Kelly and company signed 23 total players from 14 different states including seven defensive linemen.
Key Signings
OL Matt Hegarty 6-6 260 lbs Aztec, NM.
New Mexico isn't a heavily recruited state, so Hegarty hit the summer circuit hard before his senior year. While doing so, he proved himself against the nation's best players and comes out of high school as arguably the most recruited player in state history with offers from just about every major college program. He can compete immediately for playing time at Notre Dame with a skill set unmatched by any offensive linemen in the southwest.
DE Stephon Tuitt 6-5 250 lbs Monroe, GA.
If you want a defensive lineman who will wreak havoc on an opposing offense, look no further than Tuitt. He had 20 tackles for loss as a senior, forced five fumbles, recovered four fumbles, recorded six sacks, blocked four punts and picked off four passes. The two-way lineman also had 15 pancake blocks on offense for good measure. Tuitt can pull off defensive tackle or defensive end at the next level.
Breakdown:
Signees - 23
By Position- QB-1 RB-1 WR-1 TE-1 OL-5 DL-7 LB-1 DB-3 ATH-2 K-1
By State- OH-4 CA-3 IN-2 TX-2 NC-2 FL-2 CT-1 GA-1 IL-1 MI-1 NM-1 NY-1 PA-1 SC-1
Key Stat - 7; defensive linemen signees.
#15 California Golden Bears

DT Viliami Moala

At Cal, the defense has been improving while the offense has actually been slipping. That's what the stats would suggest and that's what the off season overhaul of the offensive coaching staff would suggest.
Still, the Bears made a statement that they think that has more to do with coaching than the actual talent on the roster as they signed 13 defensive players in a 22-player class, five of which play defensive back.
That doesn't mean the Bears didn't land some potential future stars on offense, but the numbers game allowed them to load up on defense while going with quality over quantity on offense.
Key Signings
RB Brendan Bigelow 5'10 180 lbs 4.4 Fresno, CA
At Cal, if you can land the starting running back role at any point in your college career, odds are you'll end up with a 1,000-yard rushing season and get a chance to play in the NFL. That's simply what associate head coach/run game coordinator Ron Gould does. He finds and develops elite RBs and Bigelow is the gem of this class -- a class crowded with RBs for Cal. The only problem is Bigelow has torn his ACL twice and missed his senior season because of it. If healthy, though, head coach Jeff Tedford has already said Bigelow is the type of talent that plays as a true freshmen, a rarity for skill position players. Bigelow, who doubles as a track star in spring, simply has blazing speed and ridiculous raw talent for the position.
DT Viliami Moala 6'2 350 lbs 5.2 Sacramento, CA
A signing like this is the definition of a recruiting gem. Moala is a no-doubt game changer who, in Cal's 3-4 defensive scheme, could be an immediate impact player as a freshman because he's a big body who can not only stuff the run and keep linemen off the linebackers, but he can also hold his own in creating a pass rush from the interior line. As a high school senior, a season in which he earned All-American accolades, Moala racked up a mind-numbing 16 sacks -- a number almost unheard of for a DT. He isn't just a big body trotted out there to fill space, either. Moala makes plays. Last fall he had 131 tackles, forced five fumbles, recovered two fumbles, picked off a pass and blocked four kicks, not counting one the blocked FG he had in the Army All-American Bowl.
Breakdown:
Signees - 22
By Position: QB-1 RB-3 WR-1 TE-1 OL-2 DL-5 LB-3 DB-5 ATH-1
By State: CA-13 TX-3 NC-1 AZ-1 MA-1 GA-1 OR-1 England-1
Key Stat: 5 Defensive Backs signed in this class.
#14 Nebraska Cornhuskers

CB Charles Jackson

The feeling around the Nebraska football program is that the pride is back. They are no longer in the rebuilding phase and their recruiting success reflects that.
While the head coach said being in the Big Ten will be good for the program, he also said when Nebraska is back at its best, conference affiliation or coaching changes or any other factor doesn't matter. The program recruits itself. "I think in the end we're talking about the University of Nebraska and that 'N' sells itself," Pelini said. "The history, culture and resources here is very attractive to a lot of student-athletes."
Key Signings
RB Aaron Green 5'11 190 lbs 4.4 San Antonio, TX
One of the best RBs in the country, Green knew early on exactly what he was getting into at Nebraska as the younger brother of Husker DB Andrew Green. This Green was a beast on the prep level, gaining about 5,000 rushing yards over his four high school seasons as a starter, including 1,717 rushing yards as a senior to go along with 19 rushing TDs despite facing a stacked box geared at stopping him virtually every game. He has explosive speed and game-breaking ability. He may not be an immediate impact player, but he's not far away from being Nebraska's next great RB.
CB Charles Jackson 5'11 180 lbs 4.4 Spring, TX
The Blackshirt defense is back at Nebraska and that means churning out NFL-ready defensive backs seemingly every year. To do that, you need to keep landing blue chippers like Jackson to fill in for each year's departing crop of pro prospects. Jackson has the speed to cover any receiver and the ball skills to be a threat when quarterbacks choose to test him. And he isn't afraid to step up and make a tackle, either. As a prep senior, Jackson had 73 tackles, 50 of the solo variety, to go along with three interceptions and five pass breakups. That's after a five interception junior season that sent a warning to all opposing teams not to throw his way. This top recruit could definitely see some early playing time.
Breakdown:
Signees - 20
By Position: QB-2 RB-2 WR-2 TE-1 OL-5 DL-4 LB-1 DB-2 K-1
By State: TX-5 NE-4 FL-2 OH-2 AL-1 AZ-1 CA-1 IL-1 KS-1 MA-1 SC-1
Key Stat: 5 offensive line recruits
#13 Tennessee Vols

Marlin Lane

After a slow start (2-6), many Vol fans started to get on edge in Knoxville. But Coach Dooley rallied his team to an impressive four game winning street to end the regular season.
This winning streak allowed them to be selected to the Music City Bowl in Nashville, Tennessee. The Vols lost to the North Carolina Tar Heels in double overtime 30-27.
On the recruiting front, Dooley did a solid job in landing 27 recruits, highlighted by one of the top running backs in the country, Marlin Lane from Daytona Beach, Florida.
Key Signings
RB Marlin Lane 6'0 205 lbs 4.45 Daytona Beach, FL
Even with an early commitment to Clemson, Lane was being recruited heavily by all the top teams in the nation well into the new year, including Tennessee. After watching him emerge into one of the nation's most electric running backs over the past couple of years, it's no wonder so many schools have been trying to get him to change his mind. He's got the size to be an every down back and enough speed and quickness to bust off a big gain on any play. While he's at his best running through defenders, he can mix in some finesse if needed too.
Breakdown:
Signees - 27
By Position- QB-1 RB-3 WR-1 TE-1 OL-6 DL-4 LB-3 DB-5 ATH-3
By State- TN-7 GA-7 FL-6 SC-2 KS-1 MI-1 MS-1 AL-1 CA-1
Key Stat- 7; signees from the state of Tennessee.
#12 Ohio St Buckeyes

QB Braxton Miller

Last year's recruiting class graded a bit low by Ohio State's standards.
This year, the Buckeyes reloaded on the defensive end and bounced back with a highly regarded class.
By many observers, it's considered the best in the recruiting class in the Big Ten.
The highlights of the class are QB Braxton Miller, who should fit the run-pass quarterback mold, and DE Steve Miller, who could be the latest in a long line of high level defensive players from the school.
"This is an excited and eager group of Buckeyes," Ohio State recruiting coordinator John Peterson said. "We are eager for them to become part of our program." The Buckeyes signed 13 defensive players, all balanced between each area of the field. They also dedicated a scholarship to a long snapper, Bryce Haynes.
Key Signings
QB Braxton Miller 6'2 185 lbs.
Ohio State will immediately find out in the first part of next season what it's like to play without star quarterback Tyrell Pryor. Miller could be the program's quarterback of the future, though he's probably more like former Buckeye QB Troy Smith than he is Pryor. He had more than 30 scholarship offers because of the exquisite balance he has as a runner and passer. Miller was first team all-state and his district's offensive player of the year. With his tight release, Miller completed nearly 57 percent of his passes for 1,625 yards. He also threw 15 touchdowns and just four interceptions. He scored 12 touchdowns on the ground along with five yards per carry despite dealing with an ankle injury for much of the year.
DE Steve Miller 6'3 226 lbs
This is a defensive class for the Buckeyes and Miller's was the cornerstone signature. Miller has all the requisite attributes of an elite defensive end at the BCS level. He is known for his quickness, power, strong hands and long arms. A bit of seasoning could make Miller a key for the Buckeyes defense for years. He is the type of player that opposing offenses will have to keep tabs are if they want to move the ball on Ohio State. Miller's ability to change direction and his speed should make him a debilitating pass rusher once he learns some moves that will be effective at the Division I level. He should also be able to step in to some roles in pass coverage.
Breakdown:
Signees - 23
By Position: QB-2 WR-2 OL-3 DL-5 LB-4 DB-4 TE-2 LS-1
By State: OH-13 FL-3 IL-2 MD-1 VA-1 IND-1 GA-1 PA-1
Key Stat: 5 defensive linemen signees
#11 Florida Gators

DB De'Ante Sanders

The Florida Gators are coming off an 8-5 season, considered a down year for a team with championship pedigree.
To make matters more interesting, Coach Urban Meyer retired at the end of the year, citing health concerns and family issues as his reason for leaving.
Former Texas defensive coordinator, Will Muschamp came in as Meyer's successor. Muschamp came in and did an admirable recruiting job for the Gators.
He signed 19 players, including 14 from the state of Florida. In this class, they signed a total of six defensive backs.
That being said, be sure to keep an eye on defensive back De'Ante Sanders (6'0 180 4.5) from Deland, FL. On the offensive side of the ball, keep an eye on outstanding running back Mike Blakely (5'9 195 4.5) from Bradenton, FL.
Key Signings
RB Mike Blakely 5'9 195 lbs 4.5 Bradenton, FL
Blakely dominated high school defenses for 1,400 rushing yards a year ago and showed off his versatility by adding more than 300 receiving yards and more than 200 yards in the return game. He's the type of player who is hard to take off the field as he always finds a way to move the chains. As a senior, he rushed for more than 1,000 yards and scored 19 touchdowns on the ground going against some of the best high school competition in the nation.
Key Defense: DB De'Ante Sanders 6'0 180 lbs 4.5 Deland, FL
Sanders is a versatile and gifted athlete. As one of the quickest and most elusive prospects in the entire 2011 class, Florida has found a gem in Sanders. There are so many positions where this guy can do damage. Sanders was productive as a running back and quarterback during his senior season. At the same time he also performed well enough as a defensive back to be named first-team all-state in Florida's largest classification. Few players are harder to corral in the open field than Saunders. Simply put, he is a playmaker. For the Florida Gators, Saunders might do most of his damage as a defensive back, slot receiver or returning kicks.
Breakdown:
Signees - 19
By Position- QB-2 RB-2 WR-2 TE-1 OL-2 DL-2 LB-1 DB-6 K-1
By State - FL-14 CT-2 DE-1 IN-1 MI-1
Key Stat- 14 signees from the state of Florida.
#10 LSU Tigers

Anthony Johnson

Les Miles pulled off yet another season of big wins and eventful play calling.
The Tigers finished the season with an 11-2 record and that momentum carried over to recruiting as they bring in one of the top classes in the SEC. Miles brings in a total of 22 signees, including 16 from Louisiana.
Offensively, running back Kenny Hilliard (6'0 215 4.6) from Patterson, LA is capable of being a big time SEC running back.
Defensively, defensive lineman Anthony Johnson (6'2 295 5.0) from New Orleans, LA is in the mold of the usual great LSU defensive linemen.
LSU's recruiting class has a nice balance of speed, ball skills, strength and size.
Key Signings
RB Kenny Hilliard 6'0 215 lbs 4.6 Patterson, LA
Hilliard is a North-South runner who has the size and strength to wear down defenses. Like his uncle, former NFL star Dalton Hilliard, the younger Hilliard will be taking his talents to LSU. Don't let his big, bruising style overshadow his big play ability. Hilliard ran for more than 2,500 yards and 32 rushing touchdowns in 2009 to land Gatorade Player of the Year honors in one of the most the highly competitive football states in the nation.
DL Anthony Johnson 6'2 295 lbs 5.0 New Orleans
Johnson is a pass-rushing threat from the interior defensive line position. The 300-pounder from New Orleans is a classic SEC defensive tackle. He has good size for his position and is athletic. He has a knack for finding his way into the backfield before plays ever get a chance to develop. If called upon, he could even hold his own on the outside. But it's as a defensive tackle stuffing the run and demanding double teams on the interior that Johnson will earn his keep at LSU.
Breakdown:
Signees - 22
By Position- QB-2 RB-1 WR-3 OL-4 DL-4 LB- DB-4 ATH-2 K-1
By State- LA-16 TX-3 MS-1 KS-1 AL-1
Key Stat- 16 signees from the state of Louisiana.
#9 Clemson Tigers

RB Mike Bellamy

Last season, Clemson wasn't able to meet their big expectations, finishing the season 6-7 including a 31-26 loss to South Florida in their bowl game.
But there has been some energy around the town after Coach Dabo Swinney signed one of the top rated classes in the country in February.
Swinney and company are bringing in a total of 29 recruits to Clemson. Of those 29, 13 hail from the state of South Carolina, 5 from North Carolina, 4 from Florida, 3 from Virginia, 2 from Georgia, and 1 each from Alabama and Ohio.
Key Signings
RB Mike Bellamy 5-10 175 lbs Punta Gorda, FL
Bellamy rushed for more than 2,400 yards and 41 touchdowns on 237 carries (10.14 ypc) during his senior season. It's no surprise that he is a home-run threat every time he's on the field due to his superior speed. He's been clocked at 4.31 in the 40 and his production on the field shows he's not just a track star wearing shoulder pads. He can flat out play the game, too. He pops short gains into quick first downs with ease and possesses a very keen awareness of his blockers.
LB Tony Steward 6-1, 215 lbs. Saint Augustine, FL.
Steward is as athletic and muscular as any linebacker out there. The nation's top LB prospect has totaled over 200 tackles and registered 12 sacks over the past two seasons. He is a difference-maker, and should have an impact the minute he gets on the field. Already having a college-type body, Steward's strength and speed allows him to be versatile at linebacker where he can play run or pass along with being a sure tackler. He can play inside or out with athleticism and capability to create big plays.
Breakdown:
Signees - 29
By Position- QB-3 RB-1 WR-4 TE-1 OL-4 DL-7 LB-5 DB-2 ATH-1 K-1
By State- SC-13 NC-5 FL-4 VA-3 GA-2 AL-1 OH-1
Key Stat- 13 signees from the state of South Carolina.
#8 South Carolina Gamecocks

Jadeveon Clowney, Prepstar #1 Recruit

Coach Steve Spurrier finally accomplished what many of his critics said he would never be able to accomplish by winning the SEC Eastern Division.
Although they lost to Auburn in the SEC Championship game, they had a tremendous season on the field and that carried over to one of the top recruiting classes in the conference.
In fact, they landed the top recruit in the country in the super defensive end Jadeveon Clowney (6'6 245 4.6) from Rock Hill, SC.
Clowney is arguably one of the top recruits in the past 20 years.
Rarely has there been anyone with his size and speed coming out of high school. All eyes will be on Clowney this coming fall to see what immediate impact he will make in the SEC as a true freshman.
Offensively, Wide Receiver Damiere Boyd (5'9 160 4.3) from Erial, NJ is one to keep an eye on and someone who could be very special in Steve Spurrier's offense.
Key Signings
WR Damiere Boyd 5'9 160 lbs 4.3 Erial, NJ
Sometimes there is no reason to look beyond speed as to why a player is considered a top prospect, but in Byrd's case, he's more than just wheels. Yes, he can flat out fly as evidenced by his 4.26 in the 40-yard-dash and 10.42 in the 100-meters. As a prep senior, he rushed for over 1,500 yards from scrimmage.
DE Jadeveon Clowney 6'6 245 lbs 4.6 Rock Hill, SC
PrepStar's #1 ranked prospect did not disappoint his senior year with 128 tackles along with 20 sacks. He's already got the size and speed of a top-level NFL rush end. At 6-foot-6, 250-pounds, it's almost unfair that Clowney still manages a 4.5-second 40-yard dash with a 36-inch vertical leap. What raises Clowney to the top of a talented recruiting class is his drive, motor and natural instincts. Clowney led South Carolina to a drubbing over North Carolina in the Shrine Bowl with 5 tackles and 3 sacks despite playing with a bum shoulder.
Breakdown:
Signees - 32
By Position- QB-1 RB-2 WR-3 TE-3 OL-6 DL-6 LB-5 DB-4 ATH-2
By State- GA-11 SC-10 FL-4 NJ-3 VA-2 NC-2
Key Stat- 11 signees from Georgia.
#7 Oregon Ducks

#16 ATH DeAnthony Thomas

Despite being under the NCAA microscope with some possible recruiting violations, the Ducks had no issues getting another fantastic crop of athletes.
The program may have very well landed its highest-ranking recruiting class ever and the success of the 2010 run to the BCS title game sure didn't hurt their cause.
Head coach Chip Kelly got plenty of athleticism but also landed some stud offensive linemen who are versatile and can play anywhere along the Ducks O-line, depending on need.
Kelly and his coaching staff took a real simple approach to this recruiting class: they replaced what left the program.
The Ducks lost some wide receivers and offensive linemen so all they did was go out and plug those holes with a slew of players who are ranked much higher than any of the players who were on their way out.
Key Signings:
OL Andre Yruretagoyena 6'5 265 lbs 5.0 Scottsdale, AZ
When you think Oregon Ducks football you think offense. And when you think Ducks offense, you think of some of the nation's most electric, exciting skill players in the country. With that being said, it's hard to imagine the key to this recruiting class might have been the pair of Arizona offensive linemen that head coach Chip Kelly was able to lure to the northwest. The Ducks grabbed a pair of future anchors for their line in Yruretagoyena and cross-town rival Tyler Johnstone, both of the Phoenix area. Yruretagoyena leads this recruiting class on offense because he is an absolute beast in the run game, embarrassing defenders with his power -- power that should only increase when he bulks up in college. He paved the way for nearly 3,700 rushing yards for his high school team in 2010 in a Class 5A-II state championship season.
CB De'Anthony Thomas 5'9 160 lbs 4.4 Los Angeles, CA
While he is the only player in this class Oregon actually listed as an "athlete" (several recruiting services listed the positions of several players in this Ducks class "athlete"), Thomas has the potential to be an NFL cornerback and elite return man with his skill set and All-American speed. Thomas can cover the field as well as anyone and while he won't be physically imposing, don't expect many teams to test his side of the field. He rushed for 1,299 yards as a senior on just 114 carries and had 22 TDs on offense. He also had 42 tackles and five interceptions on defense.
Breakdown:
Signees - 23
By Position: QB-1 RB-1 WR-5 TE-1 OL-5 DL-3 LB-5 DB-1 ATH-1
By State: CA-9 AZ-3 OR-3 HI-2 IA-2 TX-2 FL-1 MI-1
Key Stat: 5 wide receiver signees
#6 Georgia Bulldogs

RB Isaiah Crowell

Coach Mark Richt and the University of Georgia witnessed a down year by their standards and many are considering it a crisis between the hedges.
With that being said, if anybody can turn this around, Mark Richt is the man that can get it done.
The Bulldogs have been consistent in recruiting top classes under coach Richt. This year was no different.
The Bulldogs bring in the third rank class in the SEC. The Bulldogs bring in a total of 26 signees featuring 19 from the state of Georgia.
Mark Richt continues to do a superb job on keeping the majority of the top players from the state of Georgia.
Key Signings
RB Isaiah Crowell 6'0 210 lbs 4.4 Columbus, GA
Crowell is a downright beast at the running back position. There are other running backs that have similar speed, but he combines that explosiveness with a strength that allows him to be a threat between the tackles as well. While he hasn't been used much as a receiver out of the backfield, he's shown he's capable of that as well. Crowell is a dangerous running back that should see playing time as a freshman. There are other running backs that have similar speed, but he combines that explosiveness with a strength that allows him to be a threat between the tackles as well.
DL Ray Drew 6'5 250 lbs 4.7 Thomasville, GA
Drew is a 6-5, 250-pound Strong-Side Defensive End who is solid against the run. That being said, his ability to get up field in pass rush situations puts him at another level. With an athletic frame capable of adding more weight, he'll only get better against the run going into college. His athleticism makes it hard for coaches to keep him off the field as Drew is a regular on special teams covering kickoffs. That versatility could make him a great fit for outside linebacker, depending on the defensive scheme that's being used..
Breakdown:
Signees - 26
By Position- QB-1 RB-1 WR-3 TE-1 OL-6 DL-4 LB-3 DB-4 ATH-3
By State- GA-19 FL-4 MS-1 NC-1 TN-1
Key Stat- 19; signees from the state of Georgia.
#5 Auburn Tigers

Kris Frost

Coach Gene Chizik and the Auburn Tigers are coming off a dream season in which they went undefeated in the regular season, defeated rival Alabama in one of the most impressive second half comebacks in recent memory in the SEC, defeated South Carolina in the SEC Championship, star Quarterback Cam Newton from College Park, GA wins the Heisman Trophy, and finally they put the icing on the cake by defeating Oregon in the National Championship game.
It was a dream season for the Tigers. But now, The post Cam Newton era will now begin in Auburn, Alabama.
So far, so good.
The Tigers bring in an outstanding class with 24 signees highlighted by ten from the state of Alabama, five from Georgia, and three from the state of Florida.
Key Signings
(ATH) Kris Frost 6'3 210 lbs 4.6 Matthews, NC
Frost is a great multitalented athlete who can fit into a number of important roles. At the high school level, he's been used as a safety, wide receiver and linebacker. He is most likely to be utilities on the defensive end at the college level as he can take full advantage of his strength and physical style of play. He picked off two passes and recovered two fumbles last year to go along with three caused fumbles. Frost was a major reason his team went 16-0 in 2010 and his ability to play just about any position, other than lineman, is an asset that will make any team better.
LB Brent Calloway 6'3 225 lbs 4.5 Russellville, AL
Calloway is simply stronger, faster and is possessed with an extra gear that allowed him to rush for more than 1,900 yards and 25 touchdowns in 2010. As a junior he rushed for more than 1,600 yards and 32 touchdowns in 2009 and had nearly 1,500 yards as a part-time starter in 2008. He was able to make an impact at the linebacker position as well, having 25 total tackles during the 2010 season. Whether at defensive end or linebacker, it's abundantly clear Calloway is a cut above his prep peers.
Breakdown :
Signees - 24
By Position- QB-1 RB-2 WR-2 TE-2 OL-4 DL-4 LB-4 DB-5
By State- AL-10 GA-5 FL-3 NC-1 MS-1 LA-1 AZ-1 AR-1 DE-1
Key Stat- 10 signees from the state of Alabama.
#4 Texas Longhorns

RB Malcolm Brown

As to what has come to be expected in the Mack Brown era at Texas, this is one of the top recruiting classes in the country.
The Longhorns received signatures from players in a variety of positions. This is not a program that had a pressing need from this class, but it did get some elite players.
Perhaps the most notable player in the class is running back Malcolm Brown. There have been several assistant coaching changes in this offseason for Texas, but it didn't cost the Longhorns on signing day.
Key Signings
RB Malcolm Brown 6'0 220 lbs Cibolo, Texas
Brown might be the top power back in the 2011 recruiting class. His squat build coupled with his explosiveness makes him nearly impossible to tackle. Brown is the type of back tailor made to wear down a defense by the fourth quarter. He was the offensive player of the year in Texas after rushing for more than 1,800 yards and 23 touchdowns in one of the most competitive leagues in high school football. Brown doesn't have elite speed, but that's not really his game.
LB Steve Edmond 6'3 225 lbs Daingerfield, Texas
Edmond's combination of speed and size make him one of the hardest hitters of the 2011 class. His legs are the source of his power. Edmond's versatility means he could play any of the linebacker position, which could lead to him getting on the field sooner.
Breakdown:
Total Signings - 22
By Position: Ath-1 DB-4 DE-1 DT-2 LB-3 OL-5 QB-1 RB-2 TE-1 WR-2
By State: OK-1 TX-21
Key Stat: 5; offensive line signees
#3 USC Trojans

WR George Farmer

With NCAA penalties still in place, it's hard to imagine how the Trojans were able to keep their position as one of the nation's powerhouse recruiting programs.
Credit head coach Lane Kiffin for finding a way to stockpile the program not only with the talent needed to keep USC in the running for Pac-12 titles, but for national titles... of course that would be assuming they were allowed to play this year in a BCS Championship game.
Still, the numbers were such that the Men of Troy were able to sign 30 players, eight of which enrolled in January in time to participate in spring practice.
The Trojans aren't planning on taking a step back on the field and this class, with such blue chippers as WR George Farmer, show the players didn't appear to be scared off.
Lane Kiffin has never been short on confidence and I certainly showed in his depection of their recruiting efforts: "Last year's class we had to deal with the potential of two years (postseason bans due to NCAA sanctions) , and this year's class with the potential of a one-year post-season ban. So it was actually refreshing ... to move on to now be able to recruit kids that we don't have to recruit against a post-season ban, and giving schools extra fire power against us." Kiffin added, "It will be refreshing now to go on to next year's class and being be on a level playing field."
Key Signings
WR George Farmer 6'1 205 lbs 4.4 Gardena, CA
If there was a high school All-American list that came out for the 2010 season, the name George Farmer appeared on it somewhere. There simply wasn't an onlooker in the nation who saw him play that wasn't convinced Farmer is one of the top handful of college prospects in the nation in the 2011 signing class. He has size and speed that make cornerbacks helpless against him as he had 65 receptions for 1,514 yards and 21 TDs (two were rushing and five were on kick/punt returns) as a prep senior. "Height, weight, speed and character, he's off the charts," USC head coach Lane Kiffin said of his star recruit. "So I would think he would be the front line guy of all those guys (who have a chance to play right away in the fall)."
LB Lamar Dawson 6'2 235 lbs 4.6 Danville, KY
In high school, he was an all-state linebacker, running back and tight end. In college, he'll focus on making opposing offensive players have headaches preparing for him. Linebacker is the position that Dawson has the potential to become a college superstar, and possibly even the next in a long line of USC linebackers who make the jump to the NFL. He had 158 tackles, eight sacks and four interceptions as a prep senior and has the potential to be a true freshman contributor and a starter in his second season with USC.
Breakdown:
Signees - 30
By Position: QB-2 RB-3 WR-3 TE-1 OL-6 DL-5 LB-5 DB-2 K-1 P-1 LS-1
By State: CA-22 AZ-3 NJ-1 LA-1 FL-1 KY-1 OH-1
Key Stat: 8; USC signees enrolled for spring drills
#2 Alabama Crimson Tide

DB Hasean Clinton-Dix

Coach Nick Saban and the Alabama Crimson Tide take the Gold in this years' PrepStar.com SEC Recruiting Rankings.
Coming off another really good season on the field (10-3), Alabama had another incredible year of recruiting.
This year they are bringing 22 signees, including five from the state of Alabama and six total defensive linemen.
Keep a close eye on Offensive lineman Cyrus Kouandjio from Hyattsville, Maryland and Defensive back Hasean Clinton-Dix from Orlando, Florida. These two are considered the top defensive and offensive player in the class by Prepstar.com and Prepstar Magazine. Since his second season at Alabama, Coach Saban has the Tide a fixture in the top ten and will continue to be a tremendous force in the Southeastern Conference.
Key Signings
DB Hasean Clinton-Dix 6'2 190 lbs 4.5 Orlando, FL
In 2010 Clinton-Dix had 40 tackles, forced a fumble and recovering a loose ball to help his team go undefeated this season.He possesses good ball skills and has the ability to cover any receiver. While it isn't clear which position he will play at the next level, you could make the case that he is the best safety in the class. Clinton-Dix is an athlete whose combination of size and speed make him a good fit for any position.
Breakdown:
Signees - 22
By Position- QB-1 RB-1 WR-3 TE-1 OL-4 DL-6 LB-3 DB-2 ATH-1
By State- AL-5 FL-4 GA-2 AZ-2 MS-2 OH-2 TN-1 NC-1 MD-1 LA-1 C
#1 Florida State Seminoles

LB James Wilder

In his first season as head coach at Florida State University, Jimbo Fisher led his team to the ACC Championship game and a 10 win season.
The Seminals finished their season with a 26-17 victory over South Carolina in the Chick Filet bowl.
Going forward, E.J Manual will take over the reins at quarterback as he has flashed some bluechip talent when given the opportunity to showcase his talents on the field.
After their 10 win season and bowl victory, head coach Jimbo Fisher turned all his focus and energy to recruiting, a move that paid off, landing what PrepStar ranks as the #1 class in the country.
FSU signed a total of 29 players, 22 of which hail from the state of Florida.
On offense, be sure to keep a close eye on Nick O'Leary who many believe will develop into one of the top receiving tight ends in the ACC.
Defensively, all eyes will be on James Wilder who was is ranked #2 overall in the country in the country. He will be sure to make an immediate impact in the fall.
Key Signings
TE Nick O'Leary 6-4 230 lbs Palm Beach Gardens, FL
Without a doubt, the Seminonals top offensive prospect comes in the form of TE Nick O'Leary, the 6-4 230 lb beast from Palm Beach Gardens, FL. O'Leary is the type of tight end coaches won't have to take off the field. The grandson of all-time golfing great Jack Nicklaus, O'Leary is beginning to make a name for himself as one of the best Tight Ends in the nation.He is extremely dangerous after the catch and can break tackles with his powerful running style.He can hold his own blocking, although could improve that area to rise to the top tier of his position in college. He runs precise routes as well as any wide receiver currently in college. Because of his size, O'Leary is also capable of being a mismatch for linebackers.
LB James Wilder 6-2 215 lbs Tampa, FL.
On the defensive end, the Seminals scored a gem by signing LB James Wilder. Wilder, the 6-2, 215 lb linebacker from Tampa, Fl., may be the strongest pound for pound player in the country. FSU will give him first shot on offense but he can play on either side of the ball. As a senior, James had 1,523 yards on 193 carries with 21 TDs. He also caught 17 passes for 283 yards and one score. Defensively Wilder had 72 total tackles on the year. James is the son of a former NFL running back, is destined to star at any one of three positions in college: running back, linebacker or defensive end. He's got the physical make up to do whatever his college coaches need him to do. The Seminoles landed a franchise player with the signing of Wilder!
Breakdown:
Signees - 29
By Position- QB-1 RB-3 WR-2 TE-1 OL-8 DL-7 LB-2 DB-5
By State- FL-22 GA-3 AL-1 KS-1 NJ-1 ND-1
Key Stat- 22 signees from the state of Florida.
Keep Reading