British Open 2011 Results: Tiger Woods, Rory McIlroy Sent Darren Clarke Texts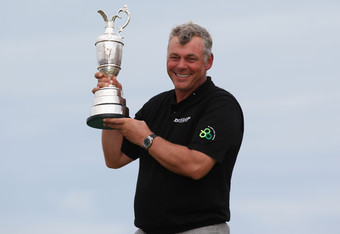 British Open 2011 Results Reveal the Respect Darren Clarke Has Earned From His Peers
Tiger Woods may not have been able to play in the 2011 British Open, but he was certainly following the action, and it is probably safe to say that he is happy with the outcome.
Darren Clarke cruised to a three stroke victory on Sunday. He was momentarily tested by Phil Mickelson and Dustin Johnson, but it was only Clarke that had the nerves and steady stroke to persevere through the bad weather and not give any strokes back to the course.
And as he stepped of the 18th green, victorious, he stopped for an interview with ESPN, and let everyone know how supportive people had been during his four day run. He said he received texts wishing him well on Saturday night by both Tiger Woods and Rory McIlroy.
Clarke has a long history with both golfers. He and Rory McIlroy both hail from Northern Ireland, and Clarke was one of McIlroy's early idles. A fact that is not at all surprising given the fact of their shared heritage and Clarke's dominance during Rory's youth.
Clarke was one of the world's best golfers as Rory was growing up. And while this is his first major championship, he certainly was not without big wins. And the biggest may just have been against the other man that sent him a text: Tiger Woods.
At the WGC Match Play in 2000, Clarke went head-to-head with Tiger Woods and defeated him. It was a big victory. As Clarke not only beat the unbeatable Woods in a tournament, but it was a tournament with a $1 million top prize.
Tiger Woods is not big on losing, but he had a strong enough bond with Clarke to post this message on Clarke's locker after the match. "Congratulations. Be proud. P.S. You're still a [word that is not fit for print]."
Woods and Clarke have remained friends and stayed in touch since then, and while they are competitors they continue to wish each other well. Clarke spoke with Sky Sports, back in May after Woods had to withdraw due to his recent knee injury.
"He's had so many operations on it and it's going to be tough for him if he's going to have to have another one again – there's only so many times they can keep going back in and operating on it.

"It's obviously very worrying for him and he's a huge draw for our sport, so we all want to see him back playing the way we know he can."
And now if Tiger comes back for the 2012 British Open, he will have a chance to separate his friend Darren Clarke from the Clarrett Jug, and this time it will be Clarke's turn to leave him a message on his locker.
Most recent updates:
This article is
What is the duplicate article?
Why is this article offensive?
Where is this article plagiarized from?
Why is this article poorly edited?