British Open 2011: Thomas Levet Will Miss British Due to Reckless Celebration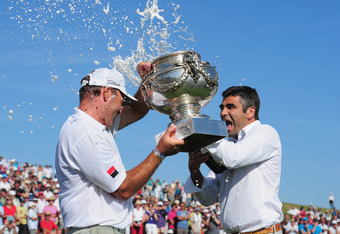 The 2011 British Open Will Go On Without Thomas Levet
Thomas Levet won his home tournament, the French Open, on Sunday, and he was prepared to roll into the British Open in two weeks. Then in old showbiz terms his caddy told him to go break a leg. Thomas Levet doesn't understand that saying, and he is a very literal person. So, he promptly cannon balled into a puddle of water.
He stood up and yelled, "Why? Why would you tell me to do that! Broken legs hurt! I don't think I can play golf on a broken leg. That was not good advice at all! I am really going to have to reassess our relationship. This is like the time we missed my tee time for the Scottish open because you told me to burn rubber. I should have been driving, not starting fires. I was sick for three days from those fumes!"
Okay, I made all of that up except the facts of Levet winning his home tournament and breaking his. Oh, and I only slightly exaggerated the cannon balling into a puddle line.
Levet captured the French Open, got excited and he and his caddy jumped into the pond by the 18th green. And that is where Levet's decision making went south. The pond is not very deep. And Levet fractured his shin while landing.
The result is, he will not be able to play in the British Open when it begins on July 14th. Levet was quoted on ESPN as saying:
I am extremely disappointed to miss out on the Open Championship, but my specialist has advised me to have an operation on the fracture.
Not surprisingly, Colin Montgomerie did not think jumping into ponds is a good idea: Montgomerie:
I think it's the silliest thing that players have done over the years, I really do. I've always been suspect about people diving into lakes (who) don't know how deep it is and what's in there.

There could be a spike in there, whatever. It's not the way to celebrate and let's hope that's the last time that ever happens. It's not the way to celebrate a golf tournament win by taking the next three months off because you've hurt yourself.
It is hard to argue with Montgomerie. There aren't many other times when anyone would think that blindly cannon ball into water is a good idea. Remarkably, this is the second similar instance of this in less than half a year.
After Stacy Lewis captured the 2011 U.S. Open she jumped into Poppie's Pond with her caddy and family. Stacy was fine, but her mom broke her leg.
For all of your British Open and golf coverage needs, keep it locked to Bleacher Report's golf page.
Most recent updates:
This article is
What is the duplicate article?
Why is this article offensive?
Where is this article plagiarized from?
Why is this article poorly edited?