2011 NFL Free Agency: 13 Notable Injury-Prone Free Agents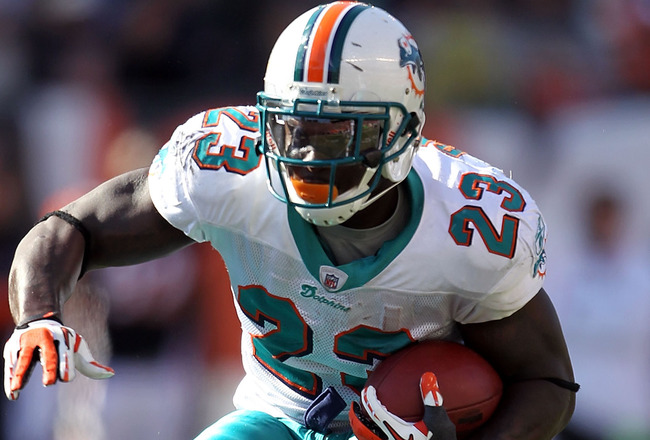 Andy Lyons/Getty Images
When the lockout comes to a painful conclusion, it will mark the start on a furious rush of free-agent signings.
However, the teams chomping at the bit to take available key contributors certainly are fully aware at those that have "fragile" written all over them.
Here now is a rundown of 13 players that are notable for their talents on the playing field but also present a risk due to recent developments that have placed them on the sidelines with physical ailments.
Paul Posluszny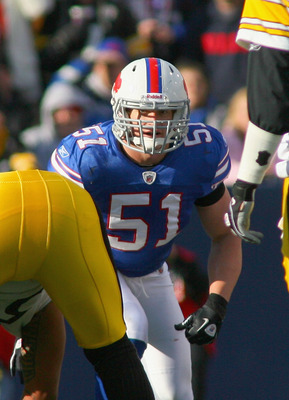 Rick Stewart/Getty Images
The former Penn State standout played in all but two games in 2010, totaling 151 tackles and a pair of sacks, establishing himself as the leader of the Buffalo defense.
Last season was a healthy one for him, which has been unusual considering that he has only played in 45 games over the course of his four-year pro career.
Reports are that the Bills will try to retain Posluszny as their middle linebacker, which will have its rewards and risks.
Ronnie Brown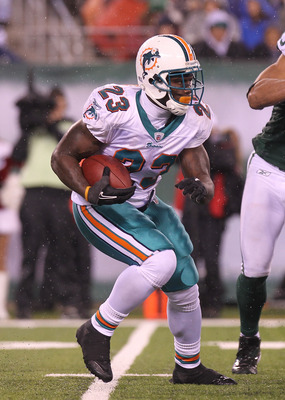 Nick Laham/Getty Images
Even while splitting carries with Ricky Williams in Miami, Ronnie Brown still cannot stay healthy.
The talent that he has brought on the field has given the Dolphins a solid rushing attack. The 2006 campaign was his breakout year, as he rushed for over 1,000 yards. In 2008, he scored 10 touchdowns on the ground.
However, through six seasons in the NFL, Brown has played a full 16 games in only one of them. And when you consider that the lifespan of a running back is short, one has to wonder if his injuries will mount to the point that he can no longer be a viable ball-carrier.
Thomas Davis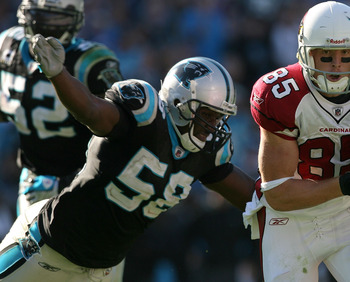 Streeter Lecka/Getty Images
In 2008, the Panthers' linebacker had by far his best season to this point. He had 136 tackles, 3.5 sacks and two forced fumbles.
The major question is: can he recreate that stellar season? The answer: only if his right knee will let him.
Davis, a 2005 draft pick out of the University of Georgia, missed the final nine contests of the 2009 regular season after hurting his right knee in a game versus the New Orleans Saints on Nov. 8.
Exactly seven months later, he re-injured the same knee during an organized team activity, which forced the depleted Davis to spend the entire 2010 season on the physically unable to perform list.
Atari Bigby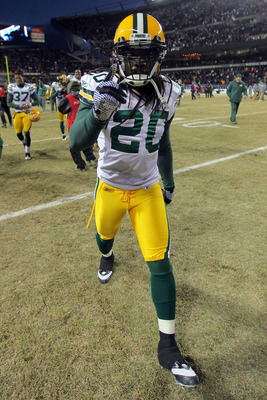 Doug Pensinger/Getty Images
The Green Bay cornerback wasn't able to spend most of his team's championship season on the playing field. Bigby only participated in four regular season games in 2010 due to a multitude of ailments, which helped make way for backup Charlie Peprah to contribute to the Packers' run at the Lombardi Trophy.
Bigby's struggles to stay healthy have been a pattern. A hamstring injury hampered him to just six starts in 2008, while a knee injury two years ago made Bigby miss three games.
The only time in his NFL career in which he has played the full slate of games was 2007, when he had 66 tackles, 20 assists and five interceptions.
Robert Gallery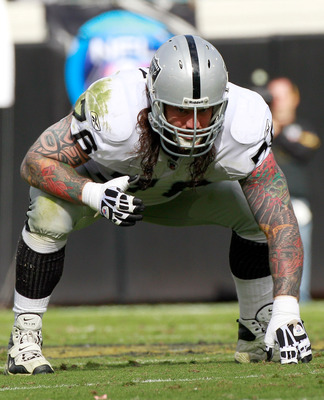 Sam Greenwood/Getty Images
Gallery's switch from left tackle to guard has improved his performance, helping lead an Oakland offensive line that paved the way to be the second-best in rushing yards in 2010 (4.9 yards per attempt). The Raiders also finished 10th in 2008 and sixth in 2007.
For most of his seven-year career, Gallery has been durable. However, the last two years have shown some cracks in the armor.
Last season started with him on the mend for about a month due to hamstring problems. In 2009, Gallery started in just six games, ultimately being placed on the injured reserve list in December.
He suffered a broken leg in Week 2, which was followed by a back injury that ended his season.
Mike Sims-Walker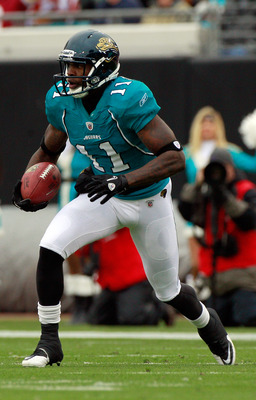 Sam Greenwood/Getty Images
It's apparent through reports that Sims-Walker will not be catching passes as a member of the Jacksonville Jaguars when this season commences. And whoever takes him is sure to be enticed by the 63 receptions for 869 yards in 2009. Whoever takes him should also be aware of the risks involved.
Sims-Walker has yet to play in a full 16-game season after four pro years. The reasons are plentiful and painful.
The third-round draft pick in 2007 spent his rookie campaign on injured reserve after suffering a knee injury during the preseason. In 2008, he participated in nine games.
Last year, his production tailed off thanks in part to a high ankle sprain during the latter part of the schedule.
Cullen Jenkins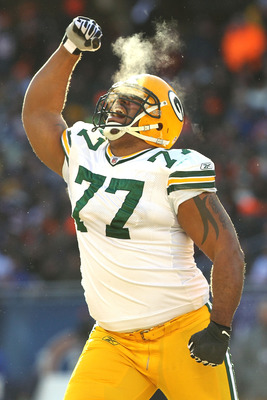 Doug Pensinger/Getty Images
Jenkins, age 30, has been a key cog in the Green Bay Packers defensive line with 29 sacks in his seven seasons. The problem has been that he's missed 17 games over the past three years.
His most recent injury was a calf strain he suffered prior to a Week 7 contest against the Minnesota Vikings. After recovering from the ailment, he re-strained it in a victory against the San Francisco 49ers in Week 13 of 2010.
In 2008, Jenkins was the victim of a torn pectoral muscle in fourth week against Tampa Bay, forcing him to sit out the remainder of the season.
Ahmad Bradshaw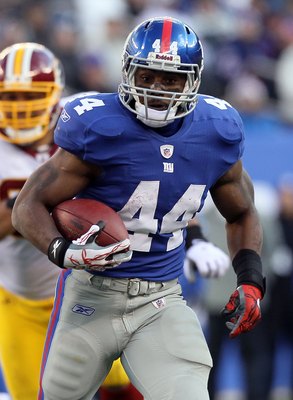 Jim McIsaac/Getty Images
The Giants are likely to keep Bradshaw in their backfield for 2011 and take the risk that he'll come back healthy from left ankle surgery in the offseason.
Prior to that, he had aches on his wrist thanks to a Week 14 encounter with the Vikings. Despite all the bumps and bruises, Bradshaw still finished the 2010 campaign with 1,235 yards rushing and eight touchdowns.
So, a healthy future will result a wise decision to continue handing the football off to Bradshaw.
Willie Colon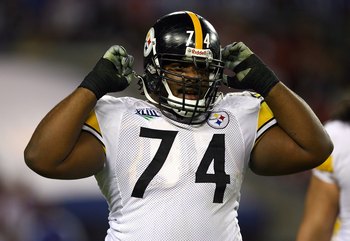 Jamie Squire/Getty Images
The Steelers' offensive tackle never got to start his 2010 season. With a torn right Achilles tendon suffered in June, Colon was placed on injured reserve and was forced to watch his team's run to the Super Bowl.
This injury may be a fluke, as he had started all 16 games in each of the previous three years with the black and gold.
Colon is still just 28 years old, which means he should remain in prime condition.
DeAngelo Williams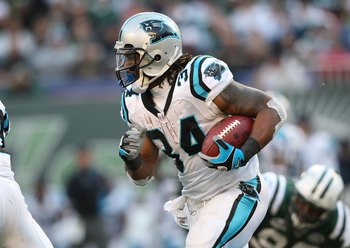 Nick Laham/Getty Images
Panthers General Manager Marty Hurney has stated that it is a priority for the team to re-sign Williams once the lockout comes to a close. The reason is that Carolina has liked what they have seen so far.
The former University of Memphis star running back rushed for more than 1,000 yards in 2008 and 2009.
His skills are undeniable, but his physical issues could derail him. A foot injury midway through the year hurt his chances to have an equally productive 2010. He had gained 361 yards on the ground up to that point.
Jared Gaither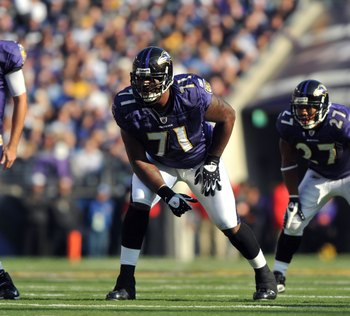 Larry French/Getty Images
It seems as if Gaither spent most of last year in a medical facility. The Ravens' offensive tackle suffered a thoracic disk issue in his back, which ultimately led to him being placed on the injured reserve list on Oct. 23.
Despite this setback, it would be wise for Baltimore to hold on to the 25-year-old, as he could prove to be effective in blocking for a pair of budding stars: running back Ray Rice and quarterback Joe Flacco.
Malcolm Floyd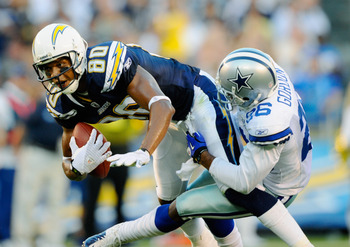 Kevork Djansezian/Getty Images
Despite being the No. 3 option in a potent Chargers passing attack, the 6'5" Malcolm Floyd could be the top receiving threat on a club that is need of wide outs.
The hamstring was where the injury bug bit Floyd last season, forcing him to sit out of three games in the middle of the schedule. That, however, didn't stop him from having a year in which he totaled 717 yards and a career-high six touchdowns receiving.
His 19.4 yards a catch was also his best as a pro.
Floyd has the potential to be a consistent big-play threat, but recent injuries and age (30) could pose a slight risk.
Jammal Brown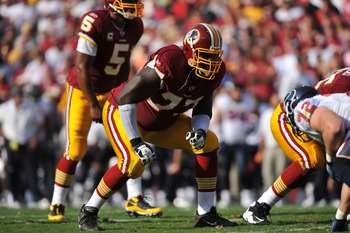 Larry French/Getty Images
In his first season with the Redskins, Brown was a expected to be a stable part of an offensive line looking to find consistency.
Unfortunately for Brown and the 'Skins, that group was arguably the worst in the league and Brown was still trying to recover from a hip injury that occurred more than a year prior. The ailment erased the entirety of the two-time Pro Bowler's 2009 campaign with the New Orleans Saints.
Provided he can become fully healthy, Brown could return to the form that he had while he was in the bayou.
Keep Reading