Arsenal: What Roles Do Cesc Fabregas & Samir Nasri Play in Preseason Training?
July 5, 2011
Richard Heathcote/Getty Images
It's official. Amidst a transfer season that's left many Arsenal fans concerned about the short-term and perhaps even long-term future of their beloved North London club, remaining Gunners players have reported to London Colney for training.
The next question in the Arsenal transfer saga: What role do key players seemingly on the verge of an exit in the coming weeks play in Arsenal training exercises designed to build cohesion within the starting squad?
More specifically, what is Arsene Wenger to do with Samir Nasri and first-team captain Cesc Fabregas?
Both have requested transfers and have been linked to some relatively credible rumors so far this summer.
Nasri, who has been a key element in Arsenal's midfield since 2008, has requested a salary higher than Arsenal is willing to accommodate and has been linked to English powerhouse Manchester United, as well as a move to join former teammate Gael Clichy at Manchester City.
With less than a year left in his Arsenal contract, the club may be forced to make some sort of move in order to avoid losing the winger on a dreaded free transfer.
Fabregas, on the other hand, has long been known to desire a move to the champions of his home country, Barcelona.
While Arsenal have stated that recent Barcelona offers for their captain have been excessively lower than what they estimate his value to be, recent rumors of interest from Barcelona's La Liga rivals Real Madrid could very well drive up the price and make such a move imminent.
Still, both players have honored their current contracts and joined the squad at London Colney.
So, with two key players on the training ground being heavily linked to moves (both of which seem likely enough to spark worry within club ranks), how exactly should these players be integrated into the initial training sessions of Arsenal's preseason?
There is, of course, an inherent risk involved in maintaining the fitness and sharpening the skills of players that seem destined to join league rivals already considered to be strongly competitive squads for a coveted position in the top four and potential run at the championship title.
You can bet that Wenger is already wary of helping a player like Nasri reach game-ready fitness for another club. But that's not exactly the biggest problem.
The biggest problem is allowing such players to play a prominent role in the cohesion of an expected first-team squad.
Fabregas, for instance, can no longer expect recognition as a strong figure of leadership on the pitch because relying too heavily on such leadership would be disastrous in an in-game scenario in which Fabregas is multiple international borders away.
Offensive training cannot rely too heavily on Nasri being intimately involved in setting up and building plays, as this would create an obvious weakness in their play if and when he is gone.
While early training sessions will likely focus more heavily on fitness and grading, these are problems that are sure to arise as the summer progresses, especially if both players continue to be linked to rumors and don't make a move sooner rather than later.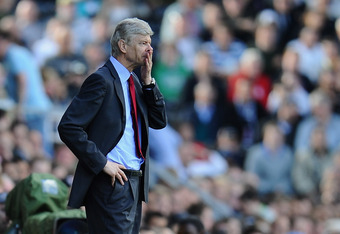 Clive Mason/Getty Images
None of these issues, however, are likely to be problems that Wenger has yet to prepare for. But such preparedness is a very delicate issue.
It would seem beneficial to give Nasri and Fabregas significantly reduced roles in early training exercises, but as the training season progresses, so will the need to have both players game-ready. Just in case.
If either player is relied upon too heavily in the club's preparedness, then there will be gaping holes in the first-team squad if a last minute deal were to go through.
However, the same holes could exist if Arsenal retains both players and neither have trained to play an important role in the upcoming season.
Arsenal is not exactly at a level of red-alert quite yet, but don't expect rumors involving Nasri and Fabregas to subside in the near future, either. Eventually, it's going to matter.
Wenger is an absolute an expert in balancing the delicacies of transfer uncertainties, but this could still be a test that rivals any he's faced in his long tenure with the Gunners.
Whether he can maintain control of the situation well enough to avoid a slow start to the 2011-12 campaign is yet to be seen.
But despite the worries they've faced this summer, you can bet that Arsenal fans have confidence that he can handle the situation with a professional integrity that will result in a strong Premier League showing in the coming season.