New York Giants: 6 Giants Who Will Need to Step Their Games Up in 2011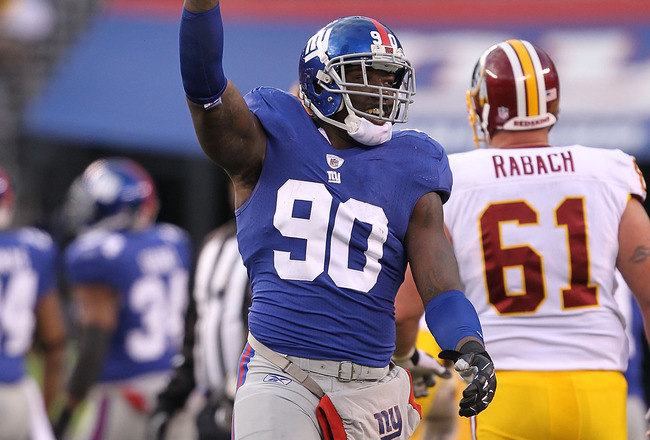 Al Bello/Getty Images
The New York Giants have missed the playoffs two years in a row, and fans are becoming restless. New York fans are ruthless and only respect playoff seasons, so for the Giants to return to the post season several players have to step their games up.
The Giants have several veterans on the roster, but these players that need to step up are mostly young guys who haven't had their shot or are going to be replacing great players.
They could even just be guys who need to show the Giants something else they get cut from the team.
Let's take a look.
Linval Joseph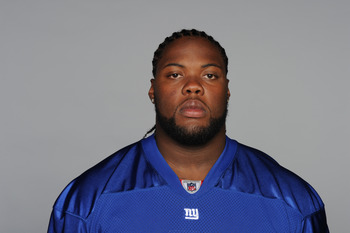 Handout/Getty Images
When the Giants drafted Linval Joseph in the second round of the 2010 NFL Draft, many thought he would see the field early and often—even more so than first round pick Jason Pierre-Paul.
It didn't turn out that way and the Giants instead used Chris Canty, Barry Cofield, and Rocky Bernard. It didn't make sense because the Giants used that trio plus Fred Robbins in 2009. When Robbins left for St. Louis, everyone just assumed Joseph would replace him, or at the very least be a part of the rotation.
That wasn't the case, but he could be called upon this year.
Cofield could be out the door, and with Joseph as the best option to replace Cofield as the team's nose tackle, he could be forced in to the starting lineup.
Travis Beckum
Chris Graythen/Getty Images
I was excited when the Giants drafted Travis Beckum in 2009 because I knew he was a great receiving option at the tight end position.
However, Beckum has not lived up to expectations.
His blocking is terrible, and it may never improve, but he at least has to emerge as a consistent threat across the middle for Eli Manning.
If he doesn't, it could be his last season in New York.
Rocky Bernard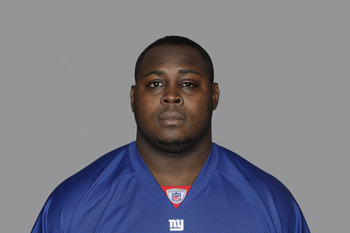 Handout/Getty Images
Being a former Texas A&M student, I was excited when the Giants picked up Rocky Bernard in free agency.
Unfortunately he has not lived up to the contract he was given, and many fans want to see Bernard released once the lockout ends.
I'm not sure how much is guaranteed, but Bernard is set to make $2.95 and $3.45 million the next two seasons. They could use that money for players that are contributing more on the field, like many of their big name free agents they are looking to re-sign.
If they keep Bernard, he will have to show them something. There is no way they are going to pay Bernard $3.45 million next year if he's ineffective.
Aaron Ross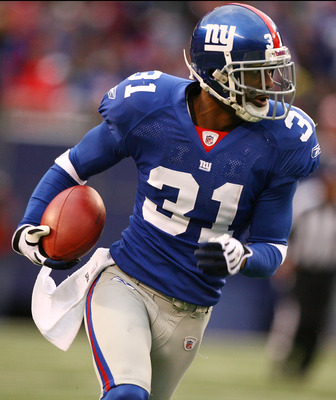 Al Bello/Getty Images
Aaron Ross is quickly becoming a forgotten player. He's been replaced by Terrell Thomas in the starting lineup, and really the only thing he did of note last season was sack and injure Jay Cutler.
Oh, and the Giants drafted cornerback Prince Amukamara in the first round of the 2011 NFL Draft.
Right now, I'd call Amukamara the second best cover corner the Giants have, so you can bet he will be playing in the Nickel situations over Ross next year.
That is, unless Ross shows he's back to full strength.
He nursed a hamstring injury for nearly all of the 2009 season and 2010 wasn't any better. He played all year but it was clear his speed suffered.
If he gets his speed back, he could be one of the top cover guys on the team, but that's a big if.
Ramses Barden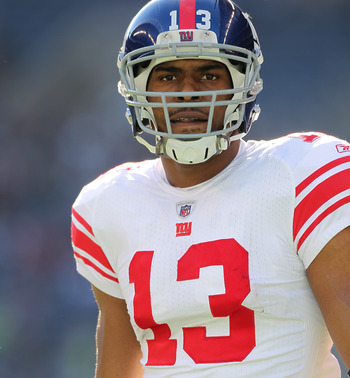 Otto Greule Jr/Getty Images
Ramses Barden was picked by the fans to be the next Plaxico Burress, given the vast number of similarities to Burress.
Barden is a big bodied receiver who set multiple Division II collegiate records, but what had fans anointing him was his 6'6'', 230 lbs frame.
The Giants have given him little chance to prove himself on the field, but I can't count the number of times I've read reports of him dominating in training camp.
He played sparingly last year until Steve Smith went out with an injury and the Giants called on him to be the third wide receiver.
He injured his ankle in the third quarter of that game against the Cowboys and was lost for the season.
The Giants have been patient with him, but they will need to see some progress from him if he wants to remain on the team.
Jason Pierre-Paul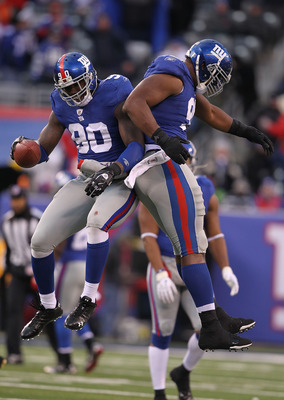 Al Bello/Getty Images
Osi Umenyiora has created a huge dilemma for the Giants front office by telling them he won't play unless he gets a new contract.
If the Giants decide to go in another direction and trade him, it will be due to their faith in Jason Pierre-Paul's ability to replace him.
No one expected JPP to play very much in 2010. Taken 15th overall in the 2010 draft, he was said to be a project pick based on potential more than instant production.
An injury to Mathias Kiwanuka forced JPP to grow up in a big way, and grow up he did. He finished his rookie season with 4.5 sacks and played incredibly well down the stretch.
From what I've seen in JPP, he has the potential to be the best pass-rusher in the NFL, and it could start with him stepping up to replace Osi in 2011.
Keep Reading

New York Giants: Like this team?