NFL Offseason: 5 Possible Landing Spots for Donovan McNabb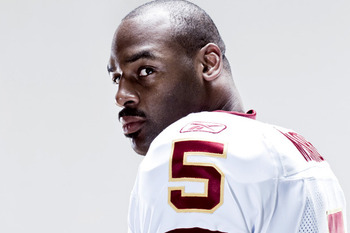 I was 11 years old and in my suburban Philadelphia fifth grade elementary school when Donovan McNabb was drafted second overall by the Philadelphia Eagles in 1999. I essentially grew up with McNabb playing the most important position on the field for my favorite football team. I witnessed all of his fortunes and tribulations in midnight green throughout middle school, high school, and all of my college tenure: the ability to improvise out of the pocket earlier in his career, the injuries that plagued him in the middle of it, and the crippling playoff losses that were scattered throughout it.
To this day, my favorite sports moment ever that I attended was the famous play known as 4th and 26 (Shield your eyes cheeseheads!), which occurred in January of 2004 where McNabb hooked up with Freddie Mitchell to keep the Birds' playoff hopes alive against the Green Bay Packers. I was also at Lincoln Financial Field the following year where the team finally got over the hump and defeated the Atlanta Falcons in the NFC Championship.
We were on top of the world.
Which is probably why it pains me to see McNabb six years later in the current position he is at in his career. McNabb is presently past his prime, living off his past glory as a perception of the present, and in search of a team for his services.
It happens to essentially every athlete in the world of sports aside from the less than one percent such as John Elway, and it's a cold, bitter reality not only for the athlete himself but for the fans that appreciated their play throughout the years as well.
So what team will Donovan play for next season? It most likely certainly won't be the Washington Redskins, who benched McNabb in favor of Rex Grossman last season due to McNabb being a programmatic non-fit.
With the veteran out of Syracuse entering his 13th season in the league, and in honor of his number five, let's take a look at the five possible landing spots McNabb can take his talents to next season.
5) Miami Dolphins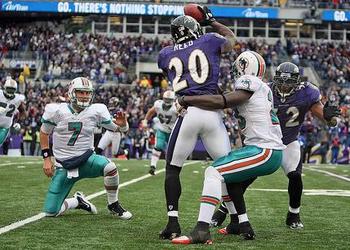 The Chad Henne experiment failed miserably last season as the Dolphins limped to a mediocre 7-9 finish with a weird twist. Never again may we see a team go 6-2 on the road, however, 1-7 at home. How do you respond to that as a fan? Perhaps show up in the opposing team's uniforms?
McNabb would be a good fit here as a stop gap while Miami drafts a quarterback in 2012. I found it odd how they decided not to even draft a potential project back in April to at least give them something to look forward to for the future. Perhaps they are big on Tyler Thigpen who actually saw some success in Kansas City. Anyone but Henne seems logical at this point.
Either way, McNabb doesn't necessarily have the ideal pieces around him to succeed in South Beach. Both Ricky Williams and Ronnie Brown are both question marks as to whether they will be on the team or not, and there really isn't a lot of talent at the wideout position for McNabb to flourish with outside of Brandon Marshall, and who knows what will happen with him.
4) San Francisco 49ers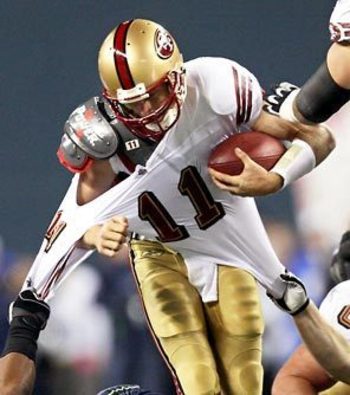 Unlike Miami, the 49ers decided to take a shot on Colin Kaepernick in the second round of this year's draft. Incumbent Alex Smith has to know that this will be his final year to show new head coach Jim Harbaugh something resembling the ability to play quarterback.
McNabb going to The Bay area really depends upon the logic of Harbaugh. Does he want someone else's sloppy seconds (or thirds in McNabb's case), or does he have the mentality of creating his own path with his own quarterback? I would assume that it's the latter, especially with taking a guy like Kaepernick in the second round.
However, San Francisco does have some good pieces to work with between a stout defense led by all-pro Patrick Willis, Frank Gore at running back, and Michael Crabtree at receiver. The firepower is definitely there for McNabb to succeed.
3) Cincinnati Bengals
You know that Carson Palmer is a goner when he takes the desperate measure of selling his home in this real estate market. You're either A.) Leaving town or B.) Settling for your losses if you decide to take that route. Either way, it doesn't bode well for the Bengals.
I can easily see Marvin Lewis taking a shot on McNabb just to see if he can help keep his job. Andy Dalton seems to be the future for them; however, one has to wonder how much leash Lewis will have and how many more 4-12 seasons upper management will allow him to survive through, even if he has the excuse of Dalton going through his growing pains.
Donovan wouldn't necessarily be an ideal fit for Cincinnati; however, this is a list of potential teams that would be willing to acquire McNabb. And I can definitely see the Bengals being a top candidate.
2) Minnesota Vikings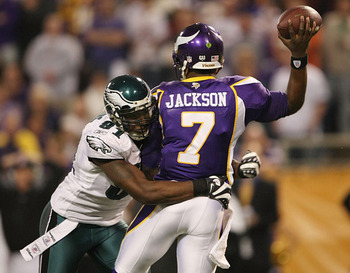 This would have made more sense had McNabb's former offensive coordinator in Philadelphia Brad Childress still been with the team. Brett Favre is now retired, which holds as much credibility as Dr. Loomis proclaiming that Michael Myers is finally dead in "Halloween." Let's assume that the 'Ol Gunslinger has finally hung up his Wranglers though.
The Tarvaris Jackson era may finally be over with the team taking Christian Ponder at pick No. 12. You don't take a quarterback in the top 15 if you don't plan on him being your immediate future. However, McNabb can serve two roles with the Vikings: 1) enter next season as the starter to keep the seat warm for Ponder. Similar to what Kurt Warner did with Eli Manning in New York back in 2004, or 2) Serve as the team's backup.
It really depends upon the philosophy that Minnesota wants to take. The argument can go back and forth between if you are pro-starting a quarterback right out of the womb or having him sit for a couple of seasons to learn. There are examples that support each theory. Personally, I'd like to see what McNabb could do with Adrian Peterson and Sidney Rice.
1.) Arizona Cardinals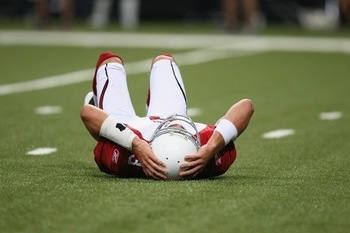 Arizona would be nirvana for McNabb, not only because he'd be able to lob up 80 yard bombs to Larry Fitzgerald, but it's because he also lives out there as well. In fact, he's taken it upon himself to hold annual summer camps out in the desert dating back to his early days with the Eagles.
At the same time, I do realize that Arizona is also the current favorite to trade for Eagles current backup Kevin Kolb. However, depending upon the demands that Andy Reid is going to ask for Kolb (which is anywhere in the range of a first rounder or two second rounders), Arizona may want to settle for the cheaper option of going with McNabb.
Either way, the Cardinals will definitely be on the move for a quarterback. Their draft this year supports that theory, and there is no way they will go into next season with Derek Anderson, John Skelton, and Max Hall dueling it out for the starting position. I realize that Larry Fitzgerald is one of the more standup personalities in the game, but even he would start to make some noise about that. Especially considering he will be a free agent at the end of next season.
Keep Reading