2011 Wimbledon: Kvitova Soon to Replace Wozniacki at Top of the Rankings
July 5, 2011
Clive Brunskill/Getty Images
As of July 4th, Caroline Wozniacki still ranked No. 1 in the world about 2,000 points ahead of world No. 2 Kim Clijsters. 
Meanwhile, Petra Kvitova of the Czech Republic, who won earlier this year at the Brisbane Open, Paris Indoors, and the Madrid Open on clay, just added her first Major title of her career by claiming Wimbledon. On Monday, Kvitova was stood at No. 7 in the world standings.
Of course, we have to understand that under the current world standings rules, the more you play, the more WTA points you earn, regardless of the category of the event you play.
Here is why Wozniacki is still the world's No. 1, while Kvitova is six spots behind the Dane:
Wozniacki has played 14 tournaments so far this year, while Kvitova has played in only 10. Wozniacki has won Dubai, Indian Wells, Charleston, Brussels and Copenhagen, while Kvitova won Brisbane, Paris Indoors, Madrid and Wimbledon.
Meanwhile, Indian Wells was the biggest tournament Wozniacki won this year and you have to wonder why she played Brussels, the week prior to Roland-Garros and Copenhagen, the week prior the Wimbledon.
Of course, some will argue that she wanted to play in front of her home crowd. But was it worth expending so much energy just one week before Wimbledon?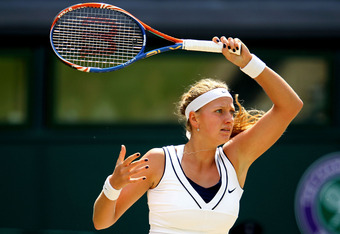 Julian Finney/Getty Images
In a way, you have to wonder if she realised just what it would take to win a major. 
At the end of the day, such strategy is a loser.
Of course, Wozniacki won Brussels and Copehangen. However, the Dane spent all her energy winning the lower-ranked tournaments rather than focusing on Majors.
Now, the same headlines abound regarding the World No. 1 being unable to win a Grand Slam. If Wozniacki wants to be a real contender in the big four, she will have to change her attitude towards them very soon.
The current World No. 1 was a semifinalist at the Australian Open, but then lost in the third round of Roland-Garros and the last 16 of Wimbledon. She may improve her record at the upcoming US Open, as hard court is her favorite surface.

Meanwhile, Kvitova won Madrid on clay, which is as important as Indian Wells, and she won Wimbledon on grass, which is more impressive than what Wozniacki accomplished this year.

The 21-year-old clinched Wimbledon after dominating Maria Sharapova 6-3 6-4 and showed signs that we would have to count her among the elite very soon.

This 2011 Wimbledon winner has everything it takes to be one and should become the next World number one of the women tennis.
In the Wimbledon final, Kvitova's powerful serve was causing Sharapova plenty of problems, but perhaps most impressive was her returning, with both forehand and backhand firing well. Sharapova ended the match with 76 per cent of her first serves in, yet she was still broken five times.
Kvitova  was also able to gain more success in the baseline exchanges, with Sharapova being forced back more often than her eighth-seeded opponent.

As a matter of fact, Wozniacki does not have a powerful serve, while the forehand can still use some firepower.
If things still go one the same way for Wozniacki and Kvitova until the end of the season, we will have a new world number one by then.