Arsenal Transfer News: Why Arsenal's Transfer Policy Will Bring Success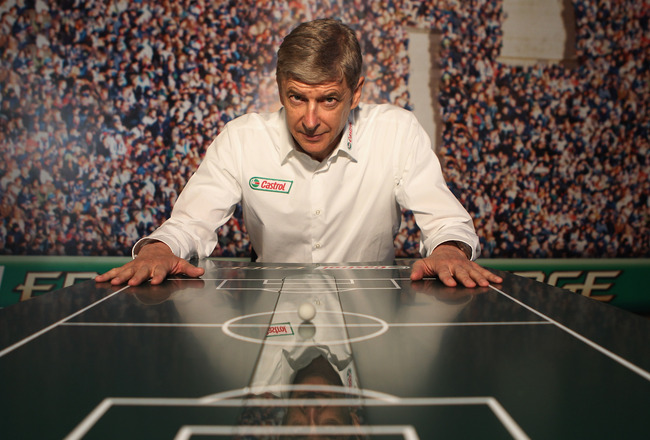 Ian Walton/Getty Images
Yield long-term success: A line we Arsenal fans have heard for the past six years but the team has failed to achieve success for the last six years, on the field at least. Off-field, Arsenal are financially stable, are not dependent on a billionaire owner like Manchester City and have reduced the debt on the Emirates Stadium to a commendable extent.
But for the normal fan success is measured in terms of trophies and not on the state of the cheque book or the financial records. The fact that Arsenal's trophy cabinet has been bare for the past six years has led to several fans turn against Wenger with the decision of the club to hike the ticket prices for next season only furthering the anger and frustration among the fans.
After six years without a trophy, it seems ridiculous to say that Arsenal's financial policy will finally work and it seems even more weird that I ask the fans to be patient and to show faith in Arsenal's financial model, but that is exactly what I ask. I, like every other Arsenal fan, have undergone tremendous pain and disappointment over Arsenal's trophyless run.
After the disappointment of last season several fans have been calling for Wenger to splash the cash and sign big name players like many of their counterparts, Manchester City, United and Chelsea have been doing. Even Wenger indicated that he will be busier than usual in the transfer market and his reaction as the Gunners crumbled at the end of last season were those of a man who understood that change is required at the club.
Yes, change is required but not to the extent some people have been professing of late. Many Arsenal fans were looking forward to the transfer window as the Gunners looked to strengthen. But right now the Gunners haven't signed any top player with the signing of Carl Jenkinson being the only bit of business done by the Gunners this summer.
With some of Arsenal's stars including Samir Nasri and Cesc Fabregas rumored out of the club, the entire net has been filled with articles predicting the doom of the Gunners with several people already having called Arsenal's 2011-12 season a disaster despite the season not even starting and despite Wenger barely starting his summer buys.
There has been wide spread call for Wenger to splash the cash and follow the precedent set by Manchester City, at least to a certain extent. Many of the fans seem more interested in Wenger splashing the cash rather than him actually strengthening the squad with players.
Arsene Wenger has to strengthen the squad, no doubt, but he won't strengthen the squad like teams like City and to expect him to embark on a spending spree would be wishful thinking, to say the least.
Wenger will spend this summer but not to the extent of some other clubs.
Over the last few years, ever since the move to Emirates, Wenger has adopted a very stringent approach in the transfer market, a very prudent approach that has seen him bank on youngsters and sign talented up and coming players instead of following the usual trend of signing big name players and integrating established players into the squad.
A glance into Arsenal's first team last season perfectly captures Wenger's financial approach. Few players were signed by the players for large sums and even few were actually developed players when they came to the club. Samir Nasri, Bacary Sagna, Andrei Arshavin and Marouane Chamakh are a few exceptions to this.
When Arsenal decided to build the Emirates, Wenger came under unprecedented financial budget constraints that forced him to turn to youngsters and unheralded players. It is because his faith in youngsters that players like Jack Wilshere and Cesc Fabregas have reached where they are right now.
Perhaps the most commendable thing about Arsenal under Wenger has been that their highest transfer fee was for Andrei Arshavin for $16 million, a stat that pales in comparison to those of other top clubs like Manchester City, Manchester United, Chelsea and Liverpool.
Despite being financially prudent, Wenger managed to keep Arsenal competitive and ensured that they never for once fell out of the top four. While no Arsenal fan should be pleased with a top four finish, it is a decent finish for a team who have huge financial constraints.
Under this long term vision, Wenger has ensured that Arsenal have a set of immensely talented set of youngsters, players who can add depth to the squad and players who ensure that the future of the club is in safe hands.
Arsenal still have players like Kieran Gibbs, Henri Lansbury, Jack Wilshere, Aaron Ramsey, Wojciech Szczesny, Chuks Aneke, Benik Afobe, Ignasi Miquel, Kyle Bartley and Ryo Miyaichi. These youngsters have a frightening amount of potential and can rule in the coming decade or so.
Just think of it: Three to four years from now, players like Vermaelen, Wilshere, Szczesny, Song, Ramsey and Miyaichi will be at the peak of their games. As a result of Wenger's habit of giving youngsters a run in from a young age, these players would have gained experience.
In the last few years, Arsenal's average squad age has been less, with many of the players experienced despite barely entering their peak.
I am not justifying every action of Wenger but with every passing day, I cannot help but feel that all the recent melodrama about Arsenal and their imminent collapse, is much too soon.
Wenger hasn't even been given time to flex his cheque book, and despite that the vultures have descended upon him.
Wenger has to change this season, for the better of the club, but he can make signings within his constraints and with a hint of realism. Arsenal do not need the wholesale changes that some have been professing. Yes, change is required but Arsenal can build a title winning squad, by doing it their way, that is by making shrewd signings and not by overpaying for overrated stars.
Is Arsene Wenger the right man to take Arsenal forward?
Arsene Wenger's way in the transfer market has always been to go for the best deal available, instead of paying extravagant fees. I like every other Arsenal fan want Wenger to strengthen the squad this summer so that the team can end their trophy drought. Wenger has focused on signing lesser=known players during the window with players like Laurent Koscielny and Marouane Chamakh being testimony to this.
But we must realize that while the Gunners are financially in a safe position, Arsenal don't have the financial might that is being shown. Arsenal do have a budget to sign some quality players but Arsenal are not as financially secure as some reports may indicate. The club is still not financially a 100 percent secure and to embark on a spending spree now would be an unnecessary risk, one the club could rather do without.

And once UEFA's Financial Fair Play rules come in, the Gunners will be totally secure, having no financial concerns. Right now the Gunners are at their financial best. The Gunners posted a £56m profit and with debt at its lowest, Arsenal have no major financial worries.
Arsenal's financial model, a self sustaining one has reaped great rewards for the
Wenger can strengthen the squad by doing it his way. The foundation has been laid this season, several youngsters have continued their bright progress and these youngsters will once again be there this season as the Gunners look to go all the way.
All this ensures that even when Wenger leaves, Arsenal have an academy and scouting network that is capable of producing talented players, ensuring the Gunners always have a steady supply of potentially great players.
Koscielny: Another shrewd buy from Arsene Wenger
Shaun Botterill/Getty Images
So Why Haven't the Gunners achieved success yet?
So when the benefits of the vision are so many, why are the Gunners still struggling to win a trophy?
The perfect balance for Arsenal would be if Wenger signed a few experienced players to add to the youngsters and talent already in the squad. In the last few years, Arsenal had the quality to win the league but lacked the mentality to do. Signing a leader or an experienced player would have helped the Gunners cross the final hurdle and Arsenal would have already won a trophy.
But Wenger has often shown a slight hesitation in the transfer market, often choosing to show a leap of faith in his current squad when the right move would have been to sign a player. The best example is the Christopher Samba transfer that never materialized last winter.

Had Wenger signed Samba instead of showing faith in the hapless Squillaci, Arsenal could have potentially won the league or at least made a fair attempt to lift the EPL which they last won back in 2004. Wenger has been extremely hesitant at times, and this lack of killer instinct in the transfer market coupled with his indecisiveness has come back to haunt him more times than not.
These small mistakes have cost Arsenal dearly and if Wenger can overcome this, he can build another great squad. For Arsenal while the squad has bags and bags of talent, there is a certain lack of passion and leadership within the squad which can be addressed with the right signings.
Two stars who look all set to rule Arsenals' midfield for the coming years
Alex Livesey/Getty Images
Conclusion
I know that asking Arsenal fans to be patient about Wenger is frustrating and some may see it as absurd considering that he has failed but when he embarked on his ambitious project, it never guaranteed immediate success. Arsenal have underachieved but a strong foundation has been laid, from which the Gunners can achieve greatness. Arsenal are not so far away from achieving success and with Wenger showing an inclination to spend the right amount on the right players, Arsenal fans should show faith and trust in the squad.
As fans we have to show faith in our manager especially since there will be no change of leadership. At the same time we must understand Wenger's project. The recent criticism have reached fever pitch and people have started painting a picture in which Wenger is portrayed as an abject fool, when I see him as a genius, a man whose vision guided the club during a potentially tumultuous time.
Wenger is a man whose genius has been sorely underestimated these days and I still believe that Wenger is the right man for the club whose legendary vision will yield long term results as well as bring success soon.
With the right signings I have no doubt that Wenger can build a squad worthy of lifting trophies and once again bringing glory to the great club that is Arsenal.
This article is
What is the duplicate article?
Why is this article offensive?
Where is this article plagiarized from?
Why is this article poorly edited?

Arsenal: Like this team?