Baltimore Ravens: Lewis and Reed Deserve Top 5 Ranking in NFL's Top 100 List
July 5, 2011
Jim Rogash/Getty Images
Just about every NFL fan is familiar with the NFL's top-100 list by now.
It's one of the few interesting stories to follow this offseason. In case you somehow missed it, the list is the ranking of the top 100 players in the NFL for the 2011 season.
The most interesting factor in the creation of the list is that it was voted on by the active players themselves. It's not a list generated by NFL analysts or talking heads.
The theory is that the players know, more than anyone else, who the most talented, most valuable players are.
That is probably true to an extent. Who's going to argue with Darrelle Revis when he agrees that Tom Brady is the league's best quarterback? It makes sense that the players ultimately know best.
However, there is another factor at work in these rankings besides simple objectivity and personal experience on behalf of the players. Like any other NFL fan or analyst, the players have great respect for the career accomplishments of other players.
That's a huge factor in Pro Bowl voting as well. Many times, a younger, better player will miss the Pro Bowl because a veteran has a better career with name recognition, and it would be naïve to believe that this list is devoid of that bias.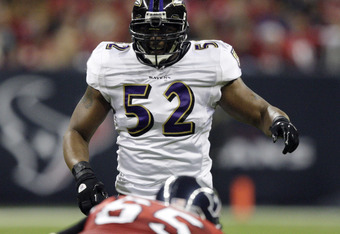 Bob Levey/Getty Images
Maybe the two biggest upsets in the NFL's top 100 list were Ray Lewis and Ed Reed being voted No. 4 and No. 5 overall.
The general consensus is that Lewis and Reed made it that high on the list based completely on their career achievements and name recognition. There may have been some bias from the players, but there is a very strong argument for having both Lewis and Reed in the top five.
Before we go on, let's talk about what an unbiased list should look like. No one believes that a player should make it on the top 100 list based on name recognition and career accomplishments alone, but on the other hand, we cannot judge a player based on one good season.
There must be a balance.
The most unbiased way is to use a player's career as a gauge on what to expect for next season, what the players are being ranked for.
If a player has been dominate throughout his career and has shown no signs of slowing down, then it can be safely assumed that player should continue playing at a high level.
Obviously, it's possible for any player to drop off, but for the sake of complete objectivity, we cannot assume that a player will decline until it's reflected in their career.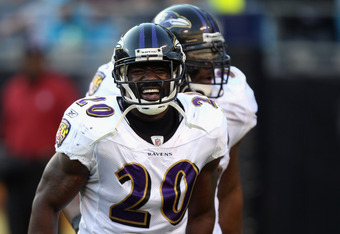 Streeter Lecka/Getty Images
In other words, unbiased voting would not be speculation, but there is no system of voting that's completely unbiased. 
That being said, this list is surely less biased than fan or media voting would be. The fans and the media tend to have a hard time remembering past the previous season, and players who had the most impact last season and are the most hyped for next season would certain draw the most votes.
The players should be more objective in weighing each others talents versus recent accomplishments. That is, they can see what a player brings to a team on a consistent basis more than the fans or media.  
Furthermore, the players are also qualified to vote on one of the hardest aspects to judge in all professional sports…the intangibles.
We always hear the fans and media talk about intangibles, the factor that seems to defy logic. When a player rises up under pressure, we call that an intangible talent because there is no statistic with which to measure it by.
One of the biggest intangible talents and the one that seems to have the largest impact on the top 100 list is leadership. We see leadership all the time in professional sports. There is always a leader even if it's simply a coach, but there are few great leaders.
A great leader on the football field inspires the players around him to be better on and off the field. Off the field, he helps the younger players in preparation. He uses his vast experience to break down game film for them and mentors them in practice and in life.
On the field, the leader shouts orders to his teammates and uses his experience to help them line up in better positions and anticipate what's going to happen. That is an extremely underrated skill and can only be truly appreciated by the players who experience it first hand.
Another intangible talent is the ability to make plays and anticipate what's going to happen. It's a talent that all the great players seem to have.
Great offensive players always seem to rise up and make impossible plays happen under pressure. Great defensive players seem to play several seconds in the future and have an uncanny ability to react to the offense before they even move.
The intangible talents are what make a player special. There are many quarterbacks who can throw a ball over 60 yards, but there are only a few great ones who will rise to the occasion.
There are many big, strong and fast players but only a few that will consistently make the plays that win games for their teams.
Ray Lewis and Ed Reed have been two of the most dominate and most feared defensive players in the NFL over the last decade. That's not really debatable and not the argument here.
Again, the argument is that they made it onto the list based mostly on name recognition, but when you judge Lewis and Reed based on the criteria we discussed above, they are outstanding in every area.
People say that Lewis and Reed are slowing down, but looking at their careers over the last few seasons, that's hard to believe.
Lewis is coming off a season where he not only led his team with 139 tackles. He also led a Ravens' defense that was third in points allowed and fifth in rushing yards allowed and along the way, made many game changing plays, including an Earth-shattering hit on Dustin Keller that basically ended that game.
Ed Reed is coming of one the most impressive seasons of his career. At the beginning of the season, he was placed on the physically unable to perform list and didn't play until week seven.
Even after missing six weeks, Reed still posted an amazing eight interceptions, one shy of his career high of nine and most in the NFL last season.
People say that Lewis and Reed are slowing down, but based on their last season and despite all odds, that doesn't seem to be the case.
Lewis and Reed are considered two of the best leaders in the NFL. Lewis is the unquestioned, vocal leader of the Ravens, and Reed is renowned for his preparation and film study.
Both players help the younger players on the team to not only prepare but also to lineup and anticipate the offense. They are two of the league's best examples of leadership on and off the field.
Finally, Lewis and Reed are playmakers, and that's putting it lightly.
Lewis always seems to come up with a critical stop or a big hit when the Ravens need it most. He may not be as fast as he once was, but his anticipation is better than ever. There isn't another linebacker in the league that plays with more awareness and passion than Lewis.
Reed is hands-down the best ballhawk in the NFL. His playmaking ability is second to none. Not even the harshest critics can contest this.
He is feared by opposing quarterbacks, who routinely throw away from him but still manages to get league-high interception numbers. I could be argued that Reed is the best ball-hawk in NFL history. He is certainly the best in the NFL today.
Lewis and Reed are two of the best players in the NFL and deserve to be in the top five of the NFL's top 100 list.
We've shown that, amazingly, they haven't showing any real signs of decline over their Hall of Fame careers, that they are two of the greatest leaders in the NFL today, that their intangibles are off the charts and that they continue to consistently make plays for their team.
There's no denying that there other great players in the NFL, but until Lewis and Reed start to show signs of serious decline, there is no reason to replace these to future Hall of Famers in the top five of the NFL's top 100 list.