New York Jets: Players That Need to "Step It Up" in 2011
July 5, 2011
Nick Laham/Getty Images
The last two years, the New York Jets have come so close to reaching their second Super Bowl appearance in franchise history.  Of the many players on the team, there are some that need to have a better season in 2011 than they did in 2010, in order to help the team achieve their goal of winning another Super Bowl. 
This list singles out a few of those players and what they need to do in order to help the Jets win on Sundays.
1. Mark Sanchez
 First and foremost, Mark Sanchez needs to have a more consistent regular season.  Over the last two years, he's shown flashes of brilliance. Take his late-game passes that gave the Jets victories against Cleveland, Detroit and Houston.  While these flashes of brilliance are great, there have been several instances where his play harms the team as he makes poor decisions.
In order for Sanchez to "step-up" in 2011 (if there is a season) he needs to be consistent.  While late-game heroics make for a great show, simple mistakes that Sanchez made could have been avoided like trying to throw the ball into tight spots. 
Had those mistakes been avoided, Sanchez's interception total could have been eight or nine rather than 13.  While his inconsistency is not completely visible in his touchdown-interception ratio, it can definitely be seen in his game-by-game quarterback ratings.
Sanchez had his highest rating against the Patriots in Week 2, when the Jets won 28-14 at the New Meadowlands Stadium with a rating of 124.3.  Ironically, his lowest came when the Jets faced the Patriots on the road in December as Sanchez threw three interceptions and had a rating of 27.8. 
Throughout the season, his ratings fluctuated many times; had he been consistent, the Jets may have won the close losses like the home loss against the Dolphins or the road loss against the Bears.  If they won those games, they could have given the Jets home-field advantage during the divisional round of the playoffs.
Mark Sanchez's Quarterback Ratings
| | |
| --- | --- |
| Game 1 | 56.4 |
| Game 2 | 124.3 |
| Game 3 | 120.5 |
| Game 4 | 106.4 |
| Game 5 | 59.9 |
| Game 6 | 60.1 |
| Game 7 | 43.3 |
| Game 8 | 82.9 |
| Game 9 | 87.2 |
| Game 10 | 100.2 |
| Game 11 | 71.4 |
| Game 12 | 27.8 |
| Game 13 | 45.3 |
| Game 14 | 81.1 |
| Game 15 | 84.2 |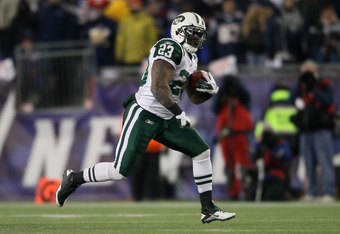 Elsa/Getty Images
Only 15 games are shown because of bye week and Sanchez did not play Week 17 against the Bills.
2. Shonn Greene
 The next player is Shonn Greene.  Don't take this one the wrong way, though.  Like Mark Sanchez, Greene has been great during the last two playoff runs, as he bullied his way through opposing defenses. 
What will be key for Greene in 2011 is keeping the ball off the ground.  The reason LaDainian Tomlinson took over the starting role at running back this past year was because of Greene's inability to hold onto the ball.
While he only fumbled three times, the Jets lost the possession on two of them.  The Jets traded up to get Greene in the 2009 draft because they see him as their running back of the future.  In order for him to fulfill that dream the Jets have, he needs to not fumble the ball as the starting running back during the regular season. 
By taking the intensity he has during the playoffs and using during the regular season, Greene can become one of the best running backs in the league.  If you don't believe so, then just take a look at his statistics. 
While sharing carries with Tomlinson, Greene rushed for 766 yards and two touchdowns on 185 attempts.  Meanwhile, Tomlinson ran for 914 yards and six touchdowns on 219 attempts. 
What really matters for Shonn Greene in 2011, is holding onto the football, once he is able to do that, there is no telling how successful he could be. 
Marc Serota/Getty Images
3. Kyle Wilson
 The third player that needs to step up is Kyle Wilson.  Entering his second year, the cornerback out of Boise State did not have the rookie year he wanted to. 
The Jets placed Kyle Wilson at the slot as they had Antonio Cromartie and Darrelle Revis for the wideouts; Wilson had to learn all about this position in a short amount of time, which hurt him developmentally.
It is unlikely that the Jets will not re-sign Antonio Cromartie since he did such a great job in the 2010 season, which means that Wilson should get used to playing the slot cornerback position for a while. 
According to different Jets players, Wilson has been improving despite the lockout, he and Revis had their own "Jets West Camp" as they studied film and trained in Scottsdale, Ariz. in May.  Wilson also attended "Camp Lockout" where more than 40 Jets players trained for less than a week as they watched film and ran through plays.
In 2011, Wilson just needs to show that he has progressed.  The Jets invested in Wilson by selecting him with their first pick in the 2010 NFL Draft; if he becomes a solid cornerback, the Jets will have the premier secondary with Revis, Cromartie and Wilson locking down receivers.
4. Wayne Hunter
 The fourth and final player is Wayne Hunter.  Hunter will likely replace Damien Woody who was released prior to the beginning of the lockout because of his many injuries late in the season.  Woody provided the Jets with many great years as the starting right tackle, but it is time for somebody else to step in.
For years, the Jets have been known for their tremendous offensive line and running game.  Just because one man was not re-signed at the end of the season does not mean that the expected level of production has been lowered; if anything, it should be higher. 
Hunter replaced Woody the several times he was hurt late in the season, this season is his time to show the coaches that he can handle a starting spot on the offensive line as he will be entering his ninth year in the National Football League. 
If these players play at a higher level than they did in 2010, the Jets could be looking at another great run for the title, perhaps they even get over the AFC Championship Game hump that has stumped them the last two years.  The best thing about these players is that they are still young and if they progress, Jet fans can expect many more great years from them.

As always, feedback is welcome.
*All statistics are from ESPN.com.