College Basketball Recruiting 2012: Power Ranking the 12 Best Undecided Big Men
A stellar post player can do wonders for a basketball team. Along with a defined point guard, the big man has the ability to flourish in any offense, fast or slow paced.
While many colleges are turning towards more of an uptempo, potent pace to the game, a prominent, reliable big man is hard to find. But that doesn't keep the recruits from growing and trying to please the coaches that are in need.
With July's evaluation period rolling in, time is limited for recruits to make their decision and claim their position for the Class of 2012.
I have compiled a list of my top undecided post players and who you should keep an eye on in the next couple of years for the college game. Also, don't forget to check these guys out on the AAU circuit.
My rankings do not reflect any rankings from Rivals, Scout or any other recruiting rankings or services. I also have only included recruits that are routinely classified as power forwards or centers.
Feel free to comment and add names that you think should be included.
Enjoy!
Begin Slideshow

»
Teams interested: Arizona, UConn, Florida, Kentucky, Oregon, Washington, Xavier
Anthony Bennett has made a huge climb this spring, virtually coming out of nowhere. However, his talent has always been there.
Bennett, a native of Canada, has spent the past season injured at Findlay Prep, thus not seeing any action or getting any exposure.
But the next great Canadian big man has made the most of his recent months, leading his CIA Bounce team to some great wins on the AAU circuit.
Bennett has also hosted a lot of new teams lately, and there seems to be a lot of interest from Kentucky, along with other top-tier schools.
Keep an eye on this young man in Findlay's frontcourt. He should thrive in the system the coaching staff has set in place with his athletic ability and strength.
If it wasn't for his injury, you would find him higher on my list.
Teams interested: Alabama, Florida, Georgia, Georgia Tech, Kentucky, Ohio State, Tennessee, Texas
Like Bennett, Robert Carter has also made quite a climb as of late. While both players have similar references, Carter is the more physical recruit to this point.
Carter is a part of a very strong group from Georgia that could be the best any state has to offer. While Carter is a premier big man, he isn't the most popular player in his state right now.
But with his continued work ethic and emergence, expect Carter to continue to rise up the rankings.
There are a lot of prestigious schools after him, but keep an eye on Alabama and Florida with this kid. As a Georgia fan, you have to hope he stays in-state, but I don't see that happening.
Teams interested: Arkansas, Baylor, Kansas, Maryland, North Carolina, Tennessee, Texas
Shaquille Cleare is a huge man. At 6'9", 285 pounds, you won't catch him doing much in transition. Because of that, I don't think he will garner much love from the rankings.
There aren't many suitors that fit Cleare perfectly, but if there is one, I would say it is Texas.
Rick Barnes has had some big players in recent years, most notably Dexter Pittman. Pittman wasn't an All-American or anything, but he was productive. I think Barnes can use that to entice Cleare to make Austin his home.
Being from Texas, I don't think it will be too hard for him to get hooked by the Longhorns, but with other schools nipping at Cleare's heels, he could be swayed. Arkansas is a team that could make an interesting run for him.
With his size and toughness, Cleare will find a home. There just has to be the perfect system that he fits in.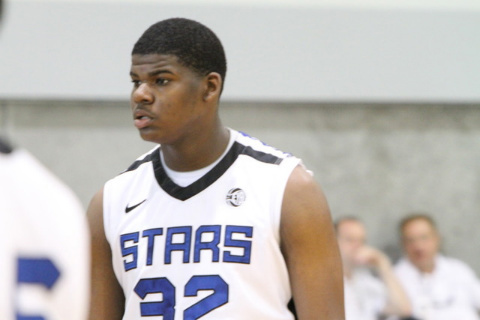 Teams interested: UConn, Duke, Florida, Georgia, Louisville, Ohio State, Tennessee
No, this isn't Tony Parker from the Spurs, nor does he play like the NBA star. But this youngster is going to go down as a great player as well.
Like Cleare, Parker is also very big. Both would be suited to be standout football recruits if they weren't 6'9".
Parker has garnered a lot of interest lately from Ohio State, and at one point, when asked where he would commit if he had to today, he would be a Buckeye.
The Georgia native has also received tons of comparisons to Jared Sullinger; while Sullinger is probably the more mobile, agile player, both share the same games.
Ohio State is going to be hard to beat to this point, but never sleep on Duke or Florida.
Teams interested: Duke, Kansas, Kansas State, Kentucky, Memphis, Oklahoma, Wichita State
Some won't consider Perry Ellis to be a future post player in the future, but for right now, I like him as a power forward. Unfortunately, the questions surrounding his position force me to rank him lower than I would like to.
Ellis has been on top of his recruitment, just like any other student with a 4.0 GPA and a member of the National Honor Society. He and his family have taken the necessary steps in looking at a handful of teams and going from there.
While Perry only had six teams (Kansas, Kansas State, Kentucky, Memphis, Oklahoma and Wichita State) in his current list, the addition of Jeff Capel to the Duke staff bolsters the chance to the Dukies to get involved.
All seven teams are going hard for Perry, but there are no definite leaders to this point.
Ellis has a great knack for rebounding and beating defenders off the dribble, two skills that will propel him to a great college career.
The only question is, where will he go?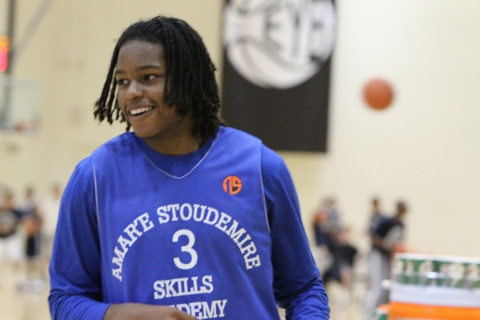 Teams interested: Alabama, Florida, Georgia, Memphis, UCLA
Shaquille Goodwin is a very unique athlete. Not only is he a great basketball player, but he also excels on the gridiron. The five schools listed above are looking at Goodwin as both a football and basketball player.
Like Ellis, Goodwin is an in-between 3 and 4. Thus, I have to limit his ranking.
Goodwin is one of the most athletic players the Class of 2012 has to offer, and his game continues to improve. Over the past few years, the 6'8" double athlete has sprang up the rankings.
It should be very interesting to see what happens with Goodwin as far as schools go. He has a couple of friends that have already made their college decisions.
Damien Wilson has opted to play at Memphis under Josh Pastner, and Jordan Adams chose to be the first UCLA commit for what seems to be looking like a pretty bright class on the horizon.
But Alabama and Florida are two football and basketball schools that will stay in contention.
Keep an eye out for this guy in the respective two sports in the next couple of years.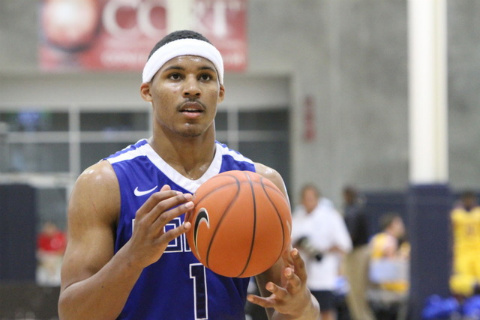 Teams interested: Arkansas, UConn, Florida, Kentucky, Memphis, Tennessee
Jarnell Stokes hails from one of the most passionate basketball cities around, Memphis, Tennessee. However, he could very easily be leaving his school soon.
Stokes has been looking into other options this summer, and there are a couple of different schools he could land, including Oak Hill Academy.
In my opinion, Stokes hasn't received as much credit as he deserves. He has been one of my favorite post players to watch as of late, and with July starting to heat up, you could see his stock rise.
Prior to Bruce Pearl's exit at Tennessee, Stokes was considered a big lock for the Volunteers.
When Mike Anderson was with Missouri, Stokes bought in to the system and program he had. But Anderson's move to Arkansas has helped the Razorbacks, and they very well could be leading to this point.
Don't sleep on his hometown team of Memphis, either. Josh Pastner has worked hard for Stokes, and expect it to continue for the next month.
Teams interested: Arizona, UConn, Kansas, North Carolina, Vanderbilt, West Virginia
Kaleb Tarczewski (try saying that five times fast) is one of the few true seven-footers remaining in this class. With Isaiah Austin committed to Baylor, Tarczewski is by far the best skyscraper available.
The St. Mark's star has had an exciting year, witnessing his stock rise and his game improve.
Teams have taken note of his accomplishments, too.
I think three teams are worth noting to this point: Arizona, Kansas and North Carolina.
It has been said for a good time now that Kansas has impressed him and that Bill Self is making him one of his top priorities in the Class of 2012. But North Carolina is also doing their part to this point.
Call me crazy, but I think we could see a commitment from this kid as the summer dwindles down.
His height and improved skills make him appealing for several schools.
Teams interested: Arizona, Cal, Kansas, Kentucky, Oregon, Texas, UCLA, Washington
Brandon Ashley is one of my favorite players in this class, and he could easily be one of the most underrated.
Ashley didn't receive the most attention in the Bay Area at Bishop O'Dowd High School, but those things are set to change, as he is one of the many new players that the Findlay Prep coaching staff has reeled in.
With virtually every team in the Pac-10 working hard to get him, Ashley is also garnering interest from powers like Kansas, Kentucky and Texas. He will be a big pickup for a lucky team.
The 6'8" star is also preparing to cut his list down to a handful of specific teams, but nothing of the sort has happened quite yet. When he does, expect it to be filled with teams on the Pacific coast.
I would love to see him at Arizona, UCLA or Washington, but that's just me. Keep an eye on some other teams from the east to come in, though.
Teams interested: Kansas, Kentucky, North Carolina, Ohio State, Pittsburgh, Syracuse
Being from Syracuse's backyard, many have suspected for DaJuan Coleman to bolt for the Orange at any time. However, according to his AAU coach, Syracuse isn't the only team at the top right now.
In fact, Kentucky is right in the mix with Syracuse.
But I wouldn't sleep on Jamie Dixon and his ability to create big men at Pittsburgh.
Check this excerpt from Adam Zagoria:
I know Syracuse and Kentucky are all out," Albany City Rocks coach Jim Hart told SNY.tv Sunday by phone. "I think they sense that they have some leadership and I they're not going to relinquish that hold."

Coleman will attend the LeBron James Skills Academy in Akron, Ohio beginning Wednesday and will be at the Nike Peach Jam the following week. Later in July Coleman will attend the Super Showcase in Las Vegas and the AAU Nationals in Orlando.

Expect to see Syracuse coach Jim Boeheim and his staff and Kentucky coach John Calipari and his staff trailing Coleman wherever he goes.

"It's one of these things where people say, 'Well, we were at every one of your games in July,' so I can't see Kentucky and Syracuse not having someone at every one of his games," Hart said.
Teams interested: Arizona, Duke, Florida, Indiana, Kansas, Kentucky, Maryland, North Carolina, Texas
Mitch McGary has been the hot commodity of the spring period. Like a man on a mission, McGary has stormed up the recruiting rankings to the top five after virtually not even being ranked.
Because of his recent explosion, tons of new teams have entered the picture, including Duke, Kansas, Kentucky, North Carolina, etc.
McGary's motor and passion for the game is what stands out the most for coaches right now. His demeanor and prone to winning has made him a more formidable prospect as well.
With some of the nation's top coaches in the hunt for him, McGary has been able to identify someone that has been recruiting him the hardest: Maryland.
We don't know if that says anything about a leader to this point, but it definitely helps the Terrapins' case out. I fully expect the new coaching staff to be on top of the Brewster Academy standout.
Teams interested: UConn, Duke, Georgetown, Kentucky, North Carolina, Pittsburgh
Andre Drummond has flirted with being the top prospect in the Class of 2012 for sometime now, and while many consider him to be the most reliable guy heading into the college game, he now sits behind guard Shabazz Muhammad in Rivals and Scout's latest rankings.
Drummond has been labeled as a UConn-lean for quite sometime now, and fans are counting down till the day that he commits. There have been talks for years that he would reclassify to 2011 and sign with Jim Calhoun's team this season, but those rumors failed to meet the talk.
Either way, this kid is going to be an astounding college basketball player.
His speed and quickness make him nearly impossible to guard for bigger post players, and his strength and size have the ability to whip smaller opponents.
It looks like it's a matter of time before Drummond commits to UConn, but you never can count out many of the listed teams.
Andre Drummond will be a premier post player for a lucky college team in the next year.