Derek Jeter: New York Yankees Are Wrong About the Captain
July 5, 2011
Jason Miller/Getty Images
The Cleveland Indians, who are not slumping in the ranks completely so far this season, managed to wreck havoc during the New York Yankees captain's return. Derek Jeter was out of play for about three weeks and was immediately injected as the first at-bat during Monday night's game. Doesn't seem like a winning formula to me.
When Brett Gardner was first at bat, the Yankees were a much tougher franchise to face. Whether he is a standing pillar in the organization or not, Jeter will be revered as the most important man in a Yankees fitted. Why?
He was great once. There was a time when the first name you would imagine when speaking up MLB, baseball fan or not, would be Derek Jeter's. He was polarizing in a city that demands the full potential of all their representatives, Knicks, Mets, Giants and Jets included.
Therefore, with such hardcore fans that refuse to take the edge off, it bewilders me that the Yankees revert back to the same man that seems to be dragging them a little further through the dirt than necessary this season.
Jeter deserves the respect of his teammates and the fans that have showed up in drones to support him.
Not at the risk of dropping a season just to save face for a decision management made about overpaying an athlete whose time is growing shorter.
On his way to 3,000 hits, the Yankees do not wish to slow Jeter's role in New York's rotation, while Gardner's participation wanes and seems to have been taken for granted. This is how baseball differs from the NFL or the NBA.
In either of those two professional leagues, if you are injured and put out of the game, a substitute is placed in your threshold. If that substitute performs better than you did when you were active, even when you are 100 percent prepare for your role to be shortened.
Maybe not in ways that would require a panel sit down between a player and their front office. However, a franchise in either of those leagues will not put a season in the balance just to pacify the legacy of someone who was sitting at the top of the leaderboard.
How long are we supposed to wait this season for a comeback?
Jeter does not believe that he has to answer that question, as reported by ESPN.
"I don't try to prove anything to anyone," he said. "I try to help my team win. There's been constant questions. It's nothing new to me. I try not to pay attention to it (criticism) and try to improve."
Although his carefree attitude while approaching the mound seems good enough for him, it is not going to hold off fans of the game much longer. We would all love to see his batting average return to what it had been in his prime and him reach that 3,000th hit in Yankee Stadium.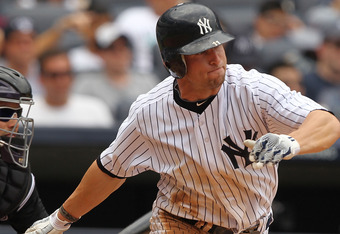 Al Bello/Getty Images
Still, it makes me scratch my head and wonder "What the hell?" when I see Jeter batting in the one-hole instead of Gardner. What piece of that decision makes much sense?
With Gardner at the one-hole in NY's rotation, the Yankees's record has moved to 18 games over .500. While I understand the Yankees' need to smooth over the offseason turmoil each side created for themselves, that was a situation that must be swept under the rug until the appropriate time.
Jeter may have felt a bit disrespected when the Yankees publicized their thoughts about his free agency, but let's not start playing nice now.
The claws have already been exposed, what else do you have to lose?
Maybe the Yankees are afraid of that three-year, $51 million contract going up in flames. If Jeter does not reboot, then they will look foolish in their readiness to throw money at someone who was well overdue for a slump in responsibility.
The New York Yankees are one of the most respected franchises in the history of professional sports as a whole. The dynasty that has been built cannot be scathed.
That is unless they allow the captain to drag them through the depths of his quickly approaching retirement.